The Toronto Maple Leafs are not necessarily known to be one of the best drafting organizations. Their current roster features very few home grown prospects, a catalyst of their recent failures to rebuild.
However, the tides may be changing. Over the past four years, the Leafs drafting has become more consistent, churning valuable prospects from low picks.
There are three prospects who stand out among the crowd as hidden gems. Drafted in the fourth, fifth, and sixth rounds, they had a very low likelihood for success. However, just a few years into their development, they are well on their way to proving scouts wrong, suggesting they deserved to be drafted much higher.
Connor Brown –
156th overall in 2012 NHL Draft
The ultimate come from behind player, Brown also had to break through in the OHL after he was drafted in the 13th round by the Erie Otters. But, two years later, he had become a key component of the Otters roster. Although his OHL rookie campaign was the same year as his NHL draft eligibility, the Leafs took a chance on the small playmaking forward who had 25 goals and 53 points in 68 games that year.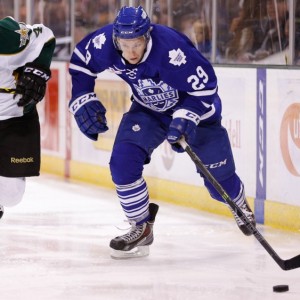 The following season, he was named captain of young Erie Otters team which featured one prospect named Connor McDavid. As a leader of the team, Brown greatly matured and also improved his all-around game. But, it was the following year when Brown really began to make a name for himself. He would go on to lead the league in scoring, finishing with 45 goals and a ridiculous 128 points in 68 games. It was at this time when Brown officially became a top prospect in the Leafs organization.
A year later he was playing professional hockey with the Maple Leafs AHL affiliate, Toronto Marlies. He would turn in a terrific rookie season, leading the team in points with 61 in 76 games. That point total ranked him 12th in the AHL and first among all rookies. It had become obvious that Brown had the ability to adjust his game and contribute offensively at any level of hockey.
So far, 2015-16 has been a more difficult year for him. Just eight games into the season, Brown fractured his ankle, and has just recently returned. Certainly it has to be tough to not only jump into the AHL in the middle of the year, but also be expected to be a key contributor right for the get go. But Brown has done an exemplary job, scoring four goals and six points in four games since returning.
Without a doubt, Brown was an absolute steal in the sixth round, and looks like he could be a large part of the Leafs future core after the rebuild. He could possibly make the jump to the NHL in 2016-17, but I think it may be better for his development to spend next year with he Marlies as well, especially after missing most of this season.
Dmytro Timashov –
125th overall in 2015 NHL Draft
Timashov was somewhat unheard of before making the wise decision to play his NHL draft eligible season in North America. The Quebec Remparts selected him 95th overall in the 2014 CHL Import Draft, and he became an instant star. Playing for the Memorial Cup host team gave him a rare chance to be viewed by scouts much more than a regular prospect might be.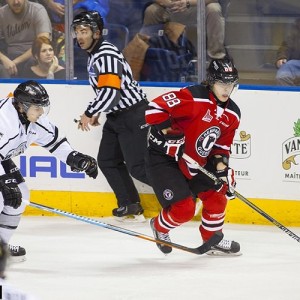 He was able to quickly adapt to the style of the QMJHL, utilizing his speed and creativity to become one of the most dangerous players in the league. His 90 points in 66 games were tied for 11th in the league, far ahead of any other rookie. Perhaps more impressively, his 71 assists were second in the league only to insane scorer, Conor Garland.
Fast forward ahead one year, and Timashov is dominating the QMJHL once again. Although he has only played 38 games, about 10 less than the average guy, he still ranks eighth in the league with 69 points, with his 1.82 points per game being second, again, only to Garland. Much like last year, the playmaking winger is setting up goals each night, sitting third with 49 assists.
The native of Ukraine has dual citizenship with Sweden as well, which is the country he represented at the 2016 World Junior Championships. He was consistently one the best forwards for the talented group, posting seven points in seven games, despite falling short of a medal. The 19-year-old is a speedy winger who has smooth hands. He has great vision of the ice and always seems to know where his teammates will be.
Timashov is eligible to play in the QMJHL for one more season, before he will likely make the move to the AHL in 2017-18. At this point, he looks like he has the potential to become a scoring third-line winger in the NHL, but of course, that would be a long way off. An optimistic timeline for his NHL debut would be in the 2019-20. In any case, selecting Timashov at 125th overall was a fantastic pick, and could turn out to be an absolute steal.
J.J. Piccinich –
103rd overall in 2014 NHL Draft
The native of Paramus, New Jersey has had quite the adventure since being selected in the 2014 NHL Draft. The Leafs drafted him out of the USHL, where he played for Youngstown Phantoms. He took charge in his draft year, scoring 27 goals and 58 points in 60 games. The creative playmaking winger's year distinguished him as a fourth round pick. However, he has made great strides in each year since.
After being drafted, Piccinich made a move to Boston University to play among some outstanding prospects, like Jack Eichel and Evan Rodrigues. Piccinich was unable to become one of their top producers, playing limited minutes due to the great talent surrounding him. He would go on to tally a goal and four points in 25 games as a freshman.
It was his decision to move to the OHL that may have turned his career around. Originally drafted in 118th overall by the London Knights in 2012, Piccinich had a tremendous opportunity to go to a top development team in the Canadian Hockey League, while being able to play strong minutes. He blended extremely well with head coach, Dale Hunter's, style of play right from the get go. He's become a key piece of the Knights success this season, scoring 24 goals and 52 points in 45 games.
He and the Knights are currently ranked third in the CHL, with an excellent opportunity to make a run for the Memorial Cup. Piccinich continues to make improvements to his game, becoming a stronger passer who makes responsible decisions with the puck. He has also improved his shot, using it at opportune times. Once picked on for his inconsistency during the past two years, Piccinich has visibly been giving his best effort each night with London.
At 19 years old, Piccinich may play another year in the OHL, becoming a larger part of their core, before making a move to the AHL. Like Timashov, you likely will not see him wearing the maple leaf until at least 2019-20. Regardless, he has moved up significantly in the Leafs depth charts this year, and could turn out to be a steal coming out of the fourth round.