The Toronto Maple Leafs are in year one of what will likely be a seven-year journey towards success.
Years one to three will be the gruelling, painful years. Years of bottom-feeding the league in hopes of having Edmonton Oilers type luck in order to win a couple of draft lotteries. So far, so good in year one of that plan. The Leafs are tied with Columbus and Edmonton for dead-last in the league, with just 43 points through the 2016 NHL All-Star break.
Years four through six will be about constantly improving and gaining invaluable playoff experience with their core intact for the future. They should have enough solid pieces at all positions in order to be a near-contender.
Then, finally, in year seven, the Leafs' many decades of pain and suffering should come to an end. If everything goes exactly according to plan, the Leafs will be serious Cup contenders, maybe even ending their Stanley Cup drought after 56 long years.
That's just a plan, though. Hundreds of decisions need to be made correctly before the end goal can come to fruition. By putting Babcock, Shanahan, and Dubas in charge for the foreseeable future, the Leafs already have a significant part of their future core in place. Now, they just need a model to follow.
And what better model to copycat than that of the Florida Panthers? Oh yeah, maybe the Blackhawks and Kings have done a decent job as well, but the Panthers are well on their way to becoming the force of the league for the remainder of this decade. While the Blackhawks and Kings both followed the essential plan of drafting well and signing smart, long-term contracts to stay under the salary cap, the Panthers essentially followed the same guideline as those before them anyway.
Florida's 17 Years of Pain
After breaking into the NHL for the 1993-94 season, the Panthers made a miraculous run to the Stanley Cup Finals in 1995-96. With just 92 points in the regular season, Florida upset three teams, before ultimately being swept by the powerhouse Avalanche in the finals. Since then, the Panthers have faced extreme struggles, and a disinterested fan base. In the past 18 years, the Panthers have won zero playoff series, and just four playoff games.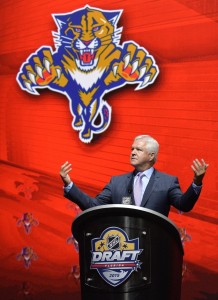 After over a decade of downright terrible draft selections, the Panthers finally began to right the ship. The Panthers currently have 14 players on their roster which were drafted by the team. While their plan was no where near Toronto's hope of about three painful years, the Panthers finally had finally brought in a solid management core.
Florida's general manager, Dale Tallon, was the GM of the Chicago Blackhawks from 2005-09, during which both Jonathan Toews and Patrick Kane were drafted. He was names GM of the Panthers on May 17th, 2010. Precisely when the organization seemed to turn around and implement a true rebuild project.
Now, less than six years after Tallon was hired, the Panthers have become one of the best teams in the NHL. They are currently led by a young core, all of which was drafted by Tallon, who have the team on pace for their best regular season in franchise history.
How Did They Turn It Around?
Dale Tallon came in and implemented a new mindset within the Panthers organization. It started at the draft. You cannot have a successful rebuild without drafted well, which goes beyond just the first round. Secondly, signing smart contracts. In the salary cap era of the NHL, no team can afford to sign a player to a long-term contract with a big cap hit if they are not 100% certain that he will have a significant impact on the team's success. Lastly, Tallon knew that he had to bring in some veteran presences who can contribute was well as metro the young stars at the same time.
Drafting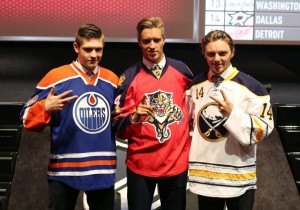 The Panthers finished low enough in multiple years to earn valuable draft picks. However, that does not guarantee superstars. Until 2009, the Panthers draft picks never seemed to live up to their potential. But, suddenly the tide began to change. In the last six years, Florida has drafted nine players in the first round. Seven of them are now having tremendous success as a member of the Panthers, with Lawson Crouse still playing junior as he just drafted in 2015. Five lower round picks have also played in the NHL with Florida this year. Like Chicago and Los Angeles, the core of any great team starts with drafting.
In the Leafs case, they seem to be on their way to carving out their core via high draft picks. In 2012, they drafted Morgan Rielly fifth overall. He is already a cornerstone of their defensive core and the only untouchable player on their current roster. They've also selected Frederik Gauthier, William Nylander, and Mitch Marner in the first round in years since, all showing tremendous potential to become long-time NHL contributors. Just as important, the Leafs are finally making quality picks past the first round.
Bringing In Quality Leadership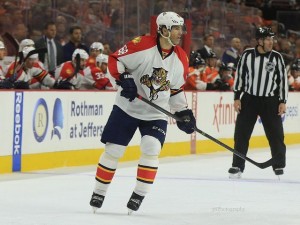 The Panthers went out and traded for three excellent and respected players, filling all three positions. In 2011, they traded for Brian Campbell, who has always been a reliable puck moving defender and certainly knows the ins and outs of putting together a solid NHL career. In 2014, they acquired Roberto Luongo from the Canucks, giving them excellent goaltender for the first time since they had, well Luongo, actually. He has fun playing the game, but also knows what it takes to win in the NHL, despite never capturing an elusive Stanley Cup, yet. Finally, in 2015, Florida traded for the legendary, Jaromir Jagr. The 43-year-old is the greatest personality in hockey today, but has had determination, consistency, and a work ethic that is second to none for over 28(!) years now.
What the Leafs have yet to do in previous attempts to rebuild is bring in quality veterans as mentorship. They simply expected these young men, who were still developing, to take the reigns of the toughest team in hockey to play for, and somehow succeed. Well, unsurprisingly, they failed. At the point in time of which Toronto expects to begin to compete again is when Shanahan and Lamoriello need to bring in these presences. The type of player who can not only lead by example through hard work and buying into the team's concepts, but also still produce at a high level.
The End Result
As a result of the preceding decisions made by Florida management, the Panthers have returned to glory in the NHL for the first time in nearly two decades. They are an unprecedented top 10 team as of today, and haven't shown any signs whatsoever of slowing down. Although they have yet to make any playoff run with their current core leading the way, this year looks to be the first of a long run of postseasons. After about six years of this version's rebuild, the discouraging seasons are beginning to pay off.
In Toronto's case, there is clear evidence that a seven-year plan is definitely a best-case scenario. Following the Panthers guideline will only allow the Leafs to put their plan in progress with confidence that the turnout will be success. Their current management and scouting staff have the potential to make valuable draft picks through all seven rounds. And with Shanahan and Dubas at the top for the foreseeable future, wise signings and economically efficient contracts will be put in place to ensure minimal salary cap issues.