I am seeing a lot of strange reactions to the Randy Carlyle firing by Leafs fans. Based on the Twitter-rage I have seen as the team has gone of 0-3  on their recent road-trip, expectations were that Horachek's hiring would spur the team to a winning streak and get them into Playoff contention. It seems that the obvious improvement in the team's commitment to defense (as seen by the steep drop off in shots allowed under Horachek, last night's game excluded) is not enough of a positive for people who apparently expect miracles.
I have been saying all season that the Leafs are better off missing the Playoffs and drafting high than just squeaking in and losing in the first round. The team, apparently, now agrees with me.  I think that they fired Carlyle when they realized the Playoffs had become a long-shot (which they always were anyways).
My thinking is that when it became clear that the team (who were still technically in a Playoff spot at the time, but which had played three more games than the Panthers, whom they lead by two points and who had recently annihilated them) was not going to be competitive, they instilled Horachek so that they could get back to basics and create an environment where the team played a more structured, defense oriented system.  Furthermore, I don't think that the team's record will be  held against Horachek when it comes time to decide if he stays. His goal is (or should be)to  instill in the team a commitment to playing a stronger possession game and if he can do that, provided, I guess, that Babcock doesn't become available, I think he'll be the coach next year.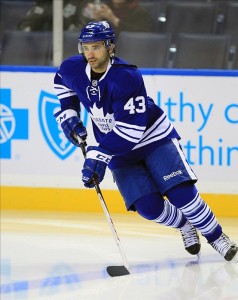 As for the rest of this season, it's madness to base your thoughts on the team on the results of the game from here on out. Since they have next to no chance to make the Playoffs, you should be happy with a team that makes strides to allow less shots, and if the development of Morgan Rielly, Jake Gardiner and Nazem Kadri continues to go well.
Other than that, the only result worth cheering for is in the L column, since a high draft pick is the best thing the Leafs can do besides  try to move out anyone not named Bernier, Rielly, Gardiner, Kadri or JVR who makes more than a million bucks. The team simply cannot risk missing the Playoffs and drafting lower than fifth – it would be a disaster.
Ideally, the Leafs would be able to also keep Kessel and I am in no way suggesting he is part of the team's problems, but if they could get a return that  makes sense and simultaneously get younger and fix their cap, it's not an outrageous idea to trade him.  I really do think he's a key component to any team that wants to compete (i,e:scoring winger) but if the offer was crazy, you'd have to do it.
Other than that, there isn't much left in this season. The Playoffs were a bad idea from the start: even with this team playing at its absolute peak, they don't have enough talent to go beyond the first round – barring some insane luck. So the best move was to always finish low and pick high, but, perhaps owing to his respect for Nonis' vision, or maybe the whole ten years with one Playoff appearance thing, Shanahan let the team add a bunch of role players in the summer in an attempt to go for it. It says here that that was extremely misguided, especially in light of the team's cap problems.
Leafs Currently in 19th Place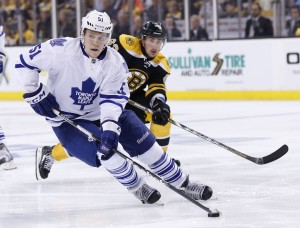 Which  means that they are only 8 points out of 26th, which would give them high odds at a top five pick. The team's goal for the rest of the season should be to get as close to the bottom as possible. This means that they immediately need to start moving players out and giving maximum ice-time to those who they hope to see lead the team in the future. In my opinion, there are three things the Leafs need to do in the final 40 games in order to best prepare for next season:
1. Play Kadri the most. Put him on the first PP, get him to kill penalties, play him more than any other forward. He is the team's future, he's earned this and he's paid his dues. Kadri is going to cost the team some money in the summer and they need to know if he's worth it. I think he is, but if they follow this advice, they can know for sure.
2. Play Morgan Rielly the most on defense. Get him onto the top PP unit and have him take on what are currently Phaneuf's responsibilities. The Leafs will never compete until they have a number one defenseman. Time to find out if that guys is already here.
3. Get Gardiner and Rielly away from Holzer, Polak and Robidas.  Whether that means switching Phaneuf to the right side and making him and Rielly the top pair, or playing Rielly and Gardiner together, something has to be done. In the previous three seasons, Gardiner has a CF of 48% which is not terrible for a young defenseman on a bad team. This year, Gardiner's most common partners are Hozler (40.7%) and Polak (43.%) which constitute a significant drop. He desperately needs a new regular partner.
Rielly and Gardiner, together for over 100 minutes of even strength time so far, have a CF of 51% and I think they ought to be tried out more.
With these changes, I think the Leafs would at least be fun to watch as we count down the days until the draft.
Thanks for reading.