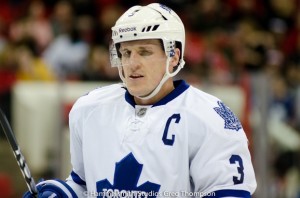 The Leafs have lost eight games in a row. They have scored 15 goals in their last ten games. Things are bad, but they really aren't that bad.
Lost in the Leafs' recent downturn is the vast improvements they have made on team defense under Peter Horachek, the massively improved play of both Jake Gardiner and Morgan Rielly and the ascension of Nazem Kadri to perhaps the team's best all-round player.
Instead what we see are ridiculous arguments about whether the team has been unlucky (They have been and its empirically provable, but who cares, right?) and borderline crazy media suggestions (McCown: Make Gardiner a forward. Cox: They aren't getting the same quality of scoring chances under Horachek. Ferraro: Kadri and Kessel have no chemistry…..and Dear God, do not make me even remember that there was a segment on last night's broadcast suggesting that Polak should be the team's next captain.)
It's all enough to make a sensible person who believes in what the evidence tells him (as opposed to fitting a pre-existing narrative into what he thinks he sees) insane.  The fact is, I don't even care about the losing. The losing is good if it forces the team to fix it's salary cap and move out guys like Polak and Bozak and hopefully never employ anyone with the suffix "AK" in their name ever again. If the losing forces the team to fire Randy Carlyle (it did) and Dave Nonis (it will) and to draft highly this year and get one of the at least five excellent centres available, then I say bring it on.
But there is just one thing the Leafs have to do – besides lose – and that is make a trade.
Today.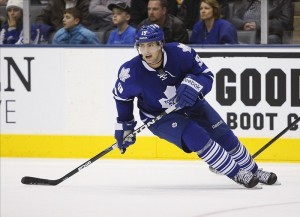 The reason is that this team is lost, demoralized and in need of a jolt. There is a zero percent chance they will make the Playoffs and a less-than-zero chance that they will take the team they currently have and turn it around. There is a psychological aspect to all games and in this case the Leafs problems are at least partially psychological.  Yes, the main problem remains that Nazem Kadri is the only decent NHL centre on the roster and that there is currently no top pairing defensemen, but it goes deeper than that: the Kessel, Bozak, Lupul, JVR, Phaneuf, Franson core – basically the guys who've been here for the last four or five years and have been centerpiece players during all four major collapses since the NHL lockout – is fundamentally screwed up.  I don't care if each of those guys has a career season left in them or not, the fact is, in Toronto, as a group, they are done.
So, the team must take one of them and move them out today, just to cast away the pall that is hanging over this team.  It must be done and it must be done now. The losing is OK, the goals will come and the team actually is improving, but until they can banish the shadow of failure and ineptitude that hovers over the team, they will be unable to lay any kind of foundation for future success.