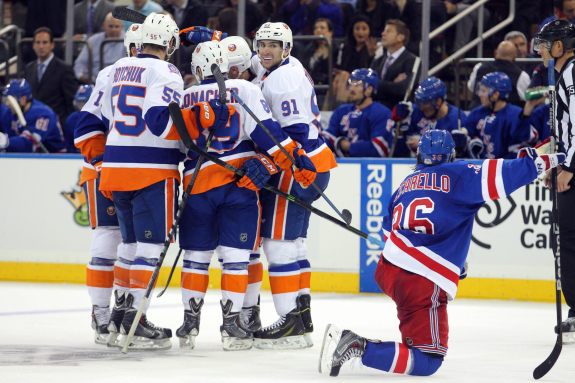 The Rangers have scored one garbage time goal in 120 minutes of hockey since the all-star break and have lost games to two playoff teams, at least one of which they are likely to see in the playoffs. Despite those concerns the Rangers have had a great run in the past twenty games and in that same timeline are among the hottest teams in the league. This considerable winning pattern, lasting for what amounts to a quarter of the season, has moved the Rangers from the peripheral of the playoff race to the meat of the curve. The teams around the Blueshirts such as the Capitals and Penguins have had measurable success as well but with games in hand and a large gap between the fourth and likely wild card position and the fifth likely missing the playoffs position the Rangers now sit in the driver's seat for their own playoff chances.
All of this winning and success should be good enough but a 6-goal margin will likely hold Rangers fans back from celebrating with too much bravado. That 6-goal margin refers to two games with the Islanders exactly two weeks apart and in the midst of this winning trend. First losing 3-0 at the Garden and then 4-1 at the Coliseum, a shut out save for a Carl Hagelin goal in the waning and irrelevant final minute.
When push comes to shove it is obvious that coming off of a Stanley Cup Finals run the Rangers are just trying to get to the playoffs where their true success will be measured. However, playing the perennial little brothers in the Islanders raises the stakes of what should be just another two-point attempt. For the Rangers, to be winning at this impressive rate leaves a lot to be excited about if you are a fan with hopes of your team matching if not succeeding last years success but the wind will quickly come out of those sails if the Rangers not only lose but are embarrassed against their crosstown rivals like they have been as of late.
Simply put, the Rangers must show up with their "A" game when the Islanders are across the ice from them and anything else is just unacceptable. Luckily as the Rangers try to get back their winning ways in the second half they will get another two chances at revenge. The first chance they have is merely two and half weeks away and will give them an opportunity to quickly change course and put those forgettable losses behind them.
With the Islanders returning to prominence it is important the Rangers circle those games on the schedule. Yes it is still the same two-points as any other game but for bragging rights and morale these games mean so much more. I'm sure I speak for all hockey fans when I say that the preffered way to settle this score would be a seven-game series this spring.