Alexander Semin is currently in no-man's land. Is he going to get onto Carolina Hurricanes ice again this season? Will he suddenly remember who he is and once more translate that into NHL excellence as in years past? Will he be put on waivers or find his fan base screaming "Go Checkers?" Yes, Alexander Semin is in no-man's land.
What happened, Alex?
Last year, Alexander Semin played well for the 'Canes. His 22 goals and 20 assists were not spectacular, but neither was the team. He has been known throughout the NHL as being an excellent skater and scoring threat. A true first-line guy. What happened, Alex?
Alexander Semin's time with the Washington Capitals saw some decent output. Drafted in the first round of the 2002 NHL Entry Draft, that native of Krasnojarsk, Russia saw seven seasons on the ice with the Caps. His best season in terms of production was 2009-10, where he had 40 goals and 44 assists. Not too shabby. Capitals fans will surely remember this natural hat trick against the Tampa Bay Lightning in November, 2010:
His time with the Capitals was not without controversy, particularly regarding his staying to play in Russia early in his career. Overall though, he contributed significantly to Washington's regular season and playoff success, and is still number five on the Caps' all-time leading goal-scorers list with 197. So, what happened, Alex?
Semin goes south
Former Carolina Hurricanes GM, Jim Rutherford brought Alexander Semin south to the Carolina Hurricanes in July, 2012. JR loved him so much that he signed him to a five-year contract extension worth $7 million per season. Semin got a superstar contract and a superstar salary. Unfortunately he is not living up to the "superstar" side of the deal. [tweetthis]Not only did Alexander Semin go south geographically, but is game has gone south as well. #THW[/tweetthis] Fans in Carolina are not happy. They see a guy who is making bank and not producing. His situation is more than mind-boggling to the fans, and seemingly to 'Canes Head Coach Bill Peters, also.
I wrote back in November that Peters had invited Semin to "have a seat." Semin was benched for several games for what Peters described as not playing with pace. I think that is "coach speak" for being lazy. In any event, Semin sat for a bit and then got back out onto the ice. The intended results from the time on the bench did not materialize. So far this season, he has 1 goal and 7 assists. Semin has definitely gone south.
Fan thoughts
While not by any stretch of the imagination is the following to be considered a scientific poll, I did ask fans of the Carolina Hurricanes to give me their thoughts on Alexander Semin via the fans' group page on Facebook. The "notifications" alerts came fast and furious as there were quite a few "Caniacs" that responded and did so very quickly. Here is a sample of the fan opinion I received:
"Doesnt hustle. .takes multiple shifts off…it's not the coach..he was lazy last yr …if you don't earn ice time you don't play…he is collecting his check and just cruising along."
Ouch! And another:
"I have never seen a more talented player when he is on, but he is underachieving to his potential."
There were several folks who are sympathetic to the fact that Semin was injured and may not yet be fully recovered:
"I think he's still hurt – not 100% from surgery (it's hard to come back from wrist surgery being as intense as it was."
And a comment that understood the wrist, but not his effort:
"Wrist would explain his shooting woes not his legs…he doesn't hustle."
The fans in Raleigh are restless when it comes to Alexander Semin, and why not? He's making superstar money to either underperform or watch from the sidelines.
Ronnie coddling Semin?
In the past week, the issue of "what to do about Alexander Semin" has made the rounds in the media once again. The conundrum lies squarely on the desk of Hurricanes GM/Executive VP Ron Francis. Chip Alexander of the Raleigh News & Observer reported Tuesday that Francis addressed the Semin situation by saying,
"Alex is a part of the Hurricanes and we'll continue to work with him and try to help him be the player we think he can be. Things are different now in the way we are running things and what we expect. Our job is to continue to work with him and get the message through."
Does that statement mean that Francis is "coddling" Semin, or just showing an extraordinary amount of patience? It is clear that Ronnie wants Alex to respond to the system of Coach Bill Peters. The amount of time that the Hurricanes continue to work with him is really the question.
Peters not coddling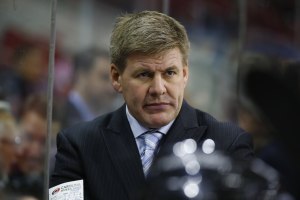 One thing is absolutely clear, and that is that Coach Peters is not happy with the play or the response he has gotten out of Alexander Semin. I see Peters as an "old school" type of coach, no-nonsense allowed. Also part of Chip Alexander's above-referenced report was this quote from the coach:
"Well, it's not frustrating for me. We just play the guys who dig in and work and play with speed in both directions and play hard. It's not hard."
Between the lines it's easy to read that he is just not happy with the effort of Alex Semin, and he's not going to put him on the ice without reason to believe it will change. Apparently he's hoping to have that reason, as he said this after Friday morning's skate: "I would think we're going to be looking for healthy bodies, a jump and a spark. They're all good players (Nestrasil, Liles and Semin) and should be able to provide that if we go that way." His comment has found life on Twitter:
Alexander Semin, John-Michael Liles, and Andrej Nestrasil will likely play tomorrow night in New York. #Canes

— Cardiac Cane (@CardiacCane) January 30, 2015
Hmmm. Will Semin be back on the ice for the 'Canes Saturday night against the New York Rangers? Sure sounds like Coach Peters is leaning that way. Unless he just needs "healthy bodies."
Options
What will the Carolina Hurricanes do with Alexander Semin? there are several options that Ron Francis has before him. He can hope things turn around, that Semin will respond to Coach Peters and his system and return to form quickly. That would be the best of all possible choices. Having a top-scoring Alexander Semin on the ice will undoubtedly bring up those around him. Remember, the guy is really very talented:
"If I have a chance to move one of my bad contracts out for the bad contract of Semin, it's a move I strongly consider."
The notion of moving out one bad contract for another doesn't seem to be a winning plan for the Hurricanes, but who knows? Stranger things have happened, for sure. In the meantime, 'Canes fans can hope that if Alex Semin plays against the Rangers, he lights the lamp early and often.
It would really be great if he could figure out whatever it is that is keeping him from meshing with this year's edition of the Hurricanes. New York would be a fine place for Alexander Semin to find the answers, and allow Coach Peters to focus on building the team, and Ron Francis to focus on more pressing matters. Coddling a superstar is not one of those pressing matters.