Leaf Revolution: Debut article by Christopher Ralph, Toronto Maple Leafs correspondent for THW.
I recall as a youth watching Leafs 'Legends' Greg Terrion, Dan Daoust and Allan Bester strike fear into whatever unfortunate opponent the NHL schedule threw at them in the 1983-84 season. Wait a minute! – those were not legends, you say?!?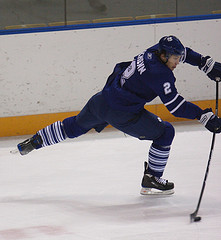 After growing up in a family in which all members were proud to be part of Leaf Nation and against everything 'Hab'-related, it was a monumental task to change allegiance and cheer for another squad. However, I exhibited stubbornness at quite an early age and although the blue and white still run through my veins to some extent, the Calgary Flames and the 'Battle of Alberta' is where my fascination swayed and my hockey heart lies. But I do, to this day, follow closely the NHL's 'Most Valuable Franchise' – valued at a cool $448 million!
Admittedly, as feeble as the Leafs were in that 1983-84 season, guys like Rick Vaive (finished a trifecta of 3 straight 50-goal seasons), Dan Daoust and Bill Derlago did all have solid seasons. On the other hand, netminders Bester and Palmleteer didn't fair so well. Both played in over 30 games each that year and combined for Lacrosse-ish GAA of about 4.60 and a save percentage in the neighbourhood of 0.865. Mr. Rick St. Croix didn't exactly flash a Superman's cape when he appeared in 20 games with a GAA of 5.11 and a save percentage of 0.849. I might think twice before entering a young goalkeeper in his goalie school (no offense Rick)!
After aa more than unusual lead in, without further ado here is my: Top 10 Reasons For Leafs Fans To Be Optimistic (about the future):
10. As mentioned above, it is the most valuable franchise in the NHL. Although not translating on the ice this season, it is obviously a tremendous positive.
9. Leaf Nation! The fan base for the Maple Leafs is super strong through good times and bad.
8. For the two previous reasons and for reasons yet to be mentioned, within the next two years, T.O. is likely to land some superstar players. The Sedin twins, Jay Boumeester, Mike Cammelleri and Rick Nash are possible names you might see sporting the blue and white.
7. The Russian-Belarus connection: Kulemin (will continue to get better), Ponikarovsky, Grabovski (of course, born in Germany but moved to Belarus when he was two) and prospect Mikhail Stefanovich will all be important cogs as the Leafs move forward.
6. Mike Penney and the scouting staff: Often with no 1st-round picks to work with, Leafs scouts seem to be unveiling some hidden gems in drafts in recent years. Here are just a few examples: Stefanovich (4th rnd – '08), Christopher DiDomenico (6th rnd – '07), Viktor Stahlberg (6th rnd – '06) and Anton Stralman (7th rnd – '05). Never heard of some of them? You will!
5. Coach Ron Wilson: While I am admittedly not his biggest fan, you cannot deny the credentials he brings to the table. I've been impressed with some of the wins he has gotten out of his injury-riddled club in the past month.
4. GM Brian Burke: Yet another of my least favourite hockey personalities, but he is definitely a fit for T.O. Able to give savvy quotes on a dime, he is 'golden' for media that cover the blue and white. I, personally, think he is overrated as a GM and his success in Anaheim, for instance, was aided greatly by some astute drafting of Getzlaf, Perry and signing Kunitz by his predecessor Bryan Murray. Not trading Tomas Kaberle might have been the best 'non'-move he has made in his short tenor thus far. Toronto will be the ultimate test for him.
3. 2009 NHL Entry Draft 1st round pick: As of today, the Leafs would draft 8th overall. While this is not going to land Tavares or Hedman, it will land a very good prospect. I would not be surprised to see Burke try and move up even higher. The Leafs may even have a shot at drafting Luke Schenn's younger brother – Braydon. The talented and gritty forward would be a great fit. He could go higher though – thus the need to move up.
2. Luke Schenn: Luke "The Force" Schenn already has a huge fan base in Toronto – Schenn Nation. Schenn has progressed and played admirably in his rookie year and is the shutdown defenseman the Leafs will be building their franchise around. He possesses great leadership skills and obvious outstanding physical play. He has untapped offensive upside, but that is not his forte.
1. Time and the Chicago Black Hawks! As long as the Windy City Hawks continue there snake-bitten streak without hoisting Lord Stanley. The Leafs last Cup win, of course, came in 1967, but Chicago last won the Cup in the 1960-61 season. The way the young and super-talented Black Hawks are developing, however, their drought is not likely to last long!
Chris is THW's senior draft/prospect analyst and a Managing Editor. Watch for "The Next Ones" Prospect Profile series, exclusive rankings, mock drafts, as well as the annual THW NHL Entry Draft Guide. Follow @ChrisRalphYQ on Twitter as he infiltrates, dissects and analyzes all happenings of hockey prospects and the NHL entry draft. Email: cralph[at]thehockeywriters[dot]com