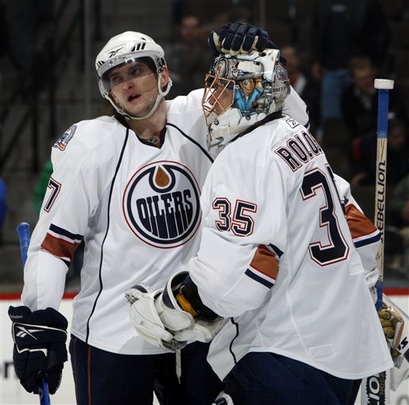 Searching for offense from the blue line isn't merely a straightforward challenge. Every coach would prefer to be in possession of offensive defensemen, but only a few have such a lavish commodity.
Craig MacTavish is fortunate enough to have a number of options at his disposal. Edmonton is one of two teams in the NHL with four defensemen who have 30-plus points. San Jose is the other.
Sheldon Souray (48 points), Tom Gilbert (40 points), Denis Grebeshkov (33 points) and Lubomir Visnovsky (31 points) have each provided substantial support, although the latter is out for the remainder of the season after dislocating his shoulder on Feb.3 against Chicago.
It wouldn't be a peculiar assumption to believe that the Oilers couldn't be in the Western Conference playoff race today without the contributions of their defensemen.
Perhaps the most unheralded player out of the four is Grebeshkov. Selected 18th overall by the Los Angeles Kings in the 2002 Entry Draft, the Russian has become a mainstay for the Oilers.
Souray and Visnovsky are well-known for their exquisite one-timers. Gilbert scored 13 goals as a rookie in 2007/2008. One may ask what Grebeshkov as accomplished.
Frankly, he's still developing as is Gilbert. But he's doing so with continuous promise and displaying the offensive upside which was noticeable even from his days as a teenager.
Prior to playing in the NHL, Grebeshkov had experienced success at the international level, being a member of Russia's 2002 gold medal triumph at the Under-20 World Junior Championships.
In the two years surrounding the lockout, the former Lokomotiv Yaroslavl property had played 12 combined games for the Kings. Later in the 2005/2006 season, Grebeshkov was traded to Long Island with Jeff Tambellini.
The stint in New York was short-lived (21 games) and he returned to the Russian Super League in 2006/2007 to re-join Lokomotiv. Nine days shy of that season's trade deadline, Grebeshkov was sent to Edmonton in exchange for Marc-Andre Bergeron.
His three goals and 15 assists in 71 games of 2007/2008 were respectable. With more experience, he has matured as a player.
Not only has the 25-year-old scored five goals and added 28 assists this year, but his plus-7 rating leads all Oiler skaters. Grebeshkov can log the bulk of ice time among defensemen and is doing so in Edmonton averaging over 20 minutes per game.
Along with his offense, he is an intelligent player who will throw the body on any member of the opposing team. Visnovsky's injury has allowed him to receive more time on the power play and he has proven himself as a reliable quarterback.
His precise, hard shot has been evident with 12 of his 33 points coming on the man-advantage. A good work ethic and quick-learning ability are the remaining elements which make Grebeshkov a well-rounded defenseman.
Dennis Wideman and Duncan Keith are two defenders who have taken their games to another level this season. Both have totalled more than 40 points and have a plus-minus rating of 30 or more.
No other defenseman has such remarkable statistics in each category.
Denis Grebeshkov will undoubtedly join this group and become a top-notch defender for years to come. Interestingly, he is known as a shy player in the locker room.
On the ice, his play speaks loud volumes.