*Originally written in September 2012*
On September 6, 2012, there was cause for celebration in Yaroslavl, Russia. For the first time in nearly a calendar year, the city's hometown hockey team, Lokomotiv Yaroslavl, took to the ice at Arena 2000 for a KHL regular season game. The contest, which was against Sibir Novosibirsk, was a chance for the organization and their fans to be joyous once again, especially after the terrible tragedy which befell them last year. The events of that fateful day still resonate in the hearts and minds of the hockey world, even years later, effects so profound that they will never dissipate. What happened to Lokomotiv was a reminder of the fragility of life but also strength of character.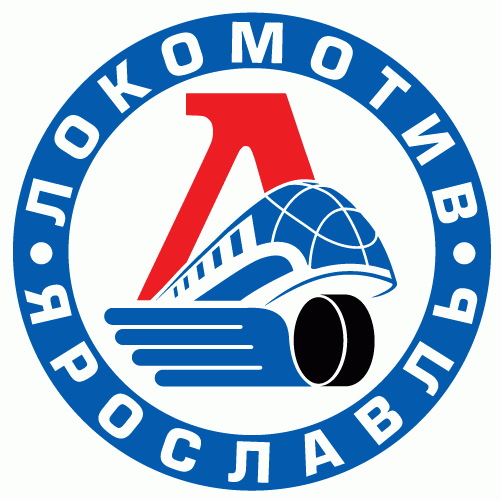 A Season Full of Promise
Rewind almost exactly twelve months. By the time the 2011-12 KHL season was about to start, Lokomotiv was a team willing to prove itself yet again. They had lost in the Western Conference finals the season before in six games to Atlant Moscow Oblast, despite finishing third in the KHL standings. They were hoping that the 2011-12 KHL campaign would bring about significant improvement and, possibly, a Gagarin Cup. Eleven players left the team after that playoff series but they were to be replaced by significant talents willing to come in and make impressions.
Lokomotiv had signed some extremely talented players to help solidify their roster. Swedish goalie Stefan Liv, a former draft pick of the Detroit Red Wings and gold medalist at the 2006 Winter Olympics, came over from Sibir Novosibirsk to solidify things between the pipes. Forward Jan Marek, a fixture on the national team of the Czech Republic, made the transfer from Atlant; joining him from Atlant, as well, was Pavel Trakhanov, a smaller two-way defenceman with several years experience in the RSL and KHL, playing with Dynamo Moscow and Severstal Cherepovets, too. Veteran blueliner Mikhail Balandin came over from Dynamo Moscow. Robert Dietrich, a former draft choice of the Nashville Predators and a key defender for the German national team, signed with Lokomotiv after several years with Adler Mannheim in the Deutsche Eishockeyliga.
NHL Connections Abound on Lokomotiv
Former NHL players Kārlis Skrastiņš, Ruslan Salei and Alexander Vasyunov — who had played for Lokomotiv in his junior hockey days — also signed with the club, joining fellow past NHLers Pavol Demitra, Josef Vašíček and Karel Rachůnek, who was actually the team's captain. Another of their key offseason moves was to bring in Brad McCrimmon to be behind the bench. McCrimmon, a 1989 Stanley Cup champion with the Calgary Flames, had just finished a tenure as an assistant coach to Mike Babcock in Detroit.  The NHL connections in Lokomotiv did not end there either. Ivan Tkachenko, who was about to start his eleventh season in Yaroslavl, was a former draft pick of the Columbus Blue Jackets. Vitaly Anikeyenko was a former prospect of the Ottawa Senators. Both of McCrimmon's assistant coaches, Alexander Karpovtsev and Igor Korolev, had successful NHL careers of their own. Karpovtsev even had made NHL history by becoming the first Russian player to have his name engraved on the Stanley Cup when he won hockey's Holy Grail in 1994 with the New York Rangers.
The youth on Lokomotiv was also very promising.  In addition to 23-year-old Vasyunov, the team had two former QMJHL players in Gennady Churilov and Sergey Ostapchuk.  Artem Yarchuk and Nikita Klyukin were ready to become solid KHL players, while Anikeyenko, Andrei Kiryukhin and Marat Kalimulin were already asserting themselves. Two players from Russia's gold-medal winning team at the 2011 World Juniors, Daniil Sobchenko and Yuri Urychev, were also part of the youth movement in Yaroslavl. In fact, in June of that year, Sobchenko had been chosen 165th overall at the 2011 NHL Entry Draft by the San Jose Sharks, thanks in part to his stellar play at that World Junior tournament. Lokomotiv had some up-and-coming talent on their junior team, which plays in the MHL, whom they felt could benefit from some professional grooming before their season started. They joined a veteran group that also included Alexander Kalyanin, Alexander Galimov and Alexander Vyukhin, all of whom had established professional careers, most notably Vyukhin, a 38-year-old veteran goaltender who had 18 years of pro hockey to his credit.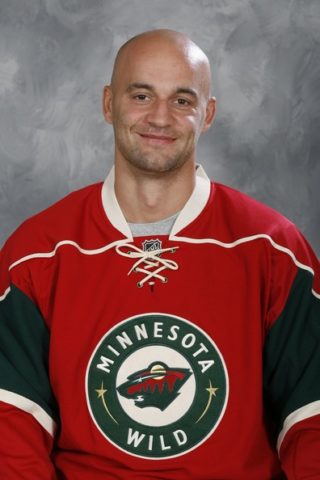 So many of the Lokomotiv players and coaches actually had rather incredible professional connections to each other in several ways. Alexander Karpovtsev and Igor Korolev were former teammates on both the Toronto Maple Leafs and the Chicago Blackhawks. Korolev wore 38 in his two years with the St. Louis Blues, a number then worn for eight seasons in Missouri by none other than Pavol Demitra. Josef Vašíček had played two seasons in the OHL for the Sault Ste. Marie Greyhounds, who have also employed the services of Tomáš Rachůnek, Karel Rachůnek's youngest brother. In his last season in the NHL, Ruslan Salei was coached by Brad McCrimmon, who had been an assistant with the Detroit Red Wings up until the 2010-11 season. Most remarkably, on February 26, 2008, the Florida Panthers had traded Salei to the Colorado Avalanche for Kārlis Skrastiņš.
Celebration Aplenty
Lokomotiv's 2011 preseason had been quite successful. They won seven of their nine games and one of their losses was in a shootout. The team had traveled already to Switzerland and Latvia so it was nice that their last two games before the season started were at home, taking place at Arena 2000, the 9,046-seat hockey venue in Yaroslavl. In the last preseason game, September 3 against Torpedo Nizhny Novgorod, the last goal was scored into an empty net by Alexander Galimov. He was about to become one of the team's best-known players but not for reasons he would have expected.
There was reason to celebrate all around by the time the 2011-12 KHL season was about to start for Lokomotiv, their first game coming on September 7 in Belarus against Dinamo Minsk. It was also the day after new assistant coach Igor Korolev's 41st birthday. Five days later was Josef Vašíček's 31st birthday (he was also engaged to his girlfriend Michaela) and, in another 12 days after that, was Alexander Kalyanin's champagne 24th birthday. Back in Dallas, Kārlis Skrastiņš' wife Zane was four months pregnant with their third daughter. Even though he was just 20 years old, Daniil Sobchenko had recently married his longtime girlfriend. The dawning of a new season just added to the felicity surrounding the team.
Lokomotiv opted to bring players from their youth team — Sergey Ostapchuk, Maksim Shuvalov, Pavel Snurnitsyn and Maxim Zyuzyakin — along with them for the trip to Minsk. They also planned to bring all of their team staff, including veteran goaltending coach Jorma Valtonen. Yuri Urychev, who was both injured and suspended, was expected to stay behind in Russia but he opted to take the flight anyway, joining Sobchenko, who was his best friend. As well, despite being from Minsk himself, Ruslan Salei accompanied the team on the trip to Belarus. At the last moment, Zyuzyakin and Valtonen opted to stay behind in Yaroslavl to rejoin the team when they returned to Russia. The decision would be one that would save their lives.
Tragedy Strikes; Reactions Abound
The players and staff of Lokomotiv boarded a Yak-Service Yakovlev Yak-42 plane at Tunoshna Airport in Yaroslavl to make the trip to Minsk in eager anticipation for their season-opening game. Something was about to go terribly wrong. Despite the weather conditions being reasonably good that Wednesday afternoon, the aircraft ran off the runway and could not gain altitude. At 4:05 p.m. Moscow-time, the jet struck a radio tower not far away and it crashed into an arm of the Volga River, bursting into flames. Out of the 45 people on board the plane, 43 were killed instantly, including almost the entire roster, all of the coaching and medical staff, and nearly the whole flight crew. The only two people to survive were forward Alexander Galimov and avionic engineer Alexander Sizov, both of whom suffered serious burns from the burning fuselage of the plane, especially Galimov who tried his best to rescue his teammates. Both men were taken to hospital and it was unlikely that both Galimov and Sizov would survive.
Meanwhile, news of the Lokomotiv tragedy spread quickly. It was met with shock, sadness and disbelief, especially due to the amount of melancholy that had already befallen the hockey world during the summer of 2011. KHL president Alexander Medvedev actually took to centre ice at a game between Salavat Yulaev Ufa and Atlant Moscow Oblast to break the news to bewildered and grief-stricken fans.
Several national ice hockey federations went on record to confirm the deaths of some of their country's well-known players. Valeri Bragin, who had coached Daniil Sobchenko and Yuri Urychev at the last two World Junior Hockey Championships, lamented that he felt as though he had lost sons in the tragedy. In Latvia, the news of Kārlis Skrastiņš' death was met with anguish as the country's hockey community was still heartbroken over the death of Sergei Zholtok in 2004. In a coincidence even too eerie for some Latvians to bear, Skrastiņš wore #7 in international tournaments for Latvia and he had died on the 7th of September. The passing of Pavol Demitra was met with complete surprise in Slovakia. He had just played at the 2011 World Championships, held in his homeland, as the Slovak national team captain. Additionally, Demitra's death was also the second tragedy to befall New York Rangers forward Marián Gáborík, who lost yet another teammate in only four months. Karel Rachůnek and Jan Marek had also played at the tournament for the Czech Republic, helping their country win bronze.
Swedish hockey fans wept at the loss of another of their country's top goaltenders, recalling the pain of losing Pelle Lindbergh in 1985; even though Stefan Liv was not born in Sweden (he was born in Poland), the country where his life had been cultivated was now devastated by his death. Germany and Kazakhstan were both equally saddened at the loss of Robert Dietrich. To make things even more heart-wrenching, there were also conflicting reports about one player in particular. Some were saying that the only native Belarusian on the team, Ruslan Salei, had been killed; others were saying that he was alive and well, waiting back home in Minsk to join his teammates for their game. After nearly three speculation-filled hours, the Belarusian Ice Hockey Federation confirmed that the 36-year-old defenceman was among the dead.
The Lokomotiv tragedy affected several hockey leagues, as well, not solely the KHL. All three member leagues of the Canadian Hockey League lost alumni.  The Elitserien, the Deutsche Eishockeyliga and both Extraligas (Czech and Slovak) also lost significant former contributors to their histories. The impact was no longer profound; it was indescribable.
IIHF president René Fasel later said that the Lokomotiv tragedy was the darkest day in hockey history.
The Lokomotiv tragedy was also yet another dark cloud over hockey in Russia, a country long susceptible to heartache. The country has seen several players of all ages die due to a variety of circumstances, including two other disasters. In 1950, eleven players on the Soviet Air Force hockey team, VVS Moscow, were killed in a plane crash in Sverdlovsk, what is present-day Yekaterinburg. In 1989, nine 16-year-old members of the youth team of Traktor Chelyabinsk were among 575 people who lost their lives when a train erupted into a fireball near Ufa in what is the worst railway disaster in national history.
United in Mourning the Lokomotiv Tragedy
In the days following the Lokomotiv tragedy, many tributes poured in for those who had lost their lives. The KHL delayed the opening of the 2011-12 season by a week to honour the dead. A memorial service took place at Arena 2000 in Yaroslavl for fans to pay their respects and it was estimated that nearly 100,000 people attended. In Belarus, Dinamo Minsk had a beautiful ceremony for their fallen comrades from Lokomotiv at their own arena, placing markers around the ice surface in two straight lines, each with a player's name and jersey number on it. Dinamo players set candles before each picture. The ceremony filled the 15,086-seat Minsk-Arena to capacity and then some.
Funerals for the deceased Russian players on Lokomotiv's roster were held all over the country.  Daniil Sobchenko, Vitaly Anikeyenko and Alexander Vyukhin were all repatriated to Ukraine for burial there. Memorials were also held in Sweden for Stefan Liv, in Latvia for Kārlis Skrastiņš, in Belarus for Ruslan Salei and Sergey Ostapchuk (who was also repatriated), in Germany for Robert Dietrich, and there were also some services in Canada, not just for head coach Brad McCrimmon but additionally for assistant coach Igor Korolev, who had become a Canadian citizen while playing for the Toronto Maple Leafs.
In the Czech Republic, a memorial service was held in Old Town Square in Prague to honour Lokomotiv's three Czech players. Each player also had a funeral service in his hometown.  Josef Vašíček's funeral was held that Friday —  September 9, 2011 — three days before his birthday. In Slovakia, on September 14, Pavol Demitra was memorialized at a funeral at B.O.F. Arena in his hometown of Trenčín. Many top Slovak hockey players, including Marián Gáborík, Zdeno Chára, Marián Hossa, Ľubomír Višňovský, Michal Handzuš and Richard Zedník (who actually played for Lokomotiv with Demitra in 2009-10), were in attendance. The funeral was highlighted by an emotional speech read by a teary-eyed Gáborík. He was later buried with his infant son Tobias, who died shortly after birth in 2005 due to a congenital lung defect.
As if all this was all not enough, though, another tragedy befell the team. Alexander Galimov, the only player to survive the plane crash, died of his injuries the following Monday on September 12, Josef Vašíček's birthday; he had been in a medically induced coma since he arrived in hospital. Another ceremony was held to honour Galimov on September 13, a Yaroslavl native who risked his life to try to save his teammates and paid the ultimate price. Happily, Alexander Sizov, the avionic engineer who also survived the crash, was moved out of intensive care not long after. His life was no longer in any peril.
Memories and Tributes
It was quite a shocking sight to behold on the well-known hockey statistics website EliteProspects, who paid tribute to Lokomotiv on their homepage following the disaster, when they listed the roster for the 2011-12 season after Galimov's passing. Every player listed had a small black cross where his age should be. (For me, personally, what really resonated with me was every Facebook conversation I would have with Alexander Vasyunov, who would sign off with the same phrase: "I'm sorry but I have to leave you now.")
The magnitude of the melancholy surrounding the Lokomotiv tragedy was further compounded by the discovery of what really caused the crash. Firstly, the plane's crew had been deemed to have had too little training with such an aircraft as the Yak-42. Secondly, one pilot applied acceleration as the other stepped on the brakes, as well as changing the takeoff thrust. Lastly, and perhaps most devastating of all, a toxicology report found that one of the pilots had traces of phenobarbital in his system, a popular anticonvulsant drug banned among those in that profession. In short, the cause of the crash was "pilot error" and all flights in Russia in which people's lives could be compromised were immediately grounded.
Honouring the Dead; Helping the Living
After the Lokomotiv tragedy, many NHL teams have honoured the victims who had been synonymous with their organizations in several ways. Many teams played tribute videos to memorialize those who were lost. The Anaheim Ducks, Carolina Hurricanes, Dallas Stars, Detroit Red Wings, New Jersey Devils and St. Louis Blues all introduced decals and jersey patches with jersey numbers and initials to commemorate the lives of their fallen comrades. The NHL itself created a video to pay homage to the deceased, as well as to Derek Boogaard, Rick Rypien and Wade Belak, all of whom also died during the 2011 offseason.
The ice hockey federations of many of the homelands of the deceased players retired many of their numbers. The Czech Ice Hockey Association retired Karel Rachůnek's #4, Jan Marek's #15, and Josef Vašíček's #63. The Slovak Ice Hockey Federation retired Pavol Demitra's #38. The Latvian Ice Hockey Federation retired Kārlis Skrastiņš' #7. The Belarus Ice Hockey Federation retired Ruslan Salei's #24. The German Ice Hockey Federation retired Robert Dietrich's #20. Additionally, HV71, Stefan Liv's former team in the Elitserien, retired his #1 jersey in a ceremony at Kinnarps Arena in Jönköping, Sweden.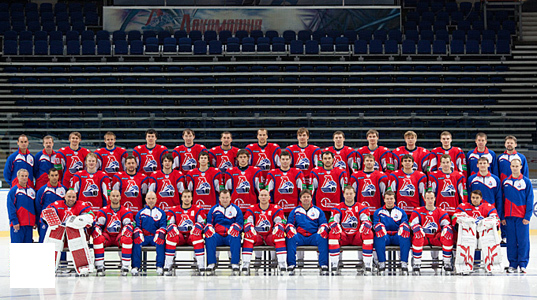 Despite all the jersey retirements, one number was still allowed to be worn in a tournament. At the 2012 World Junior Hockey Championships, Daniil Apalkov of Team Russia wore #14, a number worn the last two years by Daniil Sobchenko. Apalkov played 17 games in the VHL last year for Lokomotiv.
A game between the Pittsburgh Penguins and the Washington Capitals on October 13, 2011, raised money to support the families left behind by those who died. Additionally, the Lokomotiv Widows' Fund was set up to help with any monetary needs the bereaved loved ones had. The sale of special red bracelets, which read LOVE FOR LOKOMOTIV, also assisted a great deal.  On March 24, 2012, the Dallas Stars announced that they were setting up a trust fund for Skrastiņš' daughters.
At the 2012 Men's World Hockey Championships, Slovakia avenged a tenth-place finish on home ice the year before by capturing silver, losing 6-2 to Russia in the gold medal final. Remarkably, the Slovaks did not appear completely devastated. Before they were to be presented with their medals, several players on the Slovak roster put on jerseys with the name and number of their fallen former captain, Pavol Demitra, purposely wearing them backwards so his name and number would be clearly visible. One of those who wore a jersey in that fashion was Zdeno Chára, their captain for the tournament. An iconic photo showed Chára in the jersey, the silver medal hanging around his neck, the second-place finishers' plate in his hand, pointing and looking up to the heavens. It was yet another commemoration of Demitra; that, as well as his national jersey number retirement, was coupled with the B.O.F. Arena in Trenčín being permanently renamed the Pavol Demitra Ice Stadium.
After the Lokomotiv tragedy, it was discovered that one of the players had been quite the philanthropist. Over a four-year period, Ivan Tkachenko had donated nearly ten million rubles (or over $300,000 USD) to charities that help children with serious and life-threatening diseases. On the day before the crash, Tkachenko had donated 500,000 rubles.
Rebuilding from Within, Outside the Organization
For the remainder of the 2011-12 season, Lokomotiv was relegated to the VHL, Russia's third-highest professional league. The team was also rebuilt through a disaster draft, with Maxim Zyuzyakin and five other players from the MHL's Loko Yaroslavl — goaltender Nikita Lozhkin, defenceman Egor Yakovlev, and forwards Dmitri Maltsev, Alexei Kruchinin and Emil Galimov (no relation to Alexander) as the key components. The team only played 22 games last season, facing each other team in the league once, and they were given an automatic berth in the playoffs. They actually finished with a solid record of 13-6-3 in those 22 contests as well as a 5-5 playoff record.
Much like they did the year before, Lokomotiv built their roster with several key signings. The roster was filled with former NHL players such as goaltenders Curtis Sanford and Vitaliy Kolesnik; defencemen Evgeny Korolev, Mark Flood, Maxim Kondratiev, Sami Lepistö, Staffan Kronwall and Vitaly Vishnevski; and forwards Niklas Hagman and Viktor Kozlov. They also signed several KHL veterans who had played internationally with those who lost their lives in the plane crash, including Latvian winger Miķelis Rēdlihs and Belarusian centreman Alexei Kalyuzhny. The team hired Tom Rowe, who had spent 20 years coaching and scouting in the Hartford Whalers/Carolina Hurricanes organization, was hired as head coach, while former NHLer Dmitry Yushkevich was hired as his assistant.
Anticipation for Lokomotiv's first season back in the KHL was overwhelming and for all the right reasons.
September 2012 – A Triumphant Return
That brings the story back to the game on September 6, 2012. In front of 7,800 fans, Lokomotiv won their 2012-13 KHL season opener with a 5-2 victory over the visiting Sibir Novosibirsk. In an interesting twist, the first goal of the game was scored by Alexander Chernikov, who had played for Sibir for the last two years. The other goals were scored by Miķelis Rēdlihs, Staffan Kronwall with two, and Daniil Apalkov.  Kazakh goalie Vitaliy Kolesnik got the victory, stopping 31 of 33 shots.
To coincide with the first anniversary of the tragedy, the KHL will have no games on September 7. The team's next game is the next day, September 8, when they host Amur Khabarovsk. If their 2012-13 season opener is any indication, it should be a great KHL campaign for Lokomotiv Yaroslavl.
Do they ever deserve it.
---
---