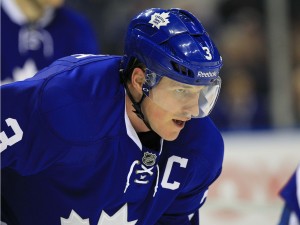 STOP THE PRESSES:
Just when you think it's over, the Leafs go and make a Blockbuster!!!
Korbinian Holzer has been traded to the Ducks for a conditional pick.  Not sure what the Ducks want with the worst player on one of the league's worst teams, but there you have it. Two trades instead of one. Not too shabby.
The trade is for Eric Brewer (pending UFA) and a 5th round pick. Not bad at all for what Holzer brings to the table.
POST DEADLINE:
So the trade deadline didn't really prove to be too exciting. Despite rumours throughout the day that Phaneuf was on the verge of being dealt, that the Leafs were "working hard to move Kessel," or that any of Polak, Robidas, Lupul, Bozak or JVR could be dealt , nothing ended up  happening.
Unless you count the trading of Ollie Jokinen, who fetched a conditional sixth round pick and the  expiring contract of a veteran of no significance.
But other than that, the Leafs did not make a move.  And that's OK. It's disappointing from the perspective of excitement, but as far as the team's rebuilding goes, it doesn't really make much of a difference.
The team can and still will most likely move out the players mentioned above, but they really had no pressure on them to do anything today, so it makes sense that they'd hold their assets if they didn't feel the price was good.
All in all though, it's a positive deadline when you consider the moves they've made in the last few weeks. It might not look like anything groundbreaking, but getting out from under the Clarkson contract was nothing short of a hockey miracle and getting assets for pending UFAs is always a smart strategy.
The only thing bad about today is that it didn't give us more to talk about and the Leafs will now have to play out the string with nothing to look forward to or talk about until May or June.  Although, let's give the market some credit, as there will surely be several minor scandals to keep us talking until the draft.
All in all, I am a little surprised that they didn't make more trades, but at the end of the day, we got to spend way too long talking about hockey and forgetting other stuff, so it was a success no matter what.
———-
Review of Moves So Far:
1. Cody Franson and Mike Santorelli to Nashville for Nashville's 1st round pick, Brenden Leipsic and Ollie Jokinen.
Analysis: If you forget about how the Leafs mismanaged the asset of Cody Franson and you just look at it from the standpoint of trading two UFAs this is a massive win for the Leafs.  Leipsic is a strong prospect who will almost surely make the NHL. A 1st is always good.  A great return.
2. Daniel Winnik to the Penguins for Zach Sill, a 2nd (2016) and a 4th (2015). 
Another great move by the Leafs. And seriously, who thought that would be something someone would ever say? A pending UFA in Winnick get's them two picks with roughly 75% of the value of a 1st round pick.  Pretty savvy.
3.  T.J Brennan acquired from Chicago for Spencer Abbott. 
An AHL move, but Brennan put up nearly a point-per-game last year and even though he's in his mid-twenties, he could be a late bloomer.  Abbott was unlikely to ever make the Leafs. The only problem I have with this trade is that the Leafs could have just re-signed Brennan last summer and now find themselves trading an asset for their own player.  Still, I think the Leafs win this move as I'll take the puck moving defenseman any day over the forward.
4. David Clarkson to Columbus for Nathan Horton.
A stroke of genius. The Leafs take an injured player with an un-insured contract who costs them real dollars but no cap hit, since he's on the long-term injured list. He is doubtful to ever play in the NHL again. In exchange, they give up a player with a contract assumed by all to be untradable.  This really helps the Leafs clear cap and roster space and if they do nothing else, makes their trade deadline a massive success.
Will update hourly.