On Sunday, Jeff Petry was a member of the last place Edmonton Oilers, a team looking forward to nothing but a high draft pick, and entrenched in what seems like an endless rebuild. Today, Petry joins the best team in the Eastern Conference, one equipped with the best goaltender in the league, poised to go on a Stanley Cup run. Decent day for Petry, I would think. The Oilers on the other hand, not so much.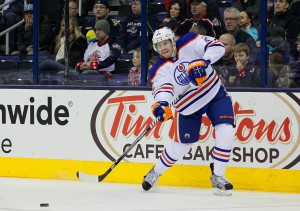 Did the Oilers get a Good Return for Petry?
The package coming back to Edmonton for Jeff Petry is a second round pick, and a conditional fifth round pick, that could potentially become a third. Not the worst return. In fact, that's probably exactly what pending UFA Petry should garner in a trade. But, considering what team's have been throwing around in trades lately, did the Oilers once again the short end of the stick? He was a top-four defenceman in Edmonton. He ate a lot of minutes. He was worth more than what they got, right?
Braydon Coburn fetched a first round pick among other things. Antoine Vertmette was swapped for a first rounder. So was Andrej Sekera. Even 39-year old Kimmo Timmonen, who has yet to play a game this season, was traded for a first round pick. At first glance, it looks like Edmonton got fleeced. But has Jeff Petry been overvalued by Oilers fans who are just desperate to see good things happen to their team?
Petry is Better in a Smaller Role
Petry was in the wrong role in Edmonton. Too much was expected of him, and when a team is as bad as the Oilers, it's hard to look good as an individual player. He should be a second pairing guy, even a third pairing on a great team. But he's no scrub. Petry can play, and he will likely be a helpful piece in Montreal. When you look at what other teams got for equal or lesser players (at least how they are perceived), it's hard to stomach the return Edmonton got for Petry.
But here's the problem: He didn't want to be an Oiler anymore. He wasn't going to re-sign in Edmonton. He was going to hit free agency, and if the Oilers didn't pull the trigger now, they would lose Petry for nothing. And if you're seeing an uprising from fans now, imagine if Petry walked for nothing. Do other teams low-ball the Oilers because of a history of bad management? It's possible. Montreal understood the Oilers position. They had to move Petry to try and get value out of him. Was it the best deal on the table?
The Oilers Did What they Could
Unless Craig MacTavish tells us, we won't know what other teams offered for Petry. Clearly, not much was better than what Montreal gave, and perhaps they wanted to see him out of the conference. We don't know what goes in those war rooms. MacTavish did what he could because he wasn't going to be able to keep Petry. The Oilers have come under criticism for not trying harder to re-sign him, but he didn't want to stay. And now, the Oilers, have somewhat of a reputation of developing players for other teams. Fair or not, that's the perception.
But perceptions aren't always right. People in Edmonton felt Petry was worth more, but maybe the rest of the league did not. He was perceived as the best asset the Oilers had to move, and that's why people are disappointed he didn't even fetch a prospect. Montreal is being praised for this deal. They didn't have to give up Zach Fucale, who's name had popped up in rumors. And they didn't move their first round pick. They gained a depth defenceman who could help them in their quest for the Cup.
How will Oilers fans feel if they see Petry lift the Cup over his head wearing a Habs jersey? As they look at a very low second round draft pick, probably not so good. But the Canadiens did what they had to do as a contending team. The Oilers are not a contender. They don't have the leverage, and when a player wants out, they have even less leverage. MacTavish did what he could. But I'm not letting MacTavish off the hook, because when looking at the recent market, it wasn't a good return.
Teams have overspent immensely approaching this year's trade deadline. It's happened in the past, and it will happen again. The Habs didn't let the market dictate what they offered for Petry. The Oilers pretty much got what he was worth, even though the curve suggested they could get more. But Montreal uses their own grading system. The Oilers can learn something from them.
Marcy, a former hockey player, is a hockey correspondent on CTV News and TSN radio. She began her career as a Sports Journalist in 2009 and has been part of The Hockey Writers since 2010, where she is currently a senior writer and editor.