While the Winnipeg Jets were in the process of beating the Los Angeles Kings on Sunday evening, General Manager Kevin Cheveldayoff was in the process of making yet another trade to bring in veteran bodies to help his team in their quest for the playoffs.
In a somewhat minor deal with the New York Rangers, the Jets sent young forward Carl Klingberg in exchange for veteran winger Lee Stempniak.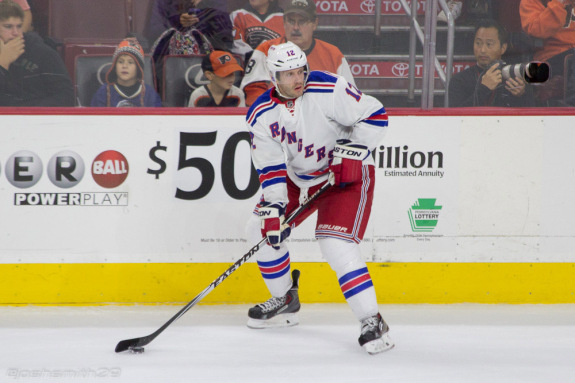 The deal adds yet another experienced veteran presence to a Winnipeg team fighting to make the playoffs for the first time since coming back into the league in 2011, while all it sends away is an upcoming restricted free agent prospect that hasn't really been given a major chance to see what he can do at the next level.
Stempniak, who signed a one-year, $900,000 deal with the Rangers last offseason, comes to Winnipeg with nine goals and nine assists in 53 games. This is the second straight year that the West Seneca, NY native has found himself a part of a trade deadline deal after being sent from Calgary to Pittsburgh for the Penguins post-season run.
It's unclear exactly what role Stempniak will play with the Jets upon his arrival, but he is certain to be given a chance to be on the ice during key situations. If I had to make any guess, I'd say he'll be a key part of the Jets penalty kill going forward.
The Jets sit last in the NHL in penalties taken with 356 in 64 games. On top of that, their penalty kill sits in the bottom half of the league, which is never a recipe for success, especially when you average 14 penalty minutes per game. Stempniak is a player that will get in front of pucks when needed, and isn't afraid to get aggressive in the defensive end. That's a play style that should come as a breath of fresh air to Jets fans and coaches who have seen their players get a bit too relaxed in their own end on the penalty kill.
An underrated aspect of Stempniak that many don't know about that Jets fans will enjoy is the fact that he expects perfection. He may not be a get in your face type of player on the ice, but he will make his teammates aware that he won't accept nothing short of a great effort. He's not the flashiest, but he's definitely a player that will almost certainly become well liked by his teammates, coaches and fans. It's been his MO since his days with the St. Louis Blues years ago, and I don't foresee that changing.
With Klingberg, the Jets are losing a player who appeared in just two games this season. In 51 games with St. John's of the AHL, however, the 24-year old has 15 goals and 31 points.
It's clear that this is a proving ground season for not only the Jets on the ice, but the members of the organization off the ice, in particular, Cheveldayoff. It's the first year since he took over the GM duties that he has gone out and made it a priority to acquire NHL players to improve his roster via trade. From the deal that brought Tyler Myers and Drew Stafford from Buffalo early in February to the deal for Stempniak on Sunday, Cheveldayoff is giving head coach Paul Maurice the pieces he feels necessary to get Winnipeg over the hump.
Michael is a former Managing Editor for The Hockey Writers. He's covered the Buffalo Sabres, along with the NHL in general, for various outlets since 2009. His work has been featured on outlets such as Yahoo, Sports Illustrated and Fox Sports.