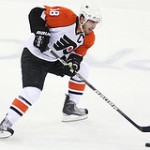 Even NHL General Managers are susceptible to the occasional man-crush.
Dean Lombardi, who served as a Philadelphia Flyers scout for four years, continues to build what some have coined "Philadelphia West" in Los Angeles, focusing on grit, two-way ability, strong net presence and leadership qualities.  There is little doubt that Pavlovian salivation was triggered when he learned that Philadelphia captain Mike Richards was available for the right price.  Having stockpiled an enviable array of prospects and picks since being named the Kings' general manager in April, 2006, Lombardi delivered, sending top prospect Brayden Schenn, forward Wayne Simmonds and a 2012 second round pick to the Flyers for Richards and forward Rob Bordson.  Bordson was subsequently not tendered a qualifying offer by Los Angeles and became an unrestricted free agent.
"We felt at this stage of the franchise it was time to make a significant move for an impact player," Lombardi said in a statement announcing the trade.  "Mike Richards is not only one of the top players in the league, he's also universally recognized as one of the finer leaders in the game and one of its elite competitors."
With the trade, the Kings finally acquired the elusive legitimate second-line center they had sought since Craig Conroy notched 66 points in 2005-06.  Although Patrick O'Sullivan, Jarret Stoll, Michal Handzus and a host of others have attempted to play the role behind star center Anze Kopitar since then, none have been able to nail down the position.  Mike Richards will fit like a glove in Los Angeles, giving the Kings a 1-2 punch up the middle amongst the best in the league.  At the tender ages of 23 and 26,  Kopitar and Richards are signed for the next five and nine years, respectively, ensuring stability deep into the future.
Lombardi has steadily built a core ready to compete for the Cup that are under long-term, reasonable contracts.  Kopitar's cap hit is $6.8 million and Richards' is a reasonable $5.75 million.  Kings' captain Dustin Brown has three more years at a bargain-basement $3.175 million average price tag, and right winger Justin Williams was recently re-signed to a four-year contract with a cap hit of $3.65 million.  On the blue line, Jack Johnson's new seven-year deal carries a cap hit of $4.357 million, and the team is currently in negotiations with perennial Norris candidate Drew Doughty on a multi-year pact as well.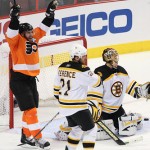 Aging left winger Ryan Smyth asked for a trade to Edmonton for family reasons and was granted his request (albeit not without controversy), leaving a gaping hole on the second line.  In a savvy move that added a sniper's touch to a team replete with grinders, the Kings signed veteran left winger Simon Gagne to a two-year, $7 million deal.  Gagne, who has battled concussions, groin and neck injuries in recent seasons, was arguably the best of the remaining class of free agent forwards after Brad Richards signed with the Rangers.  He had four seasons of 30+ goals, including two over 40, and potted 34 just three years ago, centered by the newly-minted King Mike Richards.  The acquisition of Gagne was influenced in no small part by the Richards trade.  "That was a huge factor," said Ron Hextall, Kings' assistant general manager.  "Simon should be very comfortable there.  They have chemistry."
Gagne, discussing his decision to join Los Angeles shortly after signing, said: "I'm very excited to be a King now.  It was a couple things.  Yesterday, we were talking to some teams and L.A. was one of the teams that called up really early Friday, and let us know that I was at the top of their list.  At the same time, they were honest with us that they were waiting to see what was going to happen with Brad Richards.  At the same time, on our side we were looking at some other things with other teams.  Then, this morning when Richards signed, they came back and I had a chance to talk with Mike Richards and, actually, Justin Williams too, yesterday.  So I've got a couple buddies there, and everybody knows that I played with Mike Richards in Philly and had a lot of success too.  There were a lot of Kings, Murph [Terry Murray], the coaching staff in Philly, John Stevens, Ron Hextall, Mr. Lombardi was in Philly too.  It's almost like Philadelphia on the West Coast."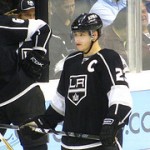 Speaking of Philadelphia, the Legion of Doom may be resurrected in Tinseltown this season.  All indicators are that Richards and Gagne will re-unite on the Kings' second line with right winger Dustin Brown.  Although Gagne is by no means a physical presence, he is not afraid to score goals in the tough areas.  Meanwhile, Richards is a feisty, gritty force on the ice and in the locker room, and Brown is one of the league's top hitters, finishing third in the league with an even 300 in 2010-11.  The top line projects to feature Dustin Penner and Justin Williams on the left and right sides, alongside Anze Kopitar.
Losing Simmonds hurt the team's lower-line depth, but emerging left winger Kyle Clifford (7 goals, 7 assists in 76 games, but five points in six playoff contests) and Brad Richardson are the early favorites to flank veteran center Jarret Stoll.
Given Richards' terrific shorthanded play, the Kings hope to see a lot of this:
And given Gagne's pure scoring touch (276 NHL goals), the Kings expect to see plenty of this:
The Kings may not be done, either.  Once the Doughty cap hit is known, they may still look to bring in a veteran forward like Chris Drury to help stabilize the locker room and provide on-ice leadership and depth.  The Legion wouldn't mind another Lombardi man-crush fixation, as long as he helps them hoist something silver and shiny within the next few years.
Walter McLaughlin is a Los Angeles Kings correspondent for The Hockey Writers. He is an avid sports fan, having followed the Kings since living in L.A. in the mid-1970's, as well as suffering through Seattle sports teams' general futility. He has a Bachelor's degree in Finance and has worked in community banking for over 25 years, specializing in SBA loans. He is married and has two daughters.