Jim Neveau, NHL Correspondent
After the frenzy that occurred on July 1st, a lot of the players who stood a great chance to make an immediate impact for their new clubs were already gone. One of the few exceptions to that was Brad Richards, and even he signed a new deal on the morning of July 2nd. Now, with the exception of the potential craziness surrounding Steven Stamkos should he not re-sign with the Lightning (an admittedly distant possibility), there are very few players remaining in free agency that even register on the NHL radar.
Even though none of these players are guaranteed to make a splash with the teams they will sign with, there is the potential that some of them could end up being diamonds in the rough. They will bring a unique mix of skills that fit a variety of needs, but the one thing they all share in common is that they will come cheap, and they could end up being the difference between a team playing golf next April, or fighting on in search of a Stanley Cup.
Forwards: 
Antti Miettinen:
The 31-year old Miettinen has been a consistent producer on offense for the Wild the past three years, scoring 15 or more goals and racking up an average of 40 points in those campaigns. He also puts a lot of shots on net, which could explain his goal totals, but the point is that he is an aggressive offensive player who could thrive in a second or third line role with a team in need of some offensive punch. His numbers certainly aren't going to get much higher than they have been, but if he can maintain the same level, he will be a useful tool for someone.
John Madden:
For a man who has three Stanley Cups to his credit and can still be an effective penalty killer, one would think that Madden would have landed a new home by this point. Instead, the 38-year-old center is looking for a new home after a season in Minnesota that only saw him pick up 25 points (12 G, 13 A) in 76 games. He has also been known as a guy who is effective in the face-off dot, and even though he did win 51% of his draws last season, that skill is likely on the decline as well. He could end up making a Ray Whitney-esque impact on a team for the short term, so expect him to get a one-year deal with a team on the cusp of contention, such as Anaheim or Carolina.
Cory Stillman:
For a player who is going to be 38 in December, Stillman still has some value as an offensive player in the league, as he showed in his short stint with Carolina after the trade deadline last year. After picking up 23 points (7 G, 16A) in 44 games with the Panthers, he upped the ante with an impressive 16 points (5 G, 11 A) in his 21 games with the Canes. He definitely won't command a multi-year contract based on those numbers, but at the very least he will command interest as a viable offensive option in a market that is rapidly growing thinner.
Kyle Wellwood:
While Wellwood is more notorious nowadays for fat jokes than he is for his play on the ice, his ability as a third line center speaks for itself. His injury shortened 2010-11 season notwithstanding, Wellwood has shown flashes of ability on the power play (43 points on the man-advantage between 2005 and 2007 for Toronto and 10 power play markers with Vancouver in 2008-09), and at only 28 years of age, he could have a resurgence if given the opportunity. San Jose may not have room for him anymore, but a team would be wise to take a flier on this guy.
Nikolai Zherdev:
The term "enigma" gets bandied about quite a bit when discussing players who have failed to live up to their potential, but Zherdev certainly fits that bill. Zherdev has always been touted as an offensive dynamo when he is playing up to his abilities, but he has largely failed to do so in the NHL. He has scored more than 25 goals in three of his six NHL campaigns, and last year with Philadelphia was supposed to be a breakout year for him as he tried to prove himself after a year away in the KHL. Unfortunately for the Flyers, Zherdev only produced 22 points (16 G, 6 A) in 56 games, and he was ineffective in the playoffs as well, notching three points in eight games. He is likely worth a flier (no pun intended), but whether or not he produces at a high level is solely contingent on whether he is fit enough between the ears to do so.
Defensemen: 
Scott Hannan:
While Hannan will not win any awards for his offensive prowess (his career high in points is only 24, and that occurred back in 2006-07), his defensive skills could make him a useful second or third pairing option for a team in need of blue line help. He is a solid shot blocker, having stopped 122 of them in 78 games with the Avalanche and Capitals last season, and he also had 84 hits last year. He isn't overly old at age 32, but his lack of offensive prowess could mean a much lower salary for a guy who could have a decent impact on a team's overall defense.
Bryan McCabe:
He has generally been considered an offensive defenseman for much of his career, but last season was a bit of a downer for the 36-year-old McCabe. He picked up 28 points (7 G, 21 A) in 67 games in Florida and New York in 2010-11, and his hits and blocked shots totals both were down quite a bit from the season before. At his age he will be looking to prove that he is still a viable defensive option, but the fact that no teams were eagerly banging down his door on July 1st would seem to indicate that most squads don't have room for an overpriced guy who might be over the hill offensively. Don't be surprised, however, if a team bucks that wisdom and takes a shot at him.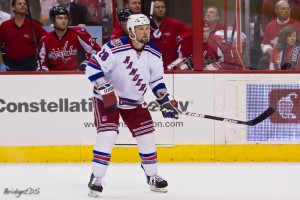 Shane O'Brien:
O'Brien has had an interesting career in the NHL, and he has garnered a reputation as one of the most hot-headed (and most prone to taking silly penalties) players in the league. Last season with Nashville was an up-and-down one for 27-year-old, but his 80 blocked shots and 164 hits could indicate that he is able to bring a physical presence to a team in need of it on their blue line. A team like Phoenix, who just lost Ed Jovanovski, or Edmonton, who is looking to protect its young core of forwards, could be in the mix for a guy like O'Brien.
Brent Sopel:
Sopel may not be much of a specimen to look like on the offensive side of the puck, but even at the age of 34, he still has a lot to offer a team in other areas. He is a very skilled penalty killer, and he is one of the top shot-blockers in the league, racking up 152 in 71 games in Atlanta and Montreal last season. At only 6-foot-1 he isn't going to intimidate anyone physically, and his penchant for blocking shots will definitely come with more of a physical toll as he gets older, but Sopel is going to make a team very happy at a very reasonable price when he gets scooped up.
Goalies: 
Marty Turco:
To say that the goalie market is thin at this point would be the understatement of the year. With guys like Pascal LeClaire and Ray Emery being some of the top available players, it is no surprise that this list of potential impact players in net is only one name long: Marty Turco. Granted, he was relegated to a back-up role in Chicago last season, but when you consider the mentoring impact that he had on Corey Crawford, as well as his ability to log some solid numbers when given the starter's role, it wouldn't be much of a surprise to see him land on a team in need of a solid back-up behind a shaky starter. Ottawa could give Turco a chance, as could teams like Phoenix and Anaheim.