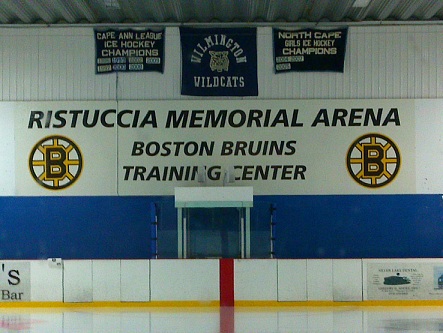 Bruins' Development Camp Day One Recap
Bruins' Development Camp Day Three Recap
Bruins' Development Camp Day Four Recap
Bruins' Development Camp Day Five Recap
Salutations from Ristuccia Arena in Wilmington and Day Two of the 2011 Boston Bruins Development Camp! On a drizzly, muggy and sometimes stormy morning, the pre-Bruins took to the ice to improve on their first day with some power-skating and breakout drills.
There were several significant standouts during Day Two. Anthony Camara continued to impress. Jared Knight's drive and shot dazzled. Craig Cunningham's plus passing and solid finishing ability appear to make him a lock for one of Providences' scoring lines. But the guy head and shoulders above the competition today was Ryan Spooner.
Spooner was all over the ice – with and without the puck he was the most dominant player. During Power-Skating Instructor, Besa Tsintsadze's drills, Spooner stood out, almost effortlessly curling and cutting his way down the ice with balance and edge. Maintaining speed (and possession) through the convoluted and difficult maneuvers, Spooner looked the part of a professional. And when it came time to handle the puck, Spooner was again in control, with excellent leading and set-up passes, nasty shots and some serious moves. In one instance, he made a top-notch crossover against Tommy Cross, and was only denied a goal by the aggressive play of Norwegian netminder, Lars Volden.
Spooner also showed his improved defensive chops, filling lanes and denying opportunities for opponents. In one two-on-two battle, he took the puck away from one player – then used leverage to shield the puck away from the check and long reach of a much bigger opponent – Dougie Hamilton. Today if someone asked me who the top forward prospect for the B's was, I'd have to say "Spooner". If he finds a way to play like this in training camp this fall, I don't see how Claude Julien or Bruins' management could possibly deny him a pro job.
That isn't to suggest the other top prospects were having off days. Alex Khokhlachev had a great bounceback after what I deemed a mediocre first day. Defensively, offensively and in the skating drills, Khokhlachev brought his A-game . He has excellent acceleration/deceleration (even though his top speed is only a bit above average) and his vision was on showcase today, as he delivered many tape-to-tape passes including several through traffic and some setting-up divine one-timers.
Khokhlachev's impressive hand-eye coordination was also showcased today, catching several difficult passes with relative ease and tipping home more than one screaming point shot. He was at his sniping best as well, tickling the twine with sneaky little rockets that fly off his stick with almost no provocation. Defensively, he wasn't overtly physical (and for his size, you probably wouldn't expect him to be) but he made several nice plays to poke pucks away and disrupt passing lanes.
Jared Knight, too, had a good morning on the ice. His powerful professional-grade shot more than once beat surprised goaltenders and he got the crowd "ooh-ing" after a sublime backhanded one-timer he roofed past an incredulous Zane Gothberg. He needed to do a better job protecting the puck, however, as he was dispossessed with ease on more than one occasion. Still, it's hard to find fault with a guy like Knight who's built so strong, has such great skating,(one of the other major standouts in Tsintsadze's power skating drills) has such a deadly shot, and whose motor just never stops. A play is never over until Knight says it's over.
The last of the big four, Dougie Hamilton, had another middling day on the ice. Perhaps my standards are too high. The Bruins 1st rounder, 9th overall in 2011, Hamilton's work ethic was supposed to be supreme. However, on many of the skating and sans-puck drills, Hamilton pulls up early, puts it in cruise control and coasts through. He was still one of the better speedsters today, making smaller kids look like they were skating in molasses… I just feel like he could finish harder.
Hamilton was, on the other hand, a force to be reckoned with in the 2-on-2 and 3-on-2 drills, denying opponents any reasonable time and space to make plays. Using his impressive wingspan he poked more than a few pucks away from encroaching forwards. On break-out and zone-entry drills, Hamilton's passing game was clearly excellent, and hit more than a few of his receivers right on the tape.
As for the rest of the rabble, Anthony Camara's skating and puckhandling were particularly solid again. He's not a flashy or dynamic player, but he makes power moves to the net, showcasing impressive puck-protection skills and setting up teammates for one-timers and drop passes. While it's a little early to declare picks wins or losses (from 2011), those of us (myself included) who doubted Chiarelli's third-round selection should prepare to look up the most palatable recipes for Corbeau.
Elsewhere, at the forward position, Cunningham was once again impressive, hitting other forwards in-stride with terrific leading passes and burying the puck with a very convincing one-timer. Soon-to-be 21-year-old Josh Jooris of Union College made a believer out of me with top-notch puck-possession play and great vision. Two plays of his stuck out: One, in a 3-on-2 drill where he passed the puck from one wing to another through heavy traffic in the offensive zone, and Two, when he juked Dougie out of his shorts and went in on the net alone (only to be denied by Michael Hutchinson).
On defense, Tommy Cross continues to be a revelation, playing sound defensive hockey; making solid, intelligent passes; moving smoothly and strongly and going through the power-skating drills without a hint of hesitation. Rob O'Gara's superior mobility (at 6'3) and physical play were certainly encouraging. Zach Trotman did an excellent job continually denying opponents opportunities in the danger zones of the ice, and again displayed a surprisingly potent wrister (both heavy and accurate). In the second half of the day, he beat Knight in a footrace, which surprised me to no end.
In net, Hutchinson looks like the most polished of the three goalies in attendance, square to the shooter at all times, and directing rebounds to the walls instead of the danger areas. He battles hard for loose pucks and does a good job of looking the shooter down to assess potential shot trajectories. Lars Volden also earned a lot of points with his gutsy and aggressive play – along with O'Gara, he sent the hefty Tyler Randell flying as he charged the crease. Almost "Battlefly"-like in his territorial control, Volden also displayed significant quickness and agility.
Other Notes:
Tyler Randell may be a bit slow and certainly isn't quick, but he plays great as a power forward, mucking for the puck and manhandling the defensive duo of David Warsofsky and Ryan Button… he's got a real solid shot (very heavy) but he seems to telegraph it too much.
Anthony Camara's zone-exits were very solid, and sometimes even flashy, like a through-the-legs tip to a teammate while he was getting pushed against the boards by a forechecker. Camara was also very noticeably vocal on the ice… he is, as far as I can tell, at most an average finisher.
Ryan Button was aggressive on the defensive end, utilizing the poke-check and closing gaps quickly… excellent effort all day.
Eric Robinson of Dartmouth had a nice stutter-move which deked-out Gothberg.
Both Camara and Brian Ferlin attacked the cones on the hard-turn drills: Neither showed a moment's hesitation when going full-bore into the turns. Ferlin displayed some power and balance later, backing his way into Cross to maintain possession.
Justin Florek has a very nice wrist-shot.
Marc Cantin was another of the individuals who looked the most comfortable doing the power-skating drills with speed and ease.