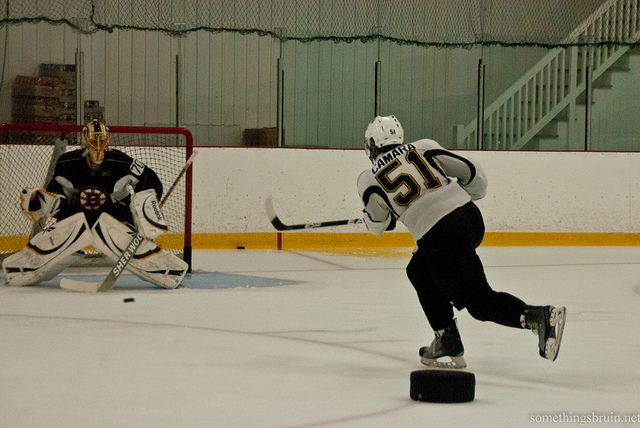 Bruins' Development Camp Day One Recap
Bruins' Development Camp Day Two Recap
Bruins' Development Camp Day Three Recap
Bruins' Development Camp Day Four Recap
Time to wrap things up in Wilmington, as the 2011 Boston Bruins Development Camp came to a conclusion today. Final excellent performances from Ryan Spooner, Brian Ferlin, Dougie Hamilton, Marc Cantin and Ryan Button were the highlights of the day.
After an abbreviated first session marked again by intense power skating drills for the third time in five days (the Pre-Bruins tried to appear stoic and determined, but in lining up to prepare for these, some of their eyes screamed "Nooooo!"), the teams split and prepared to engage for the second scrimmage in as many days. A gritty and scrambly affair, the scrimmage was a far cry from "beautiful", but it was enlightening nonetheless.
Once again, the big winner here was Ryan Spooner. Spooner rose to the occasion despite the unrefined action and helped to create many opportunities and set up two goals. In two memorable shifts, Spooner combined with talented defensemen Ryan Button and David Warsofsky to own the offensive zone with creativity and poise. Spooner's tremendous passing skills in concert with these gifted offensive defensemen began glorious games of keep-away that delighted fans and frustrated the opposition.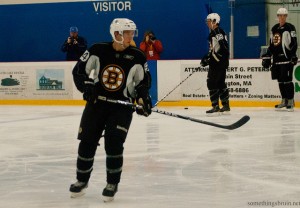 Spooner also exhibited some grit and feistiness. While fighting for positioning in front of the net with 2011 first-rounder, Dougie Hamilton, Spooner and Hamilton got into it a bit with some slashing, shoving and general ill-will. After being solidly beaten by Craig Cunningham on several early draws, Spooner was very solid in the faceoff circle late. Not to be finished there, Spooner got in on the forecheck, punishing Marc Cantin with a decent check and dashing along the goal-line to tuck the puck beyond Zane Gothberg's extended pad on the far-side.
Not to be outdone, Jared Knight evinced why many Bruins' supporters feel he has a good shot at making the 2011-12 Bruins' squad with his exceedingly impressive speed, grit in the dirty areas of the ice, and solid net-front presence which was partially responsible for one of the White Team's goals. The lightning-quick release on his shot was demonstrated several times in the practice and scrimmage, and he displayed some strong playmaking ability as well, dishing a slick behind-the-back pass to Anthony Camara as the two headed in on goal.
Dougie Hamilton easily had his best day of Camp on Monday. He looks so much better in game action than in drills. Hamilton displayed exactly why so many people are so high on him on several occasions. The first, when stepping up for a big hit in the offensive zone, he left his defensive partner to fend off a 3-on-1. Not to be counted out, Dougie made up for his opponents' head start and then some, easily intercepting the pass intended for a cross-ice one-timer.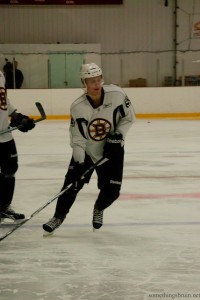 With open-ice dekes, head-fakes and some crisp passing, he made several opponents look silly – even the wily Spooner – with unlikely moves in the neutral zone. He ripped heavy shots on-net as well earning awed gasps from the partisan crowd. His physical play was on show, too, with strong checks both in open ice and along the boards to go with the aforementioned chippy play with Spooner.
After another promising but inconsistent performance, Alex Khokhlachev (a 17-year-old till September) is a bit of an enigma. Undoubtedly, the intense power-skating drills may have hurt his scrimmage output, but hopefully it's just a temporary setback that inspires him to bulk up and train even more diligently. Still, there were several moments in the scrimmage where his impressive skillset was on-display including one moment when he shook off the pursuit of a faster, better skater (Spooner) with some cheeky and sneaky stops and starts. His in-zone passing was deceptive and creative, and only an excellent save by goalie-of-the-week Michael Hutchinson denied Khokhlachev a goal after an impressive series of dekes and moves.
The Floridian, Cornell-bound and USHL-grad, Brian Ferlin, had another superlative performance following several points in yesterday's scrimmage. Ferlin scored the first goal only a few minutes in, wristing a dagger past Zane Gothberg following an excellent breakout by Ryan Button and pass from Spooner. I noticed his odd skating much more than yesterday (in my notes I say: "He skates real well – from the waist-down."), but he's been a revelation this week. The fourth-rounder will undoubtedly appear on some lists as "biggest surprise of the Dev. Camp."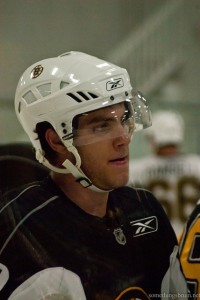 Ryan Button was again the most polished-looking defenseman on the ice. With size to match his puck and skating abilities, Button has made a strong case to be considered as a Dark-Horse candidate to make the NHL squad in the Fall. In addition to the aforementioned exploits in moving the puck with Spooner, Button made another move on the blueline to dish the puck behind him while under pressure that bordered on the ridiculous. His spin-o-rama shootout attempt was denied by an aggressive move by Volden, but don't forget that Button plays sound and physical defensive hockey, too. His poise with the puck in his own end makes breakout concerns completely unwarranted when he's on the ice.
Marc Cantin's Camp performance has grown on me over these five days. He's an excellent skater (maybe not the equal of Button or Warsofsky, but he more than gets the job done.) He plays physical, delivering hard bone-crunching checks at every opportunity. He's got good hands, makes solid passes with great regularity and is a willing rusher of the puck. In one bold move he skated the puck forward from the tops of the defensive circles, head- and stick-faked two members of the opposition before making a smart, efficient dump-in and charging in on the fore-check.  Withcontinued improvement, I don't doubt this kid's NHL potential for a second.
Rob O'Gara scored an impressive power-play goal in the scrimmage on a high wrister from the top of the slot which beat Lars Volden gloveside. So, in addition to responsible defensive play, strong skating, good physicality and solid passing he's got a decent shot too? From a fifth-rounder? Yikes.
Michael Hutchinson, the far and away best goaltender of these proceedings made several clutch and even some spectacular saves in the scrimmage, again. After a great move to break in alone, Alex Fallstrom made a very inspired deke to get it to the backhand, but was denied by the brick wall that was Hutchinson this week.
That's not to say that both Gothberg and Volden had poor Camps. They did quite well, and both would appear to have the potential to see NHL ice in the future.
Anthony Camara played another heck of a game. Constantly running at top-speed, the forward from the Saginaw Spirit absorbed checks, delivered some bone-crushers and set up teammates despite coming into the camp labeled by many as a pugilistic specialist. Today, his bone-rattling, neutral-zone hit on Alex Fallstrom seemed to shake the rink itself…
Unfortunately, the only hit he couldn't absorb… was from himself: While trying to plaster another Pre-Bruin into the bench-wall, Camara missed and drove his head and upper-body into the glass separator between the benches, disconcertingly reminiscent of the Max Pacioretty incident. Spinning to the ice with his helmet knocked loose, Camara quickly rose (woozy but apparently no worse for wear) and after a brief meeting with trainers, made it out for his next shift.
David Warsofsky looked good again today. The Marshfield, Massachusetts native has great balance and puck-skills and will have a chance to grow with time in Providence.
The surprising Justin Florek had another sound session today. While not generating as many gaudy chances, Florek was smart with the puck, delivered some good passes and heavy shots and played a solidly physical game again. Encouraging stuff from the big man from Northern Michigan.
Craig Cunningham quietly had another decent day on the ice. He looked solid advancing the puck and distributing passes in the offensive zone. Yes, he missed some open wingers and is a far cry from a dominant player – but he plays efficiently and grittily for a man his size and does a good job in the cycling game, keeping the puck alive in the offensive zone.