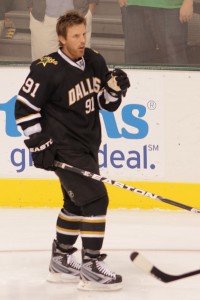 Only time will tell if Glen Sather has truly righted the ship in New York at long, long last – chances are the answer is no (hit up Slats and the Never-Ending Ranger Gong Show for more) – but darn it all if he hasn't made a truly good move in signing veteran forward Brad Richards to a 9-year, $60 million deal this summer. He doesn't have the flash of boyhood friend Vincent Lecavalier, or the gaudy NHL numbers of Sidney Crosby, but B-Rich, as I like to call him, does boast quite a resume.
by Jason Kurylo
In junior Richards won nearly every award possible, leading all scorers in his final year of eligibility, 1999-2000 – he didn't just lead the Quebec Major Junior Hockey League, but the Canadian Hockey League. (For our American brethren, that's like a footballer winning the rushing title – not just in the Big Ten, but getting more rushing yards than any other college player in the whole dang country.) To this day, Richards holds the Rimouski Oceanic franchise record for the most points in a single season, with 186. That's more points than Crosby or Lecavalier managed to score in a season. In fact, no one  in the 11 years since has scored that many points in the Q on any team. He won All-Star Status, the QMJHL Player of the Year Award, the CHL Player of the Year Award, as well as both QMJHL Playoff MVP and Memorial Cup MVP honours.
The Tampa Bay Lightning picked Vincent Lecavalier first overall in the 1998 entry draft – the 18-year-old superstar in waiting convinced them to take Richards with their third round pick. After the aforementioned outstanding 1999-2000 season in Rimouski, Richards jumped to the bigs and had an immediate impact. He scored 62 points in each of his first two years with Tampa, then 72 and 79 in his third and fourth NHL seasons, outscoring Lecavalier in three of those campaigns.
In 2004, Richards won the Lady Byng Trophy for exemplary sportsmanship, then followed it up with a record-setting spring. He scored seven game-winning goals for the Lightning in the post-season – more than any other NHL player in a single playoff year – leading the NHL in playoff scoring and helping to produce the Tampa Bay Lightning's first-ever Stanley Cup. He earned the Conn Smythe Trophy as the NHL's playoff MVP.
In February 2008, Richards was traded to the Dallas Stars, where he finished out the 5-year, $39 million contract he'd signed with Tampa Bay after the NHL lockout season. Despite having a decidedly lower class of linemate in Dallas than he'd enjoyed with the Lightning – buddy went from playing alongside Vincent Lecavalier, Martin St Louis and Dan Boyle to propping up James Neal, Loui Erikkson and Stephane Robidas – Richards scored more than a point a game in a Stars uniform, netting  227 points in 220 contests. He's been the very model of consistency throughout his career; other than Glen Sather's track record, there seems to be no reason he won't keep up his end of the bargain on Broadway.
Brad Richards has been a class act throughout his career. He is still very active in his hometown, the tiny fishing community of Murray Harbour, Prince Edward Island (population 358), and brought the Stanley Cup there on his personal day with the chalice in 2004. He also spends considerable time raising funds and awareness for the PEI Children's Wish Foundation and Autism Society of PEI – the Brad Richards Foundation made a $500,000 donation in 2010 to the Queen Elizabeth Hospital in PEI for upgrades to pediatric services. He's also involved in the communities that he plays and lives in during the hockey season : Richards has regularly donated suites at Tampa Bay Lightning and Dallas Stars home games to children living with cancer and their families, as well as tickets for military veterans. He will almost certainly expand these practices to New York once the season starts.
He may have alottamoolah, but B-Rich ain't above sharing niceties with the little people. His Twitter account, @Brichards_1991 , offers slightly more real posts from the player – and fewer grammar mistakes – than your average athlete account. His website, http://bradrichardshockey.com, is just what you'd expect: matter-of-fact, unpretentious and friendly without jumping over any boundaries of privacy. (This ain't Paul Bissonnette and @BizNasty2point0 we're talkin' here. Brad Richards is a family man… who can spell.)
Despite suspicions that he's injury prone, Richards has actually been quite resilient through his career thus far. Yes, he missed 10 games with a concussion this past season in Dallas, and yes, concussions are the big mystery ailment that scare the bejeezus out of just about every owner (fantasy and genuine) in the league. Yes, he had minor surgery last summer to correct a minor problem with his hip. Did I say 'minor'? Because it was. Minor. The fact is, in 10 seasons of professional hockey, Brad Richards has sat out just 48 games. He's taken fewer sick days than any of us fanboys and fangirls who yell at our televisions. Considering how many bad deals Slats has made over the years in the Rangers HQ, Brad Richards has taken fewer days off than Glen Sather should have. Lucky for the Rangers and the blueshirted faithful, neither one called in to cancel on July 2.
***************************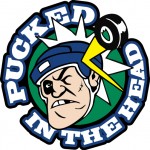 Jason Kurylo is the creator and co-host of Pucked in the Head, a hockey podcast with listeners on four continents. He also writes Seven Things, a blog that balances knowledgeable hockey analysis with an admittedly bent sense of humour. When he is not memorizing useless hockey trivia, Jason can be found making googly eyes at his wife Nadia and young daughter Milla. He is almost certainly eating a chewy chocolate treat at the very moment that you read this.
Jason [at] puckedinthehead.com
This post was inspired by discussions on the Pucked in the Head podcast and this Seven Things article about Glen Sather's multiple failgasms in the Ranger head office.
Did you like this article? Try Jason's other articles on The Hockey Writers site:
Jason Kurylo is addicted to hockey, chocolate things, and more than anything else, chocolate-covered hockey things. He cannot wait to write a better bio.