The Philadelphia Flyers surprised many fans in the 2011 off-season with a few unexpected trades, including that of their captain, Mike Richards, to the Los Angeles Kings for young up-and-comers Brayden Schenn and Wayne Simmonds. Fans of the team were shocked. Players involved were incensed. But even missing Chris Pronger for most of the playoffs, even having six players line up for off-season surgery, even being just one year removed from the Stanley Cup final (losing to the Chicago Blackhawks in 2010) – even all of these things can't take away the sting of being swept – SWEPT! – by the Boston Bruins in the post-season. Perhaps, given the competitive instincts of Flyers front office personnel like VP Bobby Clarke and GM Paul Holmgren, these major shakeups should not come as such a surprise to Flyer faithful.
With so much uncertain going into the 2011-12 season – the name of the new captain, for example – one is only sure of what has come before. Here's a look at the men who wore the C for the Philadelphia Flyers between the team's inception and 1992.
By Jason Kurylo
Lou Angotti, #7, 1967-68. Lou Frederick Angotti acquired a four-year engineering degree at Michigan Tech University before turning pro in the late 50s. After three NHL seasons as a forward with the New York Rangers and Chicago Black Hawks, he was picked 33rd overall by the Philadelphia Flyers in the 1967 NHL Expansion Draft and named the franchise's inaugural captain. The Flyers led the West Division that season (the Original Six teams made up the East Division, the six expansion clubs the West), but lost their first-ever playoff series to the St Louis Blues in seven games. He played 70 games in the black and orange, scoring 12 goals and 37 assists for 49 points – the latter two numbers were career highs for Angotti. In the off-season, Angotti was traded first to the Blues, then to the Pittsburgh Penguins prior to season start. In his career, he played pro hockey in the National Hockey League (NHL), American Hockey League (AHL), Central Professional Hockey League (CPHL) and World Hockey Association (WHA).  In all, Angotti's playing rights were traded, claimed, selected or sold on 11 different occasions by 9 different professional teams during his 13-year professional career. As he spent half of his pro career with the Chicago Black Hawks, Angotti is still involved to this day with the Blackhawks Alumni.
Ed Van Impe, #2, 1968-73. Also claimed from the Black Hawks in the Expansion Draft was Ed Van Impe, a promising young defenseman who had been the runner-up for the Calder Trophy for rookie of the year in 1966-67. Who won the Calder? Some snot-nosed kid playing in Boston. His name was… Let's see, it says it here someplace… Robert Gordon Orr? Yeah, I've never heard of him either. Anyway, Van Impe went on to play nearly nine years for the Flyers: five of them as captain, all of them as the quintessential Broad Street Bully. He was a defensive defenseman who dominated in front of his own net and laid down punishing bodychecks on a nightly basis. Upset with a call during a game in February of 1973, Van Impe hit referee Brian Lewis and earned an eight-game suspension. That's when Bobby Clarke took over the captaincy, and never gave it back. Another thing Van Impe is remembered for is knocking Soviet superstar Valeri Kharlamov unconscious with an open-ice hit in the second period of an exhibition game during the 1976 Super Series. (Yes, the same Valeri Kharlamov that Bobby Clarke had attacked in the 1972 Summit Series.) When Van Impe was not penalized on the play, the Soviets protested by returning to the dressing room. They came back to finish the game after nearly 20 minutes of deliberations and persuasion – I repeat: persuasion, not coercion or extortion – from the organizers of the tour. Not long after this exhibition game, Van Impe was traded to the Pittsburgh Penguins, with whom he finished his career. He won two Stanley Cups during his tenure with Philadelphia (1974, 1975), played in three NHL All-Star Games (1969, 1974, 1975), and was inducted into the Flyers Hall of Fame in 1993. Van Impe still takes part in numerous Flyers Alumni events throughout the season.
Bobby Clarke, #16 & #36, 1973–79. No other name says Philadelphia Flyers hockey like that of Bobby Clarke. Equally famous for his wide, toothless smile during the Flyers' glory years and for breaking Kharlamov's leg in the 1972 Summit Series (see above), Clarke won three Hart Trophies as the NHL regular season MVP and captained the Flyers to the only two Stanley Cups in franchise history. He played all 15 of his NHL seasons in Philadelphia, breaking the 100-point plateau three times and scoring at least 60 points in all but his rookie year. In addition to his offensive talents, Clarke was a tenacious checker – if he didn't stop you within the rules, he was perfectly willing to stop you outside of the rules. Hence, in 1,144 games, Clarke had 1,453 penalty minutes – an incredible stat for such an offensively gifted player. Just as remarkably, he did not have a single season with a negative +/- rating – in his career, he was a +506. Clarke was such an inspiring leader that he was named an assistant coach of the Flyers after the 1978-79 season, while he was a still a player of the team. Player-coaches had been a longstanding tradition in many sports, but by the 70s were a dying breed. Still, due to the off-ice responsibilities of a captain to liaise between players and management, the NHL had a rule on the books prohibiting a team captain from also holding a coaching position. Clarke gave up the C in favour of this new role as player-assistant coach. Little known fact: Bobby Clarke, famous for his number 16, wore the number 36 for two games when his away jersey was stolen on a road trip during the Flyers heyday. True story.
Mel Bridgman, #10, 1979-81. The first overall pick in the 1975 draft, Mel Bridgman is perhaps best known for having one monster of a moustache through most of his 14-year NHL career. (I had originally written mother of a moustache but that seemed to bend genders just a little too much for this most manly of men.) He spent six full seasons in Philadelphia, including two as captain. Bridgman is best described as a consistent player. He was trusted by coaches to play both ends of the ice, and garnered both power play and penalty killing duty throughout his career. He scored 20 or more goals six times; his career highs of 33 goals, 54 assistst and 87 points came in 1981-82, when he was traded after nine games from Philly to the Calgary Flames. He later spent two seasons as the captian of the New Jersey Devils, and finished his playing career with a 15-game stint in Vancouver in 1988. After hockey, Bridgman earned a business degree from the University of Pennsylvania, and was in 1992 named the inaugural General Manager of the Ottawa Senators. Today he is a financial consultant in California, and is still involved in amateur hockey and NHL Alumni events. He has dabbled in hockey writing as well, producing material for NHL.com and The Hockey News over the years.
Bill Barber, #7, 1981-82. Bill Barber played a dozen years in Philadelphia after being selected seventh overall in the 1972 entry draft. He made an immediate impact with the team, scoring 64 points in 69 games in his rookie season.  During his career, Barber played in six NHL All-Star Games, scored 883 points in 903 regular season games, and was a huge part of the Flyer Stanley Cup wins in 1974 and 1975. He would go on to hit the 50-goal mark in 1975-76, and top 40 goals on four other occasions, but ended up retiring at an early age due to persistent knee problems. Despite his premature departure from the game, he holds the Flyers franchise record for goals, with 420 – that's 51 more than the closest competition. He's second in points behind Bobby Clarke, and third in assists behind Clarke and Brian Propp.The Flyers retired his number 7 jersey in 1990, the same year that he was inducted into the Hockey Hall of Fame. Barber has coached the Flyers, winning the Jack Adams award for Coach of the Year in 2001, and won a third Stanley Cup in 2004 as the Director of Player Personnel with the Tampa Bay Lightning. He has since returned to the fold in Philadelphia, and is currently a scouting consultant with the Flyers.
Bobby Clarke, #16 & 36, 1982-84. No longer an assistant coach with the organization, Clarke was able to resume his role as team captain after Barber's knee injury. An interesting side note to the Bobby Clarke story is his diabetes. Some pundits had him rated as the number one prospect in 1969, but most were concerned about his ability to manage his condition with the rigours of a professional schedule. The Flyers ended up taking him 17th overall, and later that summer dismissed several trade offers from Original Six franchises. During training camp, Clarke worried Flyers brass with a couple of full-blown seizures, but the team introduced a liquid sugar diet into his pre-, during and post-game routine. Well, okay, in those days, that pretty much consisted of a glass of Coke here and some orange juice there, but it did the trick. Within three seasons of joining the NHL ranks, Bobby Clarke had the franchise record for points. Within five, he'd captained the Flyers to the first modern era Stanley Cup won by a non-Original Six team. For an encore, he led them to a second championship the following year. He'd outplayed all expectations for the diabetic kid from northern Manitoba. Immediately upon his retirement, Clarke became the Flyers General Manager, an office he held for 19 of the next 23 years. Brief stints in the head offices of the Minnesota Wild and Florida Panthers were followed by a return to Philadelphia. He is currently the Flyers Senior Vice President. Clarke was inducted into the Hockey Hall of Fame in 1987, three years after having his jersey retired in Philly. He holds the franchise records for most regular season games played (1,144), assists (852) and points (1,210) in a Flyers uniform. The Bobby Clarke Trophy is awarded each year to the Philadelphia Flyers team MVP.
Dave Poulin, #20, 1984-89. The name Dave Poulin may not carry the same historical weight as those of Bobby Clarke or Bill Barber, but his style made him suited to leadership roles, so much so that his stretch as captain of the club tied Ed Van Impe as the longest continuous run wearing the C in Philadelphia. Graduating with a business administration degree from the University of Notre Dame, Poulin also starred for the Fighting Irish, averaging nearly a point and a half per game during his college hockey career. His first pro team was actually with Rögle BK Ängelholm of the Swedish Division One League (one tier lower than the Elitserien) – there, he dominated, scoring 62 points in just 32 games before garnering interest from the Flyers organization. He spent six full seasons in Philadelphia, including a record-setting rookie year – Poulin holds the Flyer record for points by a rookie, with 76 in 1983-84. So impressive was his rookie campaign that he was named team captain, a position he held for five years. He won the Selke Trophy as the league's top defensive forward in 1987, and appeared in two Stanley Cup finals – once with Philadelphia, and once with the Boston Bruins in 1990. In both cases his team lost to the champion Edmonton Oilers. In 1993, Poulin was awarded the King Clancy Memorial Trophy for community involvement combined with exemplary leadership skills on and off the ice. He retired midway through the 1994-95 season to take up coaching duties with his college team, the Notre Dame Fighting Irish. He held that post for ten years – today he is the Vice-President of Hockey Operations for the Toronto Maple Leafs. He was inducted into the Flyers Hall of Fame in 2004.
Ron Sutter, #14, 1989-91. The last of the six Sutter brothers to retire from NHL play, Ron Sutter played eight full seasons with the Flyers before an off-season trade to St Louis, where he suited up for the Blues with twin brother Rich. In his 20 professional seasons, Ron Sutter played over a thousand games in the NHL with seven different teams, and was coached by two of his older brothers – Brian in St Louis, and Darryl in San Jose. Ron Sutter has until recently worked as a scout with the Calgary Flames organization.
Rick Tocchet, #22 & #92, 1991-92. Rick Tocchet is one of those guys who will always be remembered as a Philadelphia Flyer. He was drafted 121st overall by the Flyers in 1983, and reached the Stanley Cup final with the club in his rookie year. Although his career high in points (109) and lone Stanley Cup came with the Pennsylvania rival Pittsburgh Penguins, Tocchet played his first 7-1/2 years and last two seasons at the Spectrum, and he is ranked 13th in career points in a Flyer jersey. He retired in 2002, one of a handful of players to have scored 400 goals while racking up over 2,000 penalty minutes. Tocchet went on to work behind the bench in Colorado, Phoenix and Tampa Bay with largely disappointing results – not to mention a lengthy federal criminal case involving conspiracy and promoting gambling (to which he eventually pleaded guilty) and money laundering (to which he did not). Tocchet now serves as part of the Philadelphia Flyers post-game crew on Comcast SportsNet.
After Tocchet was traded to Pittsburgh in 1992, the Flyers operated a full season without naming a captain. What happened after that? You'll have to wait till I manage to wrangle part two of this walk through captainland. (Well, okay, I guess you could Google it or something – but that wouldn't be much fun, would it?) You'll get your Lindroses, your Forsbergs, your Dineens and your Richardses. You'll get your poorly scanned hockey cards, and you'll get your snarky comment or two. Until then, consider this history of Philadelphia Flyers Team Captains…  – to be continued –
***************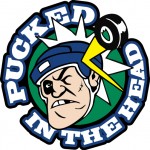 Jason Kurylo is the creator and co-host of Pucked in the Head, a hockey podcast with listeners on four continents. He also writes Seven Things, a blog that balances knowledgeable hockey analysis with an admittedly bent sense of humour. When he is not memorizing useless hockey trivia, Jason can be found drawing anatomically correct hearts on Valentine's cards and mocking people who wear ten-gallon egos in public. He is almost certainly eating a chewy chocolate treat at the very moment that you read this.
Jason [at] puckedinthehead.com
Did you like this article? Try Jason's other articles on The Hockey Writers site: