Mark Recchi isn't the oldest guy to win the Stanley Cup, but he's up there. He said going into the final that he would call it a career should the Boston Bruins bring the big prize back to Beantown. Most people smiled and nodded. "Yeah, right, Mark." Not that they doubted his retirement – a lot of hockey fans assumed he would hang up the skates either way – but pretty much nobody thought the Bruins had a chance in hell of skating with the Vancouver Canucks.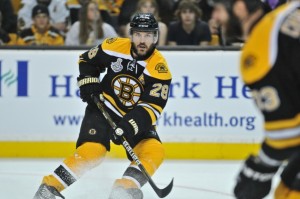 Seven games later, the 43-year-old man with salt and pepper in his beard hoisted his third Stanley Cup. Here are Seven Things about Mark Recchi.
By Jason Kurylo
Mark Recchi is the tenth player in NHL history to win Stanley Cups with three different teams. His first Cup came in Pittsburgh in 1991, just three years into his professional career. Fifteen years later he duplicated the feat with the Carolina Hurricanes. Of course, in 2011, he won again, helping the Boston Bruins win their first championship since 1972. In those three championship seasons alone (1991, 2006 and 2011), Recchi put up 64 playoff points – most players don't have that many in a career. Not ol' man Mark Recchi – with 147 points in 15 post-season appearances, he ranks 29th all-time in NHL playoff scoring. Who were the other nine players to win Cups with three teams?  I'm glad you asked.
Recchi played two years of junior hockey with his hometown Kamloops Blazers before breaking into the NHL as a 20-year-old with the Penguins. While he did not win a junior championship, the Blazers were a perennial threat in the Western Hockey League and challenged for the Ed Chynoweth Cup both years Recchi was there – in fact, the 1986-87 team still holds the franchise record for most regular season points and most goals scored in a single season. His number 8 jersey was retired by the Blazers almost immediately upon his joining the Pittsburgh Penguins in 1988. In 2000, he was named the Kamloops Male Athlete of the 20th Century, and will almost certainly go into the BC Sports Hall of Fame on the first ballot. A street in Kamloops was named Mark Recchi Way in 2000 as well; he visited the site on his day with the 2006 Stanley Cup.
Recchi retires as the NHL's 12th all-time leading scorer. His 1,533 points were scored with the Pittsburgh Penguins, Philadelphia Flyers, Montreal Canadiens, Carolina Hurricanes, Atlanta Thrashers, Tampa Bay Lightning and Boston Bruins. All other skaters in the top 15 career scorers, with the exception of #9 Jaromir Jagr, are in the Hockey Hall of Fame.
Recchi holds the Philadelphia Flyers record for most points in a single season, putting up 53 goals and 70 assists for a total of 123 points in 1992-93. He played for the Flyers for a total of ten years, 1991-95 and 1999-2004, and is the club's ninth all-time scorer with 627 points in a Flyers jersey. In Philly, he was one third of "the Crazy Eights line" with Eric Lindros and Brent Fedyk, so named for their punishing style of play and the fact that they wore the numbers 8, 88 and 18 respectively.
He has put up at least 10 goals in each of the last 21 NHL seasons. The only year of his 22 seasons in the NHL that did not see Mark Recchi score ten times was his very first: in 1988-89, as a rookie with the Pittsburgh Penguins, he played 15 games and scored a single goal.
Perhaps the most intriguing stat of Recchi's career is his plus/minus. No matter what you think of the oft-maligned statistic, you'll have to admit that this one is a little odd. After 22 seasons with seven teams, two stints with the Flyers and three with the Penguins, over 1,500 points and a thousand penalty minutes, Mark Recchi's career plus/minus rating is… wait for it… zero. That's right. He was a plus-20 twice, with the 1995-96 Habs and the 1999-2000 Flyers, and he was a minus-36 with the Penguins and Hurricanes in 2005-06. But in 1,652 NHL regular season games, Recchi was on the ice for precisely the number of even-strength goals for as even-strength goals against.
Mark Recchi is not the oldest player to win the Stanley Cup – that honour belongs to Chris Chelios, who was 46 years old when he won the 2008 Cup with Detroit. Nope, Recchi is the second oldest to win it all. But never fear, Bruins fans, the man who once went by the nickname "Recch-ing Ball" became the oldest man ever to score a goal in a Stanley Cup final – at 43 years and 126 days – when he tipped home a shot on the power play in Game Two. Just for good measure, he added two more goals in Boston's Game Three cakewalk win. It should be noted that Mark Recchi is three years older than the Vancouver Canucks franchise. As mentioned in #1 above, he has won three Stanley Cups. As mentioned by just about everyone skewering Vancouver's mopey fans, the Canucks have lost three Stanley Cup finals. How's this for a disheartening stat: during this seven-game Stanley Cup final series, the ageless Mark Recchi scored the same number of power play goals (two) as the entire Vancouver Canucks roster combined.
Jason Kurylo is the creator and co-host of Pucked in the Head, a hockey podcast with listeners on four continents. He also writes Seven Things, a blog that balances knowledgeable hockey analysis with an admittedly bent sense of humour. When he is not memorizing useless hockey trivia, Jason can be found making googly eyes at his wife Nadia and young daughter Milla. He is almost certainly eating a chewy chocolate treat at the very moment that you read this.
Jason [at] puckedinthehead.com
Did you like this article? Try Jason's other articles on The Hockey Writers site:
Jason Kurylo is addicted to hockey, chocolate things, and more than anything else, chocolate-covered hockey things. He cannot wait to write a better bio.