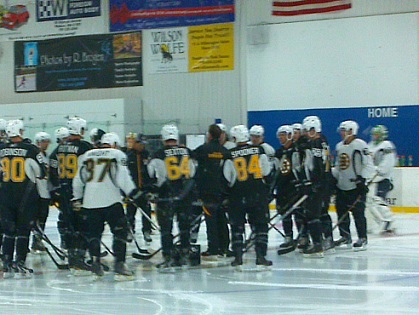 Bruins' Development Camp Day Two Recap
Bruins' Development Camp Day Three Recap
Bruins' Development Camp Day Four Recap
Bruins' Development Camp Day Five Recap
Greetings following day one of the 2011 Boston Bruins' Development Camp! A hot and muggy afternoon was gratefully spent in the cool Ristuccia Arena in Wilmington. This somewhat intrepid reporter enjoyed his view of the proceedings and has a few interesting observations following the initial session of the Boston Bruins' Rookie Camp.
There were certainly a lot of unexpected revelations here on Day One. Individuals including Anthony Camara, Tommy Cross, Craig Cunningham and Lars Volden were all pleasant surprises. However, first and foremost, let's look at how the four biggest names in the field did.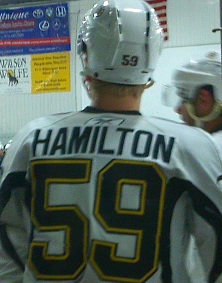 Dougie Hamilton – Despite certainly not playing his best,  Dougie was extremely impressive on Day One. He displayed a hard, heavy and accurate wrister, as well as a powerful and very tip-able slapper. He made simple crisp passes. On several notable occasions, he took the puck off of the opposition with relative ease, utilizing his outstanding reach to dispossess forwards with the poke-check. He gave up on a few plays, particularly in the 3-on-1s, where I thought he could have made a more concerted effort to disrupt passes/shots.
However, the most surprising thing about him was his speed. Wow, this kid is fast for 6'5". Long, powerful, even graceful strides will make him a dangerous player going forward. With excellent mobility in all directions he's one tough hombre to shake. There's absolutely no doubt in my mind  that this kid is looking at a long and fruitful career.
Alex Khokhlachev – I was a little disappointed in this admittedly abbreviated viewing, given my personal perception of the young man headed in. He's not lightning-quick, and while his puck skills were good, there were times I thought he was trying too hard. That being said, he was one of the two or three best snipers of the day, utilizing creative jukes and fakes to get the netminders to commit and open up for easier shots… his quick release on his wrister was wonderful to behold. He sees the ice really well, head on a swivel from the get-go, trying to find seams.
Ryan Spooner – The small and shifty forward from the Kingston Frontenacs was at his best on Thursday – flying all over the ice, juking, deking, and making defenders and goalies alike look silly. His excellent hand-eye coordination was on display successfully tipping several point shots in front of the net. He blew by a couple of players in the one-on-one puck battles, poking it past them and then playing keep-away. He made a couple of nice dishes, highlighting his playmaking chops – some were too hot for the lesser talents to handle, including a sweet saucer pass over a defender's stick that found its way past his linemate as well.
Jared Knight – The forward from London, Ont., was all over the ice. His top speed is a wonder to behold… in the North/South game not many can handle him. He consistently displays maximum effort, even when a play looks dead, his hustle knob is turned all the way up to eleven. With soft hands and a heavy shot, you can see why so many are high on this kid.
Knight's strong performance was marred by an unfortunate incident which was no doubt partly derived from his ultra-intense motor. In one multi-player break-in drill, Knight drove hard to the net and bowled over young netminder, Michael Hutchinson. Both were shaken up on the play, and Hutchinson would leave the ice (under his own power, and later said he was "ok") but it put a bit of a damper on the festivities.
One of the bigger revelations today was the play of Saginaw Spirit winger Anthony Camara. Camara, while a former 14th overall pick in the OHL's Priority Selection, was viewed by myself (and others) as primarily a grinder and pugilist. However, his skillful play during Day One leads me to believe Chiarelli & Co. made the right decision when they selected the young man with the 81st selection in 2011. Camara's nice moves and (apparently) above-average hands make him an exciting young player.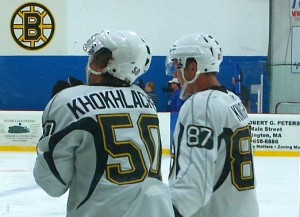 Additionally, Boston College Captain (and B's 2007 2nd-Rounder) Tommy Cross showed exactly why he's still such an exciting young prospect. Big (6'3) and physical, he also exhibited a low, hard shot and some nice passing touch to go with solid mobility. Injuries may have derailed his path to the bigs, but I think it's safe to say that we'll see this young man in the NHL someday soon. He and David Warsofsky (of Boston University) had a nice battle going in the one-on-one puck battle drills. Warsofsky still seems a bit small and easily pushed around, but his positional game appeared sound and his speed and passing were top-notch.
Forward Craig Cunningham will make a nice addition to the Providence roster this season, after five seasons (and 264 points) in the WHL. The former Vancouver Giant and Portland Winterhawk demonstrated good finishing touch to go with his robust playmaking ability.
Goalies Zane Gothberg and Lars Volden each seemed to be up to the task of stopping these talented youngsters. Gothberg was aggressive and constantly square to the shooter while Volden's excellent sprawling, lateral movement and quickness were evinced in several gasp-inducing stops from point-blank range.
Aside from the Knight-Hutchinson collision, there were several other memorable hits, including Mississauga's Marc Cantin dropping big fellow OHLer, Tyler Randell (in front of Volden while the latter was trying to stuff the puck home. Brian Ferlin, (of the USHL's Indiana Ice) the Bruins' fourth-rounder in 2011 was taken to the ice hard by undrafted invitee, Steven Spinell of the Miami University (OH) Redhawks.
Rob O'Gara (5th Round, 2011 – Milton Academy) impressed many with his skating ability, size and awareness. Sizable blueliner, Zach Trotman's morning bench press numbers (10 reps at 245 lbs.) were exceeded only by his strong play and surprisingly good wrist-shot. Alex Fallstrom's (Harvard) creative and cerebral play was especially noticeable in the odd-man drills. Twenty-four year-old undrafted invitee Brett Olson's patience and discipline were shown through his decisions to regroup in several disadvantageous situations and smart dump-ins and passes.