Follow Lukas on Twitter @THWLukasHardonk for more Maple Leafs coverage.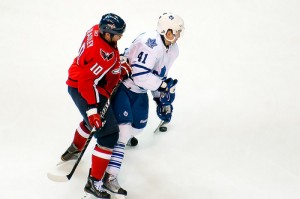 The Toronto Maple Leafs entered 2011 free agency with the plan to acquire a strong, big time, top-six player who could either put the puck in the net, or help feed Phil Kessel. When the Dallas Stars told former Conn Smythe winner Brad Richards that he would not be retained by the club, the perfect opportunity arose.
Richards, a native of Murray Harbour, Prince Edward Island, won a Stanley Cup with the Tampa Bay Lightning in 2004. He is also a former 90-point scorer, who knows how to feed the puck to top-line scorers in a way that they will have no problem finding the back of the net.
With the 31-year-old being a perfect fit for the team and just about every Leaf fan screaming for the team to sign him, the Maple Leafs made a significant offer to Richards. However, he elected to sign with the New York Rangers, thus donning a different type of blue and white.
So what happened? The Leafs went out and got Tim Connolly.
Connolly, 30, is known as an injury prone player. However, when his is healthy, Connolly can put up a good amount of points. For example, the centre scored 65 points (17 goals, 48 assists) in 73 games during the 2009-2010 season with the Buffalo Sabres.
While he is no Brad Richards, Connolly still has the ability to help someone like Kessel score a large amount of goals.
Going into the 2010-2011 campaign, the majority of Leaf fans were expecting to see Kessel net at least 35 goals, and possibly score 40 or more. However, without a legitimate play maker, Kessel was unable to reach the expectations that were set for him. Now, assuming Connolly can play 70+ games, there is a good chance Kessel reaches the 40-goal plateau.
Also helping him reach 40 will be fourth-year player Nikolai Kulemin. The 24-year-old set career highs in goals (30), assists (27), and points (57). With the Russian developing further, the combination of Kulemin – Connolly – Kessel could prove to be a lethal scoring line right up there with the best of them.
The point production doesn't stop there, though.
Unless Matthew Lombardi is ready to go for October 6, the Leafs' second line will likely be made up of Clarke MacArthur, Mikhail Grabovski, and Joffrey Lupul. This line could turn out to be a good second unit, or an underachieving one; all three players have question marks hanging over their heads.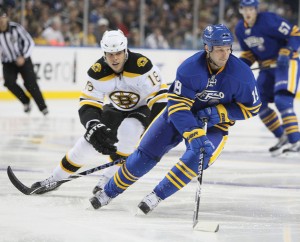 For MacArthur, it is whether or not he can repeat his performance from last season. The 26-year-old blew his previous career highs out of the water, by collecting 21 goals, 41 assists, and 62 points in 82 games.
Meanwhile, Grabovski impressed just about just about everyone last season, including Leaf haters. He just about gave the Leafs three 30-goal scorers by netting 29. He also assisted on another 29 goals, giving him a total of 58 points. Like MacArthur, though, many people are still concerned about whether or not last season was season was a fluke for Grabovski.
Lastly, Lupul is a very solid power forward. He has scored 20 or more goals on three different occasions, so people know he has the ability to score. However, what people don't know is if his hot streak at the end of the season was just that, or if it is really what he is capable of with the Leafs.
Still, even if this line struggles, you can expect at least two of the three players to reach the 20 goal mark.
Like many teams, there isn't much flare in the Maple Leafs' bottom-six forward group. Nazem Kadri, Tyler Bozak, Colby Armstrong, Mike Brown, Philippe Dupuis, and Colton Orr seem like the most probable candidates to make up the six spots that are available.
While it would be nice to see some production from Kadri, he likely won't score much more than 40 points, if he can reach that level.
If there is anyone that is going to help him score 40, it's probably going to be Bozak. Although the 25-year-old had a rough 2010-2011 season, he did show that he can put up points at the NHL level when he scored 27 in 37 games two years ago.
The fourth line─Brown, newly signed Dupuis and tough guy Orr─had just 11 goals between them last season. While they could net the odd puck, they will be more of an energy line that is certainly willing to drop the mitts.
As you can see, general manager Brian Burke has certainly revamped this team. It is exactly what he describes his teams as having: A top-six group that can score, with grind-it-out third and fourth lines.
While the Leafs' forward group is strong, management is still looking for that one player who can either break a game wide open, or help others around him complete the honours.
Twitter: @THWLukasHardonk | Email: lukas.hardonk@gmail.com | Lukas' archive
Check out Lukas' 2011 Toronto Maple Leafs Off-Season Guide.