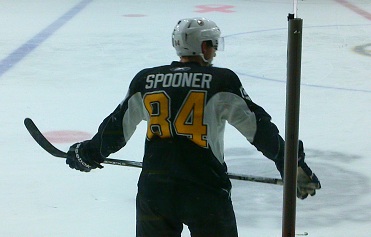 Bruins' Development Camp Day One Recap
Bruins' Development Camp Day Two Recap
Bruins' Development Camp Day Three Recap
Bruins' Development Camp Day Five Recap
Hello once again from the Boston Bruins 2011 Development Camp at Ristuccia Arena in Wilmington, Massachusetts. Today's sessions included the first intra-squad scrimmage which saw a lot of exciting action and elucidated some of the young Bruins' talents and potentials.
Justin Florek was particularly eye-grabbing today. The hulking 6'4" 2010 fifth-round draft choice of the Bruins from Northern Michigan University has a heck of a shot, and tallied two goals and an assist in the hour-long scrimmage that ended with a 4-2 win for the Black Team.Early in the first session, he blew one past Lars Volden with a clean gloveside top-shelfer. Volden got his revenge later, absolutely robbing another hard Florek wrister.
In the scrimmage, Florek certainly benefited from playing on Ryan Spooner's wing. Spooner assisted on both of Florek's goals and added another assist on a Brian Ferlin goal that Florek also registered on. However, Justin's presence in the "G" column was largely the result of his own effort. With an absolute snipe, Florek beat Zane Gothberg shortside high over his blocker for the first goal for the Black Team. Later, his strong physical presence in front of the net allowed him to shovel home another. On the penalty kill, Florek tenaciously defended the high slot and half-wall, prompting Bill Ladd of Hockey's Future to exclaim, "Florek is a beast!"
For the second consecutive day, I felt Ryan Spooner was the best Pre-Bruin on the ice. So comfortable with the puck on his stick, he frequently has his sight glued to the play in front of him, which makes it difficult for defenders to read and react. Several times he utilized his particularly excellent peripheral vision to look off defenders and find wide-open teammates. In the early session, Spooner looked the defense and goalie off, appearing ready to pass, before snapping the puck high and by the dumbfounded netminder, sending the crowd into a stunned collective gasp.
With three assists during the scrimmage action, he was obviously productive, his passing through and around traffic was something to behold. Spoons absorbed hits and avoided others while playing both along the perimeter and in traffic. He played well on the penalty kill, too, staying in correct passing lanes and challenging the pointmen with aggressive play. He played the part of the thief: Several times he surreptitiously appeared out of nowhere to steal the puck off of opponents' sticks and sent the play back in the other direction.
One of the highlights of the early session was the play of 2010 B's second-rounder and member of the OHL's London Knights, Jared Knight. The powerful youngster tickled the twine gaudily on several occasions. Memorable was his absolutely filthy shortside-snipe on a 2-on-1 break-in drill that had me shaking my head. During both the drills and the scrimmage, his speed allowed teammates to try to stretch the ice with homerun passes, which, while unconverted, makes the game much more difficult for opponents.
While not making his mark on the scoresheet during the scrimmage (as member of the White Team) he was part of a very decent line which also included Craig Cunningham and Anthony Camara. The three developed good chemistry and had an efficient cycling game. Knight took feeds from both Cunningham and Camara hard to the net, but was unfortunately denied. He and Cunningham in particular had a good on-ice rapport, as their equally strong hockey-senses made for a dynamic combination.
Not to be lost in the discussion of Knight was his strong defensive play, culminating with solid shifts on the penalty kill where his very impressive skating ability and consistently responsible play make him all the more difficult to deal with.
Alex Khokhlachev did not have an outstanding day (word is he may be a little less in-shape than some of his teammates) but that still did not keep him from generally evincing the skill and grit that make him so highly-regarded. My notebook was full of gems like: "Nice moves & shot by Khokho!" In one instance, pinned along the half-wall, he fought for and won the puck then kicked it to Cunningham in the high slot for a very good scoring opportunity.
In the scrimmage, centered between Tyler Randell and Brett Olson, Khokhlachev set up some decent chances. At one point, he gathered the puck by himself below the goalline before skating it slowly behind the net. Displaying outstanding patience, he surprised nearly everyone in the rink by deliberately holding the puck as he circled to the high slot and sneakily dropping it to a pinching Dougie Hamilton, who fired a bullet into the crowd but was denied.
Saturday's hero performer, Ryan Button, continued to have an excellent camp on Sunday. With skating that those around me vociferously attested was better than any other blueliner in camp (even the darting diminutive, David Warsofsky); a shot that is hard, low and exceedingly tippable; and continually excellent passing; Button is certainly a favorite to challenge for a mid-season callup to the Bruins.
In addition to his stellar offensive chops, Button is a big young man (the Camp roster has him listed at 6'0", but I can't believe he's less than 6'2") and he plays physically and with tenacity. Button doesn't give up on any play – when he almost lost the puck at the offensive blueline during the scrimmage, he scrambled for an unlikely and impeccable behind the back pass to his defensive partner.
Once again, the best goaltending performance came from 21-year-old Michael Hutchinson. With solid and occasionally spectacular play through the drills and scrimmage, Hutch looks ready to take the next step in his career. He denied Khokhlachev on a low hard wrister with a beautiful kick save. During the scrimmage, when a penalty shot was awarded to Union College's Josh Jooris, he robbed JJ's great move to the backhand with a flashy save which earned him some well-deserved cheers. Later, he was arrested pending arraignment for grand larceny charges stemming from an illegal glove save on a point-blank, one-time shot from Anthony Camara after a fine feed from Knight.
Dougie Hamilton's performance today was certainly eye-opening. After several mediocre sessions where his tremendous innate abilities were on display but rarely awe-inspiring, his performance in the scrimmage was exactly that. Displaying poise and patience with the puck, aggressive tactics in the offensive zone and a physical mean streak on D, Hamilton made a tremendous case to be quantified as the best Bruins' prospect today.
Exhibiting crisp and efficient passing and a very potent shot, Hamilton looks much at home on the offensive blueline. That said, he does not have qualms about carrying the puck deep into the zone and playing like a fourth forward or jumping into the rush or the high slot. His tremendous stride and elite speed allow him to play the risky game of pinching in dangerously (though it's hard to call it pinching when he's well below the dots…) He gets caught up-ice with some frequency, but it's easy to imagine that any small flaws can be ironed out with some decent coaching. Hamilton's camp play makes this an exciting day for Bruins' fans.
Brian Ferlin, the Bruin's 4th round choice from the Indiana Ice of the USHL has decent wheels, despite earlier scouting reports which had pegged his skating from "awkward" to "poor". He displayed good finishing ability, taking a low-slot pass from Florek and depositing it in the net. Ferlin showed good physicality, rebounding from a massive hip-check by Cantin to rock Anthony Camara along the boards.
In one notable opportunity, Ferlin made a mad dash up the sidewall past several defenders, walking in all alone on Zane Gothberg. Ferlin made an impressive deke to get the puck to his forehand but was robbed by a better save by the Fargo Force (USHL) netminder.
Other Notables:
Both Volden and Gothberg played well today, and each made some spectacular saves.
Zach Trotman displayed some significant poise to go with his impressive physicality and defensive abilities, when he observed a sprawling Anthony Camara attempting to block his shot and still managed to elevate the slapper just enough to still get it on net. Really like what I've seen out of him thus far.
Alexander Fallstrom of Harvard University has been kind of hit-and-miss during these proceedings. He has a hard, accurate shot that he elevates well, and some remarkable moves, too… but despite the times when I feel aware of his presence, there are equal or greater times I feel he's invisible.
People are still talking about Tommy Cross, and rightly so. He's shown a lot of positives and very few negatives at the camp while forming a very imposing pairing with youngster Dougie Hamilton. If he weren't going back to Boston College as Captain, I'd say he'd be a very solid AHL defenseman this year.
Marc Cantin's been very good so far. In addition to his skating, he's played very aggressive physically, including the monster hip-check on Brian Ferlin I mentioned earlier. Cantin also has shown the ability and willingness to pass creatively and aggressively.
Anthony Camara had another good day, and like Knight, I'm running out of superlatives to heave in his direction. He scored the first goal for the White Team, taking a Cunningham pass (and some blown coverage) out to the front of the net, where he patiently waited out the goaltender before slipping the puck past him. He took some real tough checks from Cantin and Trotman and kept right-on getting to the dirty areas. He looked real good in the pursuit-drills, and I can't help but feel he's got third line (or better?) upside.
Brett Olson hasn't really impressed me too much thus far, but today was his best day of Dev. Camp. He set up Camara with a perfect pass for a tap-in goal in the 2-on-1 drill, and demonstrated a quality shot.
Warsofsky has run hot-and-cold in Development Camp, but his passing, hockey-sense, and on-ice vision are all top of the heap. He assisted on one of Florek's goals and made several really cheeky passes through traffic in both the neutral and offensive zones.