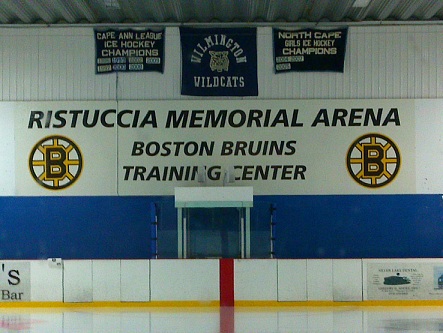 Bruins' Development Camp Day One Recap
Bruins' Development Camp Day Two Recap
Bruins' Development Camp Day Four Recap
Bruins' Development Camp Day Five Recap
Hello again, folks! The hot and sunny day was thoroughly enjoyed by those of us who spent the late morning and early afternoon at chilly Ristuccia Arena in Wilmington, catching up with the Boston Bruins' top prospects as they entered Day Three of Development Camp.
For my money, the major standout of the day was Bruins' 2009 third-round pick Ryan Button. Button, who's spent four years in the WHL, combines size, skill and speed in a wonderfully complete package. In B's Power-Skating Instructor, Besa Tsintsadze's intense drills, Button looked amazing, displaying good hustle, excellent balance and above-average agility.
During the man-on-man and multiplayer competitive drills, Button's solid abilities – both offensively and defensively – were highlighted. His passes were crisp and he played with a physical edge. Friend and fellow prospect-watcher Bill Ladd of Hockey's Future was equally impressed, but wondered why a young man of his skillset and drive could fail to produce at a high level in Juniors (his top point total was 37 in his draft year). Still, I can't help but be bullish on his future with the performance I've witnessed thus far.
Early in the first session, the young men practiced neutral-zone passes and the forwards skated in all alone on the netminders. I noted a few individuals whose moves/shots were outstanding. Justin Florek, Alex Khokhlachev and Jared Knight all caught my eye. However, Ryan Spooner took the cake with his creativity and unmatched success (3 for 3!) in this drill. It seems he needs to expend very little effort to deftly roof a shot past a helpless goalie… and his balance and patience with the puck make it that much harder for defenses and goaltenders to read and react.
In a later drill, a 2-on-2 break-in challenge, Spooner put the moves on Anthony Camara going inside-out and blowing past him, then dragging the puck beyond Zane Gothberg's full pad extension for an uncannily easy goal. The crowd was incredulous… how did he just do that? Later, when he and a teammate were fooling around before another drill began, Spooner sent several aerial passes from one side of the rink to the other – right onto his partner's stick. Towards the end of the second session, he managed to unscrew the hinges on my jaw yet again with a divine baseline move to an unholy backhander that would have knocked a dozen water bottles off, had there been any.
The embarrassment of riches continues with the other Bruins' 2010 second-rounder, Jared Knight. Knight is an amazing north-south skater. On more than one occasion during 2-on-2 drills, I saw him put it in a rarely-seen extra gear and blow by the opposition. He's explosive. In the power-skating drills his stride and acceleration are something to behold even though his agility is middle-of-the-pack. He constantly hustles all over the ice, making more-than-concerted efforts to get back into the play even if he's way up ice. With character like this, one would think that there's a stitched "C" or "A" in his not-too-distant future.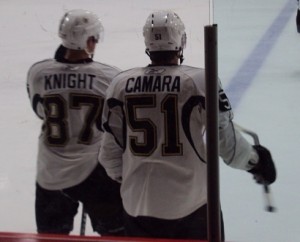 Knight comes off as power-forward more than anything else (despite being only 5'11"!!). He makes strong, bold moves to the net with a certain calculated reckless abandon. His shot is hard and accurate and this reporter feels he is destined to be a 30-goal guy at least. It's hard to find more superlatives for this kid without betraying his admirable blue-collar style. Suffice it to say the Bruins have a gem in this young man.
From the Bruins' 2011 draft-class, Dougie Hamilton continues to impress. In drills where his primary objective is to deny opponents' scoring opportunites, he does it with a very high success rate, utilizing both his plus-plus poke-check and physicality. It's obvious he sees the ice well (as he very frequently makes the correct breakout pass/entry pass with a high degree of accuracy. Inside the offensive zone, he finds the open man or fires a very low, hard and re-directable shot on-net. He has work to do and improvements to make without question – but B's fans should be more than excited about this cerebral young behemoth.
Alex Khokhlachev has his moments. At first glance, Khokho's power-skating drill performance was mediocre. His cuts look less than sharp, his turns choppy and slow … but put a puck on his stick and suddenly his skating looks like it should be on loan from the Louvre. Dynamic and creative, the 17-year-old Khokhlachev (who won't turn 18 till September 9!) looks dramatically better in real action than drills, and his edgework looks unreal… and man, his sniping! More than a few times I thought he already ripped a shot, with great leg and stick fakes, and was surprised to see him fire one into a newly-opened gap and find the back of the net.
Other notables:
Anthony Camara was impressive again, twice employing a nasty forehand-to-backhand crossover move to allow him to power to the outside and edge-off his pursuit. He has a real nose for where his teammates are on the ice, and threw some blind passes that were either the result of divine providence or excellent hockey-sense.
Lars Volden, who may not be quite as polished as Michael Hutchinson, has my full attention. With more aggressive net play again today, excellent lateral movement to deny a few easy tap-ins with kick saves, and a very effective poke-check, Volden has more than defended Chiarelli's pick of him in 2011. The Norwegian netminder opened my eyes with not one but two instances of grand larceny on top sniper Jared Knight with his talented left mitt.
Justin Florek of Northern Michigan has a really nice wrist-shot, and buried it high from distance on a few occasions.
Rob O'Gara is quite quick for 6'3", and yet he seems to have a very fine touch on his passes.
Michael Hutchinson's play was solid again on Saturday. Despite consistency issues which seemed to dog him last year in Providence, Hutch now seems like a good lock to earn the backup job behind Anton Khudobin. He noticeably battles for every loose puck in his crease and seems to have a very strong competitive edge.
Marc Cantin of the Mississauga St. Michael's Majors has quietly had a very good camp. His skating is solid, and in the drills he makes clean, quick cuts. He's also been one of the better checking defensemen in the Camp thus far.
Tommy Cross brought some nasty to the Camp today with excellent physicality in the early session. He looked solid again in the power-skating drills, allaying some fears about his health… but time will tell.
Craig Cunningham was impressive again in the offensive zone, using his very good hockey sense and vision to set up teammates and burying some nice shots of his own including a very sexy curl-and-drag move and a nice Stamkos-esque one-knee, one-timer.