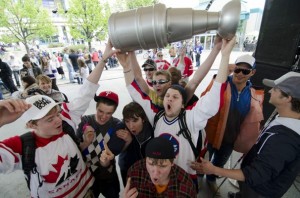 The Winnipeg Jets have taken off.
They have signed their captain Andrew Ladd to a five-year, $22 million deal. They hired a coach in Claude Noel and they hired former Chicago assistant GM Kevin Cheveldayoff as their general manager. Plus they just recently picked up six players off free agency. So far, so good.
The question is, however, can they keep the momentum going and sustain a team in a city that has already lost an NHL franchise?
First, lets fire up the Delorean, activate the flux capacitor and head back to 1996 to take a look at what made Winnipeg lose their team the first time around.
Looking back, most of the blame can be put on the Canadian dollar. It was in bad shape. At that time the Canadian dollar was only at .62 cents compared to the US dollar. Why was that bad you ask? It was bad because the then Winnipeg Jets were collecting most of their revenues in Canadian currency, while they had to pay their players salaries, which were inflated at that time, in US dollars. This means there was a .38 cent gap between every dollar they were generating versus what they were paying out. That might not seem all that bad, but multiply it by tens-of-millions and you got a problem.
It also didn't help that the Jets were in the second smallest market at the time, later becoming the first smallest market after Quebec lost their franchise to Colorado in 1995. After a short time, the franchise was unable to sign or retain high-priced talent or keep up with operating costs.
This brings us to the Bettman factor. He wanted to expand in emerging US markets, adding to the rapid growth of operating costs and salaries. After several attempts to keep the team in Winnipeg fell through by various groups and grassroots campaigns, the Jets were history in Winnipeg after the 1996 season and Bettman got another team in a US market, this time Phoenix.
Back to 2011. True North Sports and Entertainment Limited purchased the Atlanta Thrashers and have moved them to Winnipeg, giving birth to a new era of Jets hockey. Can it work this time? The current economic environment says yes. The Canadian dollar is healthy, resulting in a virtual even exchange rate with the US dollar.
One thing the Jets always had going for them were their fans. They never went away. Even after the team left in 1996, fans still bought and wore merchandise on a regular basis. They never lost hope that their beloved Jets would return. This is evident when the Jets quickly hit their goal of selling 13,000 season tickets, with 8,000 on the waiting list. Not to mention that the stores in Winnipeg can't keep Jets merchandise on the shelves. Merchandising today is much larger and profitable than 15 years ago. There are more licensing agreements, which means more stuff to sell. The very popular lines of vintage or heritage merchandise alone will generate millions of dollars.
The Jets have also reached a lucrative 10 year agreement with MTS, Manitoba's local top telecommunications provider. The deal includes revenue for both televising games and the naming rights for the MTS Centre, which True North Sports and Entertainment owns. It also includes an option to extend the deal past 2030.
Not everything is peaches and cream however. Winnipeg is still at or near the bottom of the league in market size with a population only around 700,000. Their fans are devoted, but numbers count.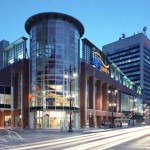 The Jets will play their games in the above mentioned MTS Centre, which opened in 2004. Unfortunately, the MTS Centre only has a seating capacity of around 15,015, making it the smallest arena in the league. The next smallest is the New York Islanders' Nassau Coliseum at 16,234, a fairly large gap. This low seat number has forced the Jets to offer the second highest ticket prices out of the six Canadian teams with tickets averaging $82 dollars. Toronto is first with an average of $118 dollars, followed by Winnipeg, Vancouver ($65), Calgary ($60), Edmonton ($60) and finally Ottawa ($56). These high ticket prices may alienate some fans by prohibiting them from being able to attend games.
The Jets also need to count on local businesses and wealthy fans to buy the high-end luxury seats and boxes. Something that may not be as easy to do in a smaller city. These seats account for a fairly large portion of the total ticket revenue.
Lastly, we look at the city, and area, itself. It's cold. Real cold. Mostly made up of farm land and rural areas. Winnipeg was named the coldest city in the world with a population over 600,000 by Environment Canada, an organization that implements the Canadian government's environmental policies. With all money being equal, can the Jets attract talent in free agency? They already signed six free agents, but would they be able to nab a super star if one became available? That will remain to be seen, but perhaps the green of money can make one blind to the white of snow.
With all those concerns up in the air, I still say the Jets Redux should be in good shape. They have a solid deal in place with MTS. They have the fans. They have a competent staff and ownership group. The only thing they still need in order to get on the ice and compete are their uniforms.