The word came across the news wires on Thursday afternoon:
Jacques Lemaire will replace John MacLean as the NJ Devils head coach effective immediately, Lemaire's third tour-of-duty, coming after a brief seven-month furlough.
"This was a decision that certainly was not one that is pleasant or we feel good about," said Devils'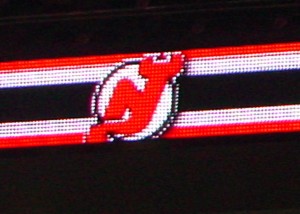 President/CEO/GM Lou Lamoriello. "But it's a decision, in my opinion, that had to be made."
Lemaire flew in from Montreal and was behind the bench for the Islanders game that night.  What he witnessed could not have been very encouraging.
Three minutes into the first period Jamie Langenbrunner made a cross-ice pass at the hash marks in his own zone that Josh Bailey intercepted and instantly backhanded over Marty Brodeur's glove to put the Isles ahead 1-0.  Two minutes later, with Jason Arnott serving a minor for hooking, Bailey scored again.  At 11:00 John Tavares fired from the left side and beat Brodeur for the third time.  Lemaire called a time-out, spoke calmly to the players and settled them down.  From that moment on the Devils seemed to catch fire but could not crawl out of the hole they had buried themselves in.  Their future Hall-of-Fame goalie allowed five goals on fourteen shots.  Final score: Isles 5, Devils 1.
The post-game press conference was very telling.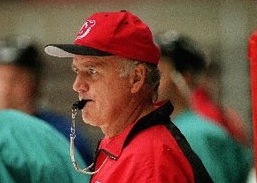 The first question to Lemaire: "Jacques, what did you see?"
Lemaire: <laughing> too many things…  five goals against, one for.  You know when I was first behind the bench I looked at the players trying… not working as hard as I thought they would…  but they were trying… and they looked like they lost their ability to play the game…  which is very strange and I have never seen this in the past…  never…   I can understand when you are losing, things are going bad, guys start trying too hard, they call that squeezing the stick, but this was not that…  this was much worse…   you can be squeezing the stick for one game but it looks like they have been doing this for a little while…  and it's the mantle the guys are wondering what's happening to them and they just can't get out of it…  that was the first period.
"Can you talk about your decision to come back?"
"Ha! My decision to come back!  Did I take a decision?  <laughing>  I was having a nice time in my retirement, playing golf four times a week, spending time with the grandkids and I got a phone call from my buddy Lou… I still call him my buddy Lou…  and well he said 'I need your help'.  I couldn't say no.  I know what Lou has done for this organization and for me and my family –  I had no choice."
"What were you thinking at the eleven minute mark?"
"After eleven minutes what was I thinking?  Oh I said it's going to be rougher than I thought.  The players have lost their confidence.  All of them.  Kovalchuk, Brodeur, even the plumbers, the guys who have always worked hard for us, they have lost their confidence too."
"What is your mission now with this team?"
"The only thing I can do is to make this team able to compete, able to play any other team, any night and compete.  We have to start there."
On Sunday night, against the visiting Maple Leafs, Brian Rolston wheeled in his own end and, in shades of déjà vu, committed the same passing error his captain made on Thursday night with exactly the same result: Colbey Armstrong intercepted and one-timed it over Brodeur's glove.  The Leafs never looked back after that.  Down 3-0 at the second intermission Lemaire pulled Brodeur and played Johan Hedberg.
After the game Lemaire questioned the conditioning of his players. "We will work on that tomorrow," he promised.  Where the Devils were once a coherent defensive machine with an offense based on turnovers and lightning strikes, Lemaire is now saddled with team that is old, slow and untradeable – a disastrous combination.  Marty Brodeur is not creating magic between the pipes and any hope of making the playoffs is melting like spring snow.
The Devils are a proud franchise, perhaps too proud to admit the reality of their predicament, but don't count on it.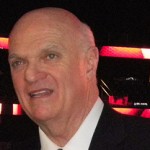 Lamoriello took a losing franchise 23 years ago and turned it into a winner.  He is a master trader, soon to be looking to trade his way out of the woods.  Jacques Lemaire will be a valuable asset to the club in evaluating the existing talent and reshaping the face of the club.
Will he stay?  Prior to his retirement last spring, Lemaire looked like a defeated man.  His players wimped out in the first round of the playoffs and he took the defeat personally.  "I really didn't plan my retirement," he said on Monday, " but I was OK with it until I stepped back into the room on Thursday.  Now I feel like I could coach another ten years."  With the team he has, he will need that enthusiasm to take the grind every night.  The Devils faithful hope he will be the difference.  So do we.
Photos:  KRH and Gosh@flickr.com