Well, the 2016-17 NHL season is rapidly approaching, and once again the perpetually poor Edmonton Oilers will look to regain relevance in a League which they once dominated some three decades ago.
Yet, this Oilers season seems to retain a newfound aura of optimism, one not felt to such an extent in quite some time. Sure, it was a tough offseason – one that saw Peter Chiarelli trade fan favorite Taylor Hall in exchange for desperately needed defensive help, however, the addition of Adam Larsson, the signing of a lucrative free agent in Milan Lucic as well as a backup goaltender in Jonas Gustavsson address glaring holes in the Oilers' roster.
Further, the 2016 NHL Draft went much better than expected, as Edmonton had Jesse Puljujarvi, long projected to be a top-three pick, fall into their hands when the Columbus Blue Jackets decided instead to select Pierre-Luc Dubois.
As such, there are plenty of reasons for optimism in Edmonton, as the franchise appears set to ice one of their deepest lineups in recent years.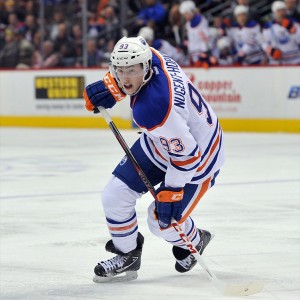 With regards to depth, the Oilers, of all positions, suddenly possess a wealth of young talent at the center-ice position, an area of the ice which will feature three top-three overall Draft picks under the age of 23. Quite obviously, Connor McDavid is the most talented of which and projects to be Edmonton's long-term first line center, yet there will be serious contestation between Leon Draisaitl and Ryan Nugent-Hopkins, who are essentially in a battle for the second line center ice position.
Both Nugent-Hopkins and Draisaitl have the skill and ability to be top-six centermen at the NHL level, meaning something will have to give in the 2016-17 season. Of the two, it is Draisaitl who is undoubtedly the less experienced and seasoned player, yet with the ability to play the wing and terrific size, it is these qualities which make Draisaitl a true wild card for the Edmonton Oilers in the coming season.
Battling for Position
The Oilers find themselves in a precarious yet fortunate situation as the 2016-17 season approaches, as the team currently possesses two young players with the potential to fill the second line center ice role.
In Nugent-Hopkins, the Oilers have a young center who already has over 300 NHL games under his belt, is a proven producer in the League and can be counted upon to bring his best on a nightly basis. However, injuries have prevented Nugent-Hopkins from in fact playing on a nightly basis, an issue which has opened the door for Draisaitl.
[Related: The Edmonton Oilers and Three Scoring Lines]
The third overall selection in the 2014 NHL Draft, Draisaitl has a season and a half of NHL experience in hand heading into the 2016-17 season, yet to date has been an inconsistent offensive producer. In his first 37 game stint in the League, Draisaitl scored just two goals and nine points. However, when he returned to the team in 2015-16, the hulking German netted 19 goals and 51 points in 72 games, albeit in a somewhat streaky manner.
A True Wild Card
What makes Draisaitl a true wild card for the Oilers heading into 2016-17 is, well, a number of factors.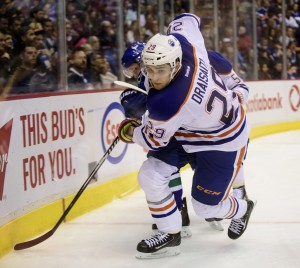 First, there is his unique ability to excel at multiple positions on the ice. While he is a natural center, Draisaitl can also play the wing, where he was fairly successful last season. In 2016-17, Draisaitl and Nugent-Hopkins will battle for the second line center position, however, if Draisaitl does lose said battle, it would be an easy transition for him to move back to the wing, where he has experience.
While he surely prefers his natural position, playing on the wing would not only provide Draisiatl with greater ice time, but also the ability to play with players of greater skill, namely McDavid, Eberle, and potentially even Lucic, scenarios which would maximize his offensive output.
Further, Draisaitl comes across as a true wild card thanks largely to his untapped potential. While 51 points in his first full season in the NHL was certainly a successful campaign, he is undoubtedly capable of greater production.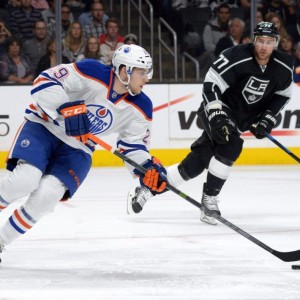 Remember, Draisaitl, who checks in at 6'1″, 215 pounds, is a player who scored 105 points in just 64 games in his second year of play in the Western Hockey League. After spending half of the following season with the Oilers, Draisaitl then returned to the WHL, where he produced at an incredible 1.65 PPG rate, indicating that, at his best, he is certainly capable of producing at nearly, if not at, a point per game pace in the NHL.
At the ripe young age of 20, soon to be 21, only time will tell what Draisaitl is truly capable of at hockey highest level. An extremely flexible player with tremendous upside, Draisaitl's size, on-ice vision and passing abilities could see him slotted in as the Oilers' second-line center for the foreseeable future, especially so if Nugent-Hopkins continues to fall victim to injuries, as he has thus far in his young career.
With the potential to be one of the Oilers highest scoring forwards, if not most valuable asset behind McDavid, 2016-17 will be a telling season for Draisaitl, and will surely provide a clear picture with regards to what the playmaking German is capable of at the NHL level.
Brett Slawson is a four-year veteran of The Hockey Writers who covers the Toronto Maple Leafs, NHL prospects, and the OHL's Mississauga Steelheads.
Contact Brett on Twitter @brettslawson92, or by email at brett_slawson@hotmail.com.