The Tampa Bay Lightning signed goaltender Connor Ingram to a three-year, entry-level contract on Tuesday.
Ingram's contract was the third goaltending transaction the Lightning have made in the 2016-17 season. In February, they traded Ben Bishop to the Los Angeles Kings for Peter Budaj in a move that also involved an exchange of draft picks. On March 1, they sent 24-year-old goaltending prospect Adam Wilcox to the Florida Panthers in exchange for veteran netminder Mike McKenna.
When Ingram's contract was announced, it may have raised questions about what the future holds for the Lightning with the goaltending position. Let's take a closer look at Ingram and what the crease may look like for the Lightning and their American Hockey League affiliate, the Syracuse Crunch, in the near future.
Who is Connor Ingram?
The Lightning acquired Ingram with the 88th overall selection in the 2016 NHL Entry Draft and he just finished his third full season with the Kamloops Blazers in the Western Hockey League.
At 6'1″, 202-pounds, Ingram isn't a huge goaltender — at least in today's standards — but he's dominated during his time in the WHL. He played in 158 career regular season games and posted an 81-50-18 record with a 2.68 goals-against average and a .918 save percentage. In the 2016-17 regular season, Ingram posted 26 wins in 45 games and in six WHL playoff games, registered a 2.18 GAA and a .946 SV% before the Blazers were eliminated by the Kelowna Rockets in the first round. The Canadian netminder was named the MVP of the Blazers in each of the past two seasons and represented his country at the 2017 World Junior Championships as Canada captured the silver medal.
With Ingram's entry-level contract, he also signed an amateur tryout (ATO) deal, which allows him to join the Crunch in the AHL now, so it's possible that he will make his professional debut at some point this season. At just 20-years-old and with no pro experience, don't expect to see Ingram at the NHL level until he's gotten some reps down in Syracuse, preferably as a starter. He's got the potential to be a solid goaltender for the Crunch and could be a backup option at the NHL level in the not too distant future, but it will take some time to get there.
What Does the Future Hold for the Lightning's Crease?
Make no mistake about it, Andrei Vasilevskiy is the Lightning's starting goaltender of the present (and future) and for good reason but there's a lot at play with the Lightning's goaltending situation, given the moves this season.
Andrei Vasilevskiy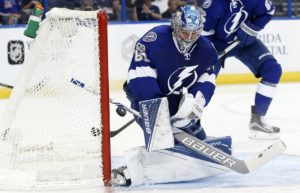 The 22-year-old netminder has been on the fast track of becoming an NHL starter since he was selected by the Lightning in the first round of the 2012 NHL Entry Draft. After two seasons in the Kontinental Hockey League, playing with players who were often many years his elder, he began his North American professional career with the Crunch in the 2014-15 season. Before that season ended, he'd made his NHL debut and he took over the starting role earlier this year after Bishop was traded to the Kings. He's locked in to a cap-friendly deal that pays him $3.5 million over the next three seasons — a span in which the team's crease is his to lose.
Peter Budaj
Budaj is a 34-year-old veteran netminder who kept the Kings in the playoff picture this season after starting goaltender Jonathan Quick was lost in the opening game to a groin injury. He started 51 games and posted 27 wins to go with a 2.12 GAA and a .917 SV% — a performance that allowed the Kings to remain afloat before he was traded to Tampa Bay. Budaj earned a cap-friendly $600,000 this season and is set to become an unrestricted free agent this summer. Despite his age, he may be a target for the Vegas Golden Knights, who could seek to sign him to a deal since he's pending UFA status.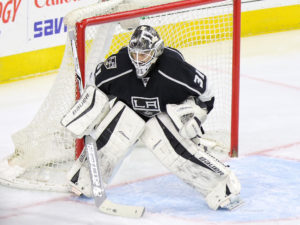 It's possible that Lightning general manager Steve Yzerman sees Budaj as a viable backup option for Vasilevskiy at least into next season. Budaj has starting experience with the Colorado Avalanche and the Kings, he'd provide a veteran presence for Vasilevskiy to lean on as he continues to develop and he's also likely attainable at a similar cap hit to where he is now.
Mike McKenna
The 33-year-old goaltender is expected to split time next year with Ingram in Syracuse. At 6'2″, 205-pounds, the St. Louis native has seen 22 games of NHL action in his career, including 15 contests with the Lightning during his NHL debut during the 2008-09 season. He's in the final year of a two-year, $1.15 million deal and will become a UFA this summer. However, he's a strong candidate to be re-signed as a veteran to play with Ingram next season. He's been successful at the AHL level and should contribute with the Crunch. If the Lightning are in a pinch, he could get the call-up as a backup for the short term, but he's not who will behind Vasilevskiy regularly.
Kristers Gudlevskis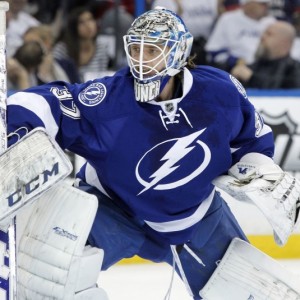 Gudlevskis has had an interesting run with the Lightning organization but it appears his time with the club could be nearing an end. He was selected in the fifth round of the 2013 NHL Entry Draft, but four years later, he's played just three NHL games. The 24-year-old signed a one-year, $575,000 deal this offseason and will become a restricted free agent this summer. His professional experience at the AHL level means he will be eligible to be exposed in the NHL Expansion Draft in June. If he's not chosen by the Golden Knights, he'll probably be playing elsewhere during the 2017-18 season — especially with the announcement that Ingram has been signed to an ELC.
Kris Oldham
Oldham is a 19-year-old goaltender who was selected by the Lightning in the 2015 NHL Entry Draft. He remains unsigned by the Lightning and just completed his freshman year at the University of Nebraska-Omaha. The 6'4″, 190-pound Alaska native saw 10 games of action with the Mavericks and posted a 5-3-1 record with a 3.38 GAA and a .895 SV%. As it stands now, he'll continue to develop in U.S. college hockey.
What Might Happen This Summer?
It's reasonable to believe that if he can, Yzerman will attempt to re-sign Budaj as the backup option for Vasilevskiy for the 2017-18 season and potentially longer. If Budaj chooses to sign elsewhere, however, this will throw a little bit of a wrench in things and Yzerman will have to look elsewhere for an affordable and reliable veteran option.
In Syracuse, Ingram and McKenna seem to be the leading candidates to be the goaltending tandem. But with Wilcox traded and Bishop gone, the Lightning have suddenly become thinner in this position. Expect Yzerman and his scouting staff to land a goalie prospect via trade or through the draft this summer in an effort to add to their stable.