Matthew Peca is just four games into his NHL career, but he's quickly making an impact with the Tampa Bay Lightning.
Since being recalled from the Syracuse Crunch in the American Hockey League on Dec. 27, he's registered three points with the Lightning, including his first NHL goal in the team's 6-4 loss to the Winnipeg Jets on Tuesday.
As the Lightning have battled injuries to a handful of their top forwards this season, players like Peca, Yanni Gourde, Michael Bournival and Cory Conacher, among others, have received the chance to put on a Lightning uniform and contribute at the NHL level.
Peca isn't the only player who started the year with the Crunch and is getting his first taste of NHL action this season. Adam Erne, the 33rd pick in the 2013 NHL Entry Draft, played in his first NHL game against Winnipeg and saw just over 12 minutes of ice time, while contributing on the forecheck, playing with good energy and registering one shot. It's the sort of play the Lightning need from their prospects, as they continue to weather a consistent storm of injuries to their regular roster.
Let's take a closer look at Peca and the road he's traveled on his path to becoming a member of the Lightning this season.
Taking the College Route
Peca was selected by the Lightning 201st overall in the 2011 NHL Entry Draft, but rather than turn pro, the native of Petawawa, Ontario, chose to play college hockey at Quinnipiac University. He arrived at the school after two successful seasons with the Pembroke Lumber Kings, a Junior A team in the Central Canada Hockey League, where he compiled 119 points in 110 games.
The Quinnipiac Bobcats were led by longtime head coach Rand Pecknold who, despite his success behind the bench at the school, had only one NCAA tournament appearance (2002) before Peca's arrival. But during Peca's four-year college hockey career, he helped take Quinnipiac hockey to new heights.
After averaging a point per game his freshman year, Peca was the team's second leading scorer with 30 points in 39 games as Quinnipiac earned a berth in the Frozen Four tournament for the first time in school history. The Bobcats defeated St. Cloud State before falling to Yale in the national championship game. Despite the loss, it was a turning point in the history of Quinnipiac men's college hockey history and began a streak of four consecutive NCAA tournament appearances for the school.
Peca would go on to compile 42 goals and 101 assists in his four-year career at Quinnipiac — the sixth most points all-time in the school's history — and was part of a senior class that won 97 games over the course of their careers, the most all-time for a class at the school.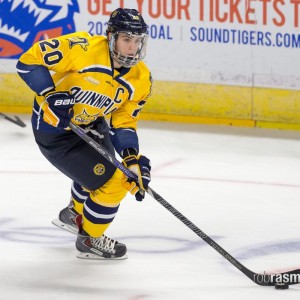 Pecknold spoke about the impact Peca had on Quinnipiac hockey, shortly after he'd played his last game as a Bobcat.
"Matthew was an elite player for Quinnipiac," he said, according to Kels Dayton with Connecticut-based WTNH News 8's Sportzedge.com. "He has a true commitment to excellence both on and off the ice and we thank him for all that he has done for the Quinnipiac program."
Peca, who captained the Bobcats during his senior year, spoke about what his career at Quinnipiac meant to him.
"It's tough to put into words, my time at Quinnipiac," Peca said, according to Dayton. "It's been the best four years of my life, I've made some great friends and I've learned a lot here. I've been very lucky, to be able to play at Quinnipiac."
Developing in Syracuse
Peca began his professional hockey career on an AHL amateur tryout contract with the Crunch for the 2014-15 season and signed a two-year, two-way contract for the 2015-16 and 2016-17 seasons on April 1, 2015 — just days removed from finishing his college hockey career at Quinnipiac.
"I'm excited, this is what I wanted, and I'm very eager to join Syracuse," Peca said in a press release after he signed the contract, according to ECAChockey.com. "I'm excited to get started."
Matthew Peca with his second goal of the night for the @SyracuseCrunch as they now lead 4-1. #SYRvsRCH pic.twitter.com/0C0OYbYPGh

— AHL (@TheAHL) October 16, 2016
He joined the Crunch for the tail end of their regular season and posted six points in 11 games (including playoffs). During the 2015-16 season — his first full campaign of professional hockey — he tallied eight goals and 35 assists in 65 games with Syracuse, showing he had the ability to play in the league that's within an arm's reach of the NHL.
Before being recalled by the Lightning this season, the 5'9″, 175-pound forward has registered five goals and 12 assists in 28 games, putting him on pace to eclipse last year's marks by a wide margin. At the same time, his play caught the eye of Lightning management, who chose to recall him over other players in Syracuse.
A Couple of Firsts
In Peca's four games with the Lightning since being recalled from the Crunch, the 23-year-old has made some history for both himself and Quinnipiac hockey, while also helping the Lightning to a 2-1-1 record in the process.
He's averaging 13:33 of ice time per game and his assist on Alex Killorn's goal in the team's 3-1 win over the Carolina Hurricanes on Dec. 31 was the first NHL point of his career and the first by a former Quinnipiac player.
It wasn't just an assist in terms of finding his way onto the score sheet, however, as it came after he gained speed entering the offensive zone and forechecked on Hurricanes forward Derek Ryan, forcing a turnover before feeding it to Killorn for the tally.
His first goal came the very next game after he received a Vladislav Namestnikov pass just above the Jets' blue line and skated along the right boards into the offensive zone and wristed a shot in the top left corner past Winnipeg goaltender Connor Hellbuyck.
While there's no telling how long he will be with the Lightning this season once some of the team's forwards recover from their injuries, his play has left a strong impression on head coach Jon Cooper.
"Every game he (Peca) plays he's making it tougher to send him down when guys come back," Cooper said after the game against he Jets, according to the Tampa Bay Times' Joe Smith.
Peca's road to the NHL has taken a little longer than anticipated, given his four-year college hockey career, but in the early stages of his time in a Lightning uniform, it's proving to be well worth the wait for the franchise.
Steven is a lawyer and writer with a passion for the game of hockey. He's the Lead Writer covering the Tampa Bay Lightning with THW. He's also been press credentialed through the Lightning since 2016. His work has been published at The Fourth Period, LightningInsider.com, Bolt Prospects, The Sports Daily Network, U.S. College Hockey Online and College Hockey News. He's had radio appearances on TSN 690 in Montreal, Lightning Power Play Live and multiple podcasts to give insight and analysis on the team. He can be reached on Twitter @StevenDiOssi and by email at sdiossi@gmail.com.