It appears that the Carolina Hurricanes will be welcoming in a new forward. Ty Rattie—a rarely used right-winger— comes to the team off of a waiver claim. Before this, Rattie played for the St. Louis Blues—the team that drafted him back in 2011.
What He Brings to the Table
The question that is most often on the minds of fans after a new roster addition is "how will he benefit the team?" With Rattie it is somewhat difficult to get a read on what his contributions might be due to his lack of actual NHL experience. So far the 23-year-old has only played in 30 regular season games. On the rare occasion in which he has even played he has only seen very limited ice time. Delegated to almost exclusively bottom-six roles, Rattie would usually only average around nine minutes a night.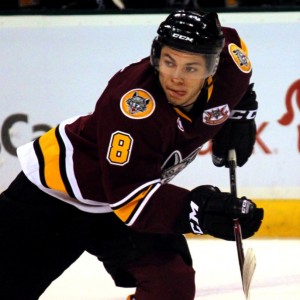 But despite these factors, there is one aspect of his game which the 'Canes will try to capitalize on — his goal-scoring ability. It seems that he has been able to produce incredible goal totals everywhere except the NHL. In the WHL Rattie scored back-to-back 45-plus goal seasons for the Portland Winterhawks in 2011-12 and 2012-13.
At the age of 20 Rattie played primarily with St. Louis' minor league affiliate the Chicago Wolves. In his AHL rookie debut, Rattie would lead the Wolves in scoring by a wide margin. With 31 goals in 72 games, he would outscore all of his teammates by at least 13 tallies. He would stay down in the minors for one more year after that, this time finishing third in team scoring with 42 points in 59 games for the Wolves.
Is He Worth the Risk
What makes the pick-up of Rattie risky is that he has just been sitting around doing nothing for a long time now. In the last few years, he has seen less than 150 minutes of actual ice time. He has proven that he can be useful if given the chance, but spending two seasons as an often scratched depth forward is bound to accumulate some rink-rust. Especially because Rattie is so young this long of a hockey hiatus does not bode well for his development.
Yet still a forward with his potential skill set is appealing to teams in Carolina's situation. The Hurricanes are looking to improve upon their below-average goal total. The fact that Ty is a right-handed shot is also a plus, considering there are only four forwards that shoot right currently on the roster.
#Canes GM Ron Francis on Ty Rattie: "We feel that Ty has a high skill level, and we believe that he can help improve our team." #Redvolution

— Carolina Hurricanes (@Canes) January 4, 2017
Even at the NHL level, Rattie has shown flashes of play that would indicate he may be a solution for the 'Canes. With an albeit very low sample size he has a 13.79 shooting percentage in the NHL. Only three current Hurricanes players have higher shooting percentages this season.
Really No Downside
While there are some very apparent red flags when it comes to Ty Rattie, he is still a player that is worth claiming. For Carolina taking Rattie provides a very low-risk high reward scenario. He addresses a team need when very few alternative options are available, and plays a role for the team in which Carolina doesn't already have the personnel to fill.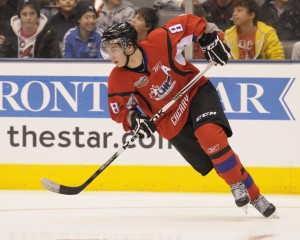 Even if he doesn't pan out the risks in acquiring him are very low. Even after the waiver claim the Hurricanes can still acquire three more contracts until they're at the league maximum of 50. This leaves plenty of room for future trades or waiver claims. Rattie's cap hit is also very manageable sitting just slightly above the league minimum at $650,000. Making him a very cost effective option even if he doesn't live up to expectations. His current contract also expires at the end of the season meaning that if things don't pan out Carolina can just cut him loose at season's end.
While he may not necessarily be a game changer, Ty Rattie is a smart calculated risk. In a best case scenario, he provides additional goal scoring and maybe earns top-six minutes. Worst case he finishes the season with Carolina and goes somewhere else next year. Overall a smart acquisition by the Hurricanes.