WCHA women's hockey is set to resume this weekend with teams making the stretch run to the conference finals and national championship in St. Charles, Missouri.
In the WCHA, the Badgers (No. 1) and Gophers (No. 2) are still the teams to beat, with Bulldogs (No. 5) and Fighting Hawks (No. 10) not far behind. Yet, there hasn't been a single team that's run the board with the Gophers and Badgers splitting their first series, the Badgers and Bulldogs splitting a series, North Dakota playing Minnesota to a tie twice and Bemidji State shutting out the Gophers in a split series hosted by the Beavers.
To look back over the first half of the WCHA season, let's make up some imaginary awards and hand them out with a boatload of asterisks to see where things stand at the mid-point of the season.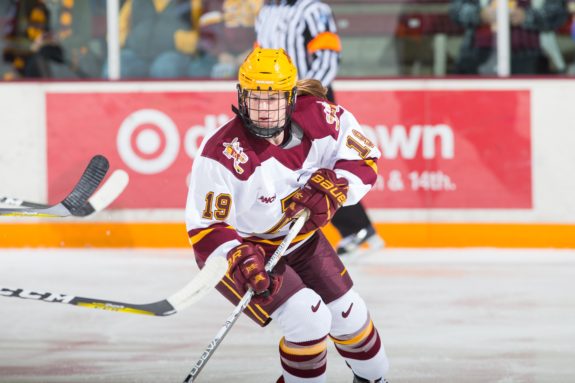 Best Forward
Gopher center Kelly Pannek is having an outstanding season. The Plymouth native is leading the nation in points in her junior season, averaging two points per game through the first half of the season.
Her achievement is obscured some by playing on what might be the best line in the nation. At her wings are Dani Cameranesi, who leads the nation in goals, and sophomore Sarah Potomak, who has a penchant for scoring big goals and leads the nation with five game-winners.
Pannek is a fantastic distributor and is a huge part of the Gophers holding down the No. 2 rank since preseason polls first arrived. The top line, which currently ranks first, second and third in the nation in points, are carrying the Gopher offense. Pannek is a driver and it's the reason she was named WCHA Offensive Player of the Month in November.
#WCHA Offensive Player of the Month, Kelly Pannek: 18pts (5g-13a); led NCAA in pts & asts; 5 multi-pt games for No. 2 @GopherWHockey (4-0-2) pic.twitter.com/YctphS4IGC

— WCHA Women's Hockey (@WCHA_WHockey) December 1, 2016
Pannek is an easy pick for number one, but there have been plenty of other great performances this season as well, even behind the two wings that skate with her. Wisconsin's Sarah Nurse and Emily Clark have both been excellent. Nurse has come up big in big games and helped carry the offense when Annie Pankowski struggled early in the year.
Despite the fact that she struggled early and missed four games, Pankowski is right there too. She's roared back from that early slump where she had no goals in nine games, posting 10 goals and 12 points in her last seven.
Duluth's Lara Stalder has continued to be an imposing offensive force with senior Ashleigh Brykaliuk. But she's also versatile. Coach Maura Crowell moved Stalder to defense in their series against the Badgers and Stalder was a big contributor from the blue line against what looked like an unstoppable force.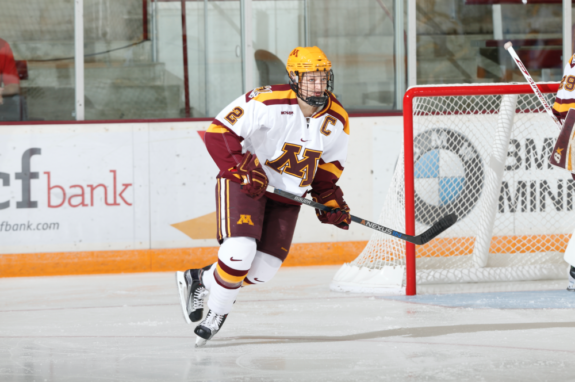 Best Defenseman
There are many worthy candidates here. Minnesota's Lee Stecklein is about as reliable as any defenseman in the conference. She makes simple plays that are intelligent and effective. Teammate Sydney Baldwin has also been thriving, shouldering a lot of responsibility at large and even more when Stecklein was away with the national team during a gold medal run at the Four Nations Cup.
Among teams that aren't sitting at the top of the nation, Bemidji State's Madison Hutchinson has been impressive in the first half of her senior season. Duluth has had a lot of defensive success in front of Maddie Rooney with Sidney Morin, Catherine Daoust and freshman Jalyn Elmes all putting in impressive seasons.
Madison Hutchinson Scores for @BSUBeaversWHKY to Cut the Deficit to 3-1 Late in the Third. pic.twitter.com/2nk4mvJvdN

— Bemidji St. Beavers (@BSUBeavers) October 14, 2016
But this is going to Wisconsin's Jenny Ryan. The senior has been reliable defensively and dangerous at the other end of the rink. Her plus-23 rating is the best among WCHA defenders and her 56 shots rank second only to Morin's 59. With six goals and 10 points, she's also finding ways to turn those opportunities into tallies.
Best Goaltender
This should be Ann-Renee Desbiens's award to lose. With a .957 save percentage, she has the best mark of any starting goaltender in the nation. She also leads the nation in shutouts and in doing so set the all-time record for most career shutouts by any men's or women's goaltender in college hockey. She's arguably the best goaltender in the nation.
But the crown for best goaltender in the season's first half is actually much closer than you'd think. Ohio State's Kassidy Sauve has made a convincing case. With less defensive support from her team, she's kept pace with Desbiens. Her .946 save percentage is third in the nation and she's played a boatload of minutes.
Congratulations to Kassidy Sauve on being named @WCHA_WHockey Defensive Player of the Week! #GoBucks pic.twitter.com/NVqM7UIeqN

— Ohio State Women's Hockey (@OhioStateWHKY) December 6, 2016
Sauve has also faced the most shots of any goaltender in the conference by more than 100. If the injury sustained by Desbiens while playing with Team Canada during the December Series lasts into the season, Sauve could be the surprise pick here by season's end.
Breakout Player
Sauve has a strong claim here. The sophomore redshirted last year. Though, she had a strong rookie campaign, posting a .925 save percentage while starting about half the team's games. It's a breakout performance, but she also showed in her freshman season that she's a great netminder.
#WCHA Defensive Player of the Month, Maddie Rooney: Top-10 NCAA for wins (4), win % (.750), svs (181), sv% (.948) & GAA (1.64) for No. 4 UMD pic.twitter.com/KoBbdEnqWo

— WCHA Women's Hockey (@WCHA_WHockey) December 1, 2016
Duluth's Maddie Rooney might get the award simply because of the massive improvement she's shown season over season. The sophomore goaltender played 19 games last year with an .899 save percentage. This season, her .940 is impressive. But even that solid mark doesn't tell the story of her clutch play and the way she's been instrumental in keep Duluth near the top of the national rankings.
Outside of goaltenders, Duluth senior forward Katherine McGovern has come back this season a new player. Only halfway through the season, she has more goals and points this year than the last three seasons combined. Her previous season high was the 15 points she posted last season. This year, she has a point per game pace with 20 points in 20 games and she's playing a crucial role alongside players like Stalder and Brykaliuk.
Rookie Standout
There are a handful of rookies having good seasons. Jincy Dunne, Sydney Brodt and Ryleigh Houston all belong in the conversation. Duluth's Elmes has also quietly had a noteworthy freshman campaign. Minnesota's Patti Marshall has also been reliable. She's eating up minutes in the Gophers' top-four and has been able to contribute some offense with seven points and 20 shots in the first 20 games of the year.
But the made-up Rookie Standout Award is going to two freshmen from Wisconsin.
Abby Roque has three goals and 15 points in 20 games. Her points have come at crucial times. It's earned her a WCHA co-Offensive Player of the Week and a Rookie of the Week honor, as well as being the WCHA's Rookie of the Month for November.
Former Ms. Hockey Presley Norby gets the nod as well. She's posted four goals and 14 points in 20 games, which helped her grab October Rookie of the Month honors. Her speed and offensive skill has been impressive for the nation's number one-ranked team.
#WCHA Rookie of the Month, Presley Norby: Led WCHA frosh w/ 10 pts; led NCAA rookies (t-4th overall) w/ 9 asts for No. 1 @BadgerWHockey pic.twitter.com/K6Zqo1cICk

— WCHA Women's Hockey (@WCHA_WHockey) November 3, 2016
The WCHA is back in action on Friday with four non-conference games. Conference play picks back up Sunday when the University of Minnesota meets Minnesota State in the U.S. Hockey Hall of Fame Game.