The Tampa Bay Lightning's homegrown talent, players such as Steven Stamkos, Nikita Kucherov, Brayden Point, Andrei Vasilevskiy, Victor Hedman, Alex Killorn and Anthony Cirelli, form the nucleus of a winning championship team. What is even more impressive is that they have managed to be among the top teams in the NHL with only one current player drafted in the first round in the last decade.
So, even though Scott Wheeler's annual NHL prospect rankings have the Lightning second-worst in the league, fans shouldn't be worried (from 'Tampa Bay Lightning Rank No. 31 in NHL Pipeline Rankings for 2022', The Athletic, 8/22/2022). They have proven young talent currently on the roster, and they are built to continue winning championships for the foreseeable future. Plus they have one of the best general managers in the league who continues to build a competitive team.
First-Round Picks
The year Stamkos was drafted, the Lightning had won only 31 games. Even with two superstar offensive players in Vincent Lecavalier and Martin St. Louis, the team regressed further with only 24 wins the following season. As basement dwellers, they secured the second pick in the 2009 NHL Draft and scooped up Hedman, who made an immediate impact in his first NHL season, registering 95 blocks, 57 hits, and 14 takeaways.
Current players drafted in the first round by the Lightning:
Steven Stamkos, 2008 first-overall pick
Victor Hedman, 2009 second-overall pick
Cal Foote, 2017 (14th pick)
Andrei Vasilevskiy, 2012 (19th pick)
Vladislav Namestnikov, 2011 (27th pick)
Of their first-round picks who are on this season's active roster, only three are considered cornerstone players – and they are indeed the cornerstone of the team: Stamkos, Hedman, and Vasilevskiy. First-round pick Cal Foote has never played a full season with the Lightning and currently only sees ice time when filling in for injured teammates. However, the 24-year-old is a solid player and could still break into the lineup, but with rookie Nick Perbix's emergence, it seems less likely than it did at the beginning of the season. Although Foote doesn't play much, he is a good example of homegrown talent who has Stanley Cup experience.
Philippe Myers, who was acquired from the Nashville Predators in the Ryan McDonagh trade, started the 2022-23 season and played well. However, once Zach Bogosian returned from injury, he found himself with the Lightning's American Hockey League (AHL) affiliate Syracuse Crunch, along with Darren Raddysh who played four games for the Bolts in 2021-22.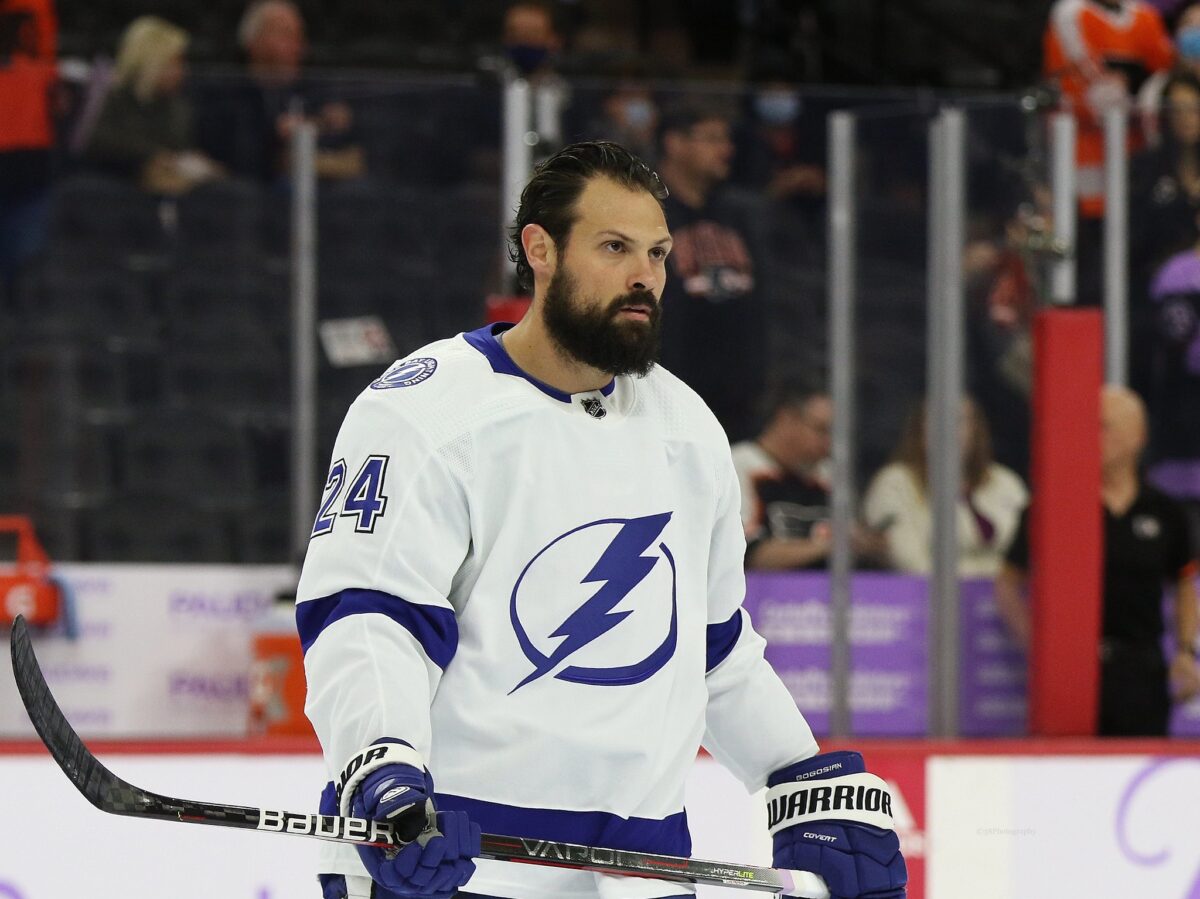 Another homegrown home run player is Point. Think about this: 78 players were drafted before he was in the 2014 NHL Draft. This season, he leads the team in goals with 27 at midseason. At 5-foot-11 and 180 pounds, the speedy center has become a lethal weapon with the puck and plays a tough two-way game.
So far, Crunch head coach Ben Groulx and his staff have done an excellent job developing players before they reach the NHL.
Finding Players to Build Championships
Trades have tremendously helped the Lightning win their two recent Stanley Cups and no general manager (GM) is better at it than Tampa's Julien BriseBois. There would not be one, much less two, championships without finding veteran players such as McDonagh, who joined the team in 2018, and Pat Maroon who came to Tampa in 2019. Both were brought in to add some grit to balance the Lightning's offensive side. In addition to building a grittier team, they also added more firepower at the trade deadline last season by acquiring Nick Paul from the Ottawa Senators. They wouldn't have snuck out of Toronto with a first-round playoff win without his two goals in Game 7.
Related: Lightning's Top 4 Prospects for 2022-23
---
Latest News & Highlights
---
This season, former Chicago Blackhawks winger Brandon Hagel looks like the trade of the decade for the Bolts. He was drafted in the sixth round (159th overall pick) by the Buffalo Sabres in 2016. At only 24 years old, he has played his way onto the top line with Point and Kucherov and has 18 goals and 21 assists.
Past and Present First-Round Players
When the Lightning's former GM Steve Yzerman drafted Jonathan Drouin with the third-overall pick of the 2013 NHL Draft, he was groomed to join emerging stars Stamkos, Hedman and Vasilevskiy in forming the team's core. Instead, after three embattled seasons, he requested a trade and was sent to the Montreal Canadiens for defenseman Mikhail Sergachev. With Sergachev's exceptional play and contributions in his nearly 100 postseason appearances, it is easy to recognize the value they continue to reap from this trade. At only 24 years old, he is three years younger than Drouin.
In 2022, the Lightning selected forward Isaac Howard with the 31st overall pick in the draft. He had been playing in the United States National Team Development Program where he led the under-18 team with 82 points (33 goals) in 60 games last season. Currently, he is playing collegiate hockey for the University of Minnesota-Duluth. His pre-draft profile glistened with compliments for offensive and defensive playmaking ability.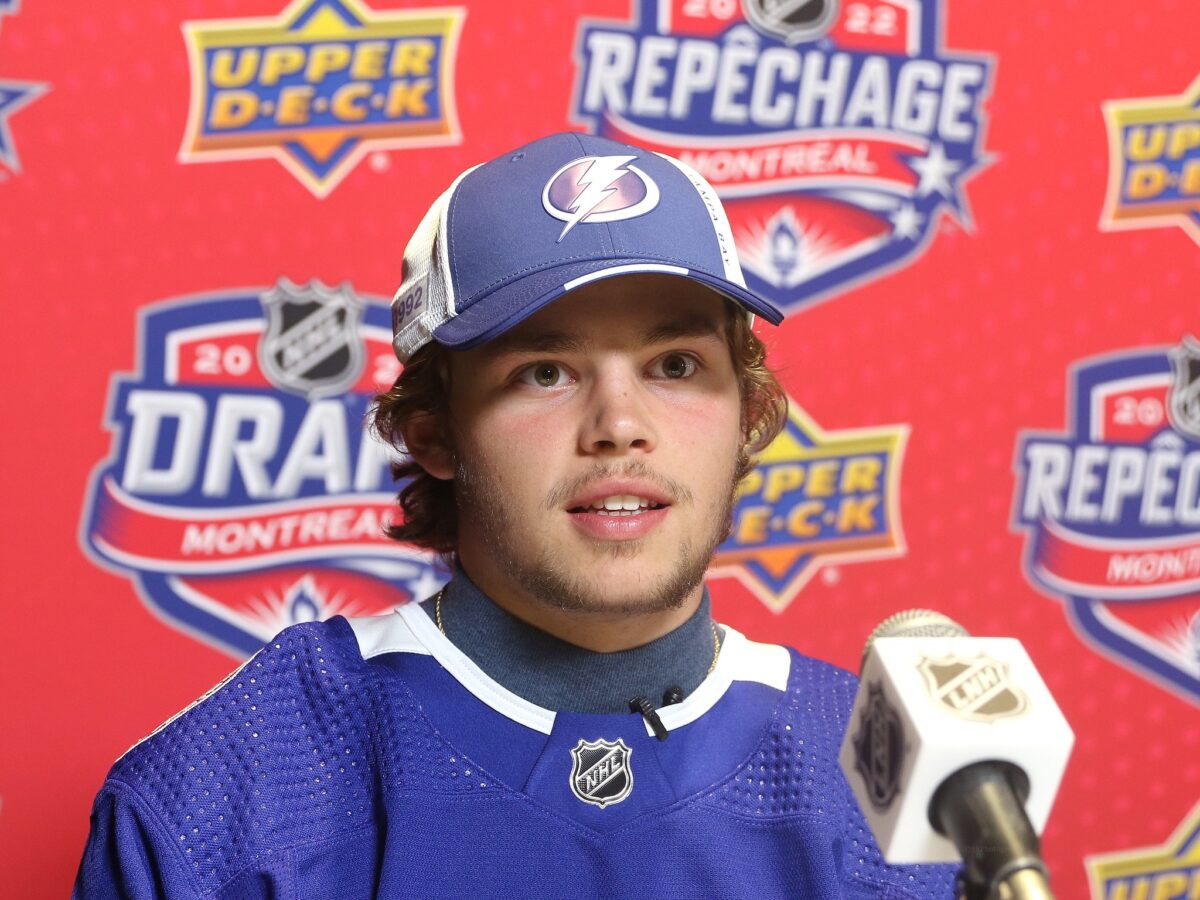 The Hockey Writers' prospect experts Devin Little, Peter Baracchini, and Logan Horn all ranked Howard as their top offensive prospect for the Lightning and listed Jack Thompson as their most promising defensive player. One area of concern for the Lightning regarding their prospect pool is a succession plan for Vasilevskiy. At only 28 years old, he has played 398 regular season and 104 postseason games. He is the main reason they won two Stanley Cups. Even with four goalies in the AHL, no one is prime to replace him and that could be the biggest obstacle to remaining competitive into the next decade. Hugo Alnefelt, a 22-year-old Swedish native, is the only current possibility. Little commented on the young goaltender, "I think he could be an NHL goaltender but not in the same tier as Vasilevskiy. I think he's more likely to become a quality backup."
Lightning Are Built to Win
One reason why the Lightning seem to perpetually find homegrown talent is that they are willing to let players develop in the minor leagues. Of the current players, only Stamkos and Hedman made the Lightning roster after being signed by the team as 18-year-olds. They also have proven young talent, with 56 percent of their active roster under the age of 30, and five of eight defensemen in this category.
So, even though they have traded away most of their high draft picks, the Lightning have the perfect mix of young and older players on their roster. With developing talent waiting in the wings in Syracuse, the ability to develop late-round draft picks, and the veteran players that BriseBois finds each season – just in time for a long playoff run – the team's Stanley Cup window is wide open and should remain so for the foreseeable future.
---
---