The Philadelphia Flyers have an 8-1-1 record in their last 10 and on Wednesday night climbed back into a playoff spot. Seventeen of a possible 20 points would be impressive enough without any context, but it's even more surprising that Philly has done that without star winger Jake Voracek in nine of those games.
But that may not last for long as the Czech Republic native could be ready as soon as Saturday for a return to the Flyers' lineup. While a near point-per-game player will be welcomed back with open arms by the Flyers, it also causes some issues of who sits in the return of Voracek.
For a few games, that may not be a problem. Chris VandeVelde has a meeting with the NHL on Friday regarding his hit to the head of Jonathan Toews during Wednesday night's game:
https://twitter.com/myregularface/status/710294490024714241
However, it's also possible VandeVelde escapes with only a fine. This is his first disciplinary meeting, so it's not out of the question. Either way, the North Dakota alum would be back eventually.
Whether it's Saturday or days later, coach Dave Hakstol has some decisions to make – and not only among the forwards.
Up Front
Should the Flyers have a complete lineup, some would argue that VandeVelde should be the one sitting in the press box, anyways. But Hakstol has rarely removed Vandevelde from the lineup, for better or worse, and the former Oiler does do a good job on the penalty kill.
Another option could be Scott Laughton, who has already shifted to wing this season, and has struggled for stretches during the year. But as Broad Street Hockey's Charlie O'Connor pointed out, the line of Laughton, Nick Cousins and Matt Read hasn't allowed a goal since being assembled. That's chemistry Hakstol probably doesn't want to mess with.
The other members of the fourth line with VandeVelde, Pierre-Edouard Bellemare and Ryan White, fall under the same umbrella as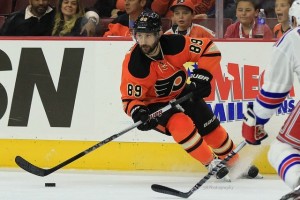 the former and are hardly ever benched. That leaves only one other possibility in Sam Gagner.
While the 26-year-old has played his best hockey of the season while filling in for Voracek, Gagner's better suited for a scoring role than a checking one. He has six points in the last 10 games, but Hakstol has shown he isn't afraid to bench the former Coyote.
Voracek would likely then take Gagner's spot on the second line with Sean Couturier and Michael Raffl, allowing Brayden Schenn, Claude Giroux and Wayne Simmonds to stay together.
In The Crease
This hasn't been discussed too much in Philadelphia, but you can bet it will if the Flyers keep winning: who owns the net as playoffs get closer?
Michal Neuvirth seemed to have a strong grip on it, then let up four goals to Edmonton. Steve Mason took it back, looked great, but Neuvirth looked even better against the Blackhawks Wednesday night.
Mason has the history in Philly and although he only played one playoff series for the Flyers, it may have been the strongest stretch of his career when he allowed only eight goals in five games against the New York Rangers in the 2013-14 postseason.
The Flyers' stretch run has been tough for the players, but they're proving they deserve to keep playing in the middle of April. Now, it's up to the coach to make some tough decisions to keep that goal alive.
Featured photo by: Amy Irvin / The Hockey Writers
Wes Herrmann graduated from Penn State with a bachelor's degree in journalism in 2014. He used to write hockey for Cardiac Cane and Broad Street Buzz and has loved the game since birth. Follow him on Twitter at @Wes_Herrm or contact him at wherrmann421@gmail.com