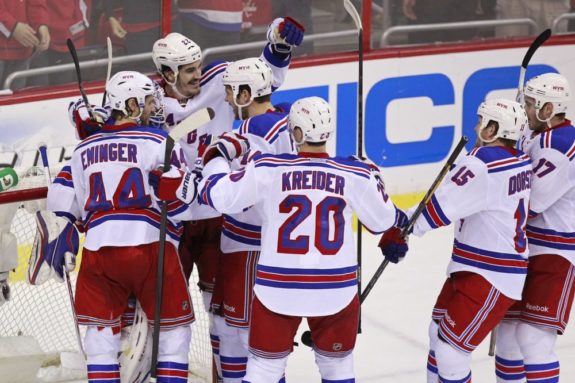 It was a frightening first round series for New York Ranger fans.
Down 2-0 to start the series, and down 3-2 after a game five OT loss, the Rangers found themselves staring elimination in the face before shutting the Washington Capitals out in back to back games to take the series in seven. It was impressive display of goaltending and defense from the Rangers — those two facets were impressive the entire series, really, even with the rocky start. Over seven games, the Rangers surrendered just 12 goals to the third highest scoring team in the Eastern conference, holding Hart candidate Alex Ovechkin to a mere two points (on goal, one assist) and his center Nicklas Backstrom to a mere three points (one goal, two assists). To be fair to Washington, they managed to hold the Rangers' dynamic duo of Derek Stepan and Rick Nash to four points between them (two goals for Stepan, two assists for Nash), but the former both finished higher in regular season scoring than the Rangers' duo.
Unlike the Capitals, however, the Rangers were able to get huge offensive contributions from their second line center, Derick Brassard — he had an excellent first round, finishing with an impressive stat-line of two goals and seven assists for nine points over the course of the seven game series. That is twice the amount of points that any Capitals' skater managed to produce. The only player on the Rangers that finished even close to Brassard in scoring was his line-mate Mats Zuccarello — he also had a very good series, finishing with one goal and four assists.
Even with Brassard producing those numbers, he was not the player who stole the show — no, that title belongs to Rangers' goaltender Henrik Lundqvist, who ended the series with back to back shutouts. A 1-0 win in game six, and a 5-0 win in game seven. He shut the door and was the Rangers backbone once again. Holtby, on the other hand, had a meltdown in game seven after providing steady goaltending in games one thru six.
I also have to give massive credit to the Rangers' defense, who really stepped it up in the final two games as well — they, along with Lundqvist, kept the Capitals' big name players off the scoresheet. Ryan McDonagh, Dan Girardi, and Anton Stralman were particularly exceptional.
The 5-0 win was definitely unexpected — and a relief for Rangers fans. Prior to this, the previous five games had all been decided by one goal. Another interesting stat — before this game, the Rangers were 1-10 in their last 11 playoff games at the Verizon center, scoring a total of 10 goals. That's what makes the win even more unbelievable for Ranger fans. It was a great series — props to Washington for a hard-fought battle.
The Second Round Opponent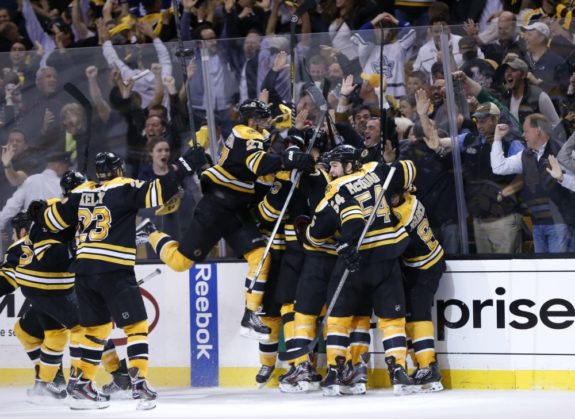 The Bruins, on the other hand, had a far more dramatic game seven experience — down 4-1 to Toronto with about 11 minutes to go, the Bruins somehow managed to tie the game late. Horton scored to make it 4-2 midway through the third, and then Lucic and Bergeron scored goals 31 seconds apart to tie the game at four. It didn't take long for the Bruins to cap their comeback with the OT winner when Bergeron scored his second of the game to send Boston to the second round.
On Thursday, these two original six teams will face off in their first playoff series since 1973 — yes, 1973, when the Bruins were still led by this guy named Bobby Orr, and the Rangers were still led by the GAG-line (a line of consisting of Vic Hadfield, Jean Ratelle, and Ranger legend Rod Gilbert). The year prior, 1972, the Bruins defeated the Rangers in the Stanley Cup Finals. Since '73, these two teams have not met a single time in the postseason. That is pretty incredible for two teams that have quite a history between them.
The Upcoming Series
This series will be an interesting one considering that both of these teams play a very similar style — they are physical, they are great defensively, they are deep at forward, and they have two great goaltenders. Henrik Lundqvist has been stellar against the Bruins, going 21-7-2 in his regular season matches versus Boston. Tuuka Rask is one the most promising goaltenders in the league — in fact, scratch promising, he is already one of the best goaltenders in the NHL, period.
Some might think of this series as "boring", but I like to think that this series will be an all-out war. Space will be hard to come by, hits will be thrown on every dump in, and the goaltending will be top-notch. Realistically, this will probably end up another seven game series for the Rangers. These two teams appear to be about as even as they can possibly be.
The x-factor in this series will be the offense. Rick Nash must produce better numbers. He looked to be laboring in the first round, but it's the playoffs — even Marian Gaborik managed to produce decent numbers while playing with a torn labrum. To be fair to Nash, though, he had two very good games in game six and seven and registered an assist in the latter. His skating looked a lot better and he seemed stronger on the puck. For the Bruins, Tyler Seguin (one assist in seven games) and Brad Marchand (three assists in seven games) have to step it offensively. The Bruins will not get by the Rangers if they are a one-line team — looked at what they did to Washington.
That said, I think that the Rangers have a slight edge — in both goaltending and defense. The Bruins, for one, do not currently have a healthy defense. Both Dennis Seidenberg and Andrew Ference are questionable for game one. No one but Pete Chiarelli and the Bruins organization knows the extent of these injuries, though, so they could, hypothetically speaking, miss the entire series. It has been reported that Andrew Ference is on crutches and in a walking boot, so it doesn't sound promising right now for Boston.
The Rangers would like to get Marc Staal and Ryane Clowe back in the lineup themselves, the latter particularly, as he would be able to cancel out what Lucic brings. Their status for game one is unknown.
The series begins on Thursday at TD Garden. Game one will most certainly be a good one. If you'd like live play-by-play and analysis of that game, feel free to follow along on twitter (@SMartiniqueTHW). Until then, let's go Rangers.
I'm a diehard New York Rangers fanatic, and a hockey nerd in general. I can fascinate with my passion and dedication to the game of hockey. If you're looking for a writer who can present an insightful angle that not many would think to look at, I'm your man.