As reported by Pierre LeBrun of ESPN and fellow Hockey Writers contributor Mike Necciai earlier today, forward Milan Lucic chose to open himself up to offers in the free agency market this summer. Lucic was on the last year of his three-year, $18 million contract he had signed with the Boston Bruins in 2012 prior to being traded to the Los Angeles Kings on June 27 last year.
Milan Lucic via text message says he's headed to UFA market. No deal with Kings. Huge, huge name headed to July 1.

— Pierre LeBrun (@Real_ESPNLeBrun) June 22, 2016
Just hours after the announcement that contract negotiations between the Kings and Lucic had ended, the NHL Awards Show took place at the Hard Rock Hotel and Casino in Las Vegas. Three Kings were nominated for individual awards this season, with Anze Kopitar taking home the Lady Byng and Frank J. Selke Trophies and defenseman Drew Doughty winning the James Norris Trophy.
Lucic Hitting the Open Market
Discussions between the Kings and Lucic's agent Gerry Johansson have gone on for months, with both peaks and valleys of optimism throughout the process of their negotiations.
According to LA Kings Insider Jon Rosen, Lucic and Kings GM Dean Lombardi met at TSC Center in El Segundo for one final meeting preceding Lucic's announcement of his plans to go to free agency.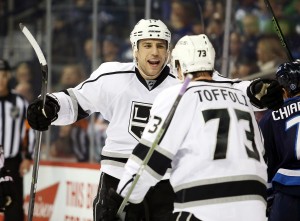 Also noted by Rosen was the cost of Lucic and his one-year of play. In the trade with Boston last year on draft day, Kings gave up pending restricted free agent (at the time) goalie Martin Jones, defensive prospect Colin Miller who played in 42 games with the Bruins this season scoring three goals and 16 points, and a 2015 first-round draft pick in which Boston chose defenseman Jakub Zboril. All for one year of play from Lucic.
In 81 games played with the Kings this season, Lucic scored 20 goals and 55 points. He finished the regular season with a plus-26 rating and 79 penalty minutes. Lucic appeared in all five Kings playoff games in 2016 and had three assists.
The NHL salary cap will increase to $73 million next season and CapFriendly states that the Kings has a projected cap-hit of $64.7 million allotted to 19 players and teams can have 23 players on the roster. Kings' other pending free agents include Trevor Lewis, Jamie McBain, Luke Schenn, Kris Versteeg and goalie Jhonas Enroth.
Kopitar and Doughty Win Their First Individual NHL Awards
Hosted by actor Will Arnett, the NHL Awards Show took place this evening presenting individual awards to nominees from across the NHL. The newly named captain Kopitar was nominated for the Frank J. Selke Trophy (best defensive forward) for the third straight season and won the trophy for the first time in his career. Boston Bruins forward and three-time Selke Trophy winner Patrice Bergeron and two-time Selke Trophy winner Ryan Kesler of the Anaheim Ducks were the other two nominees.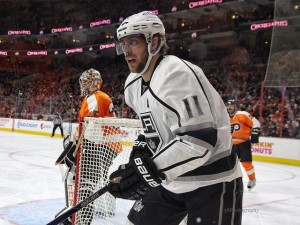 Not only did Kopitar win the Selke Trophy for the first time, but he was also nominated and won the Lady Byng Trophy for the first time in his career for his gentlemanly conduct on the ice.
In 81 games this season, Kopitar led all forwards in ice-time, had a plus-34 rating and limited his PIM to just 16 minutes. In addition to leading the Kings to scoring for the ninth straight season and being named the team's new captain, he also signed an eight-year, $80 million contract in January.
Kopitar could not accept the awards himself in Las Vegas, but Kings President of Business Operations Luc Robitaille and actor/model Olivia Culpo accepted the awards on his behalf.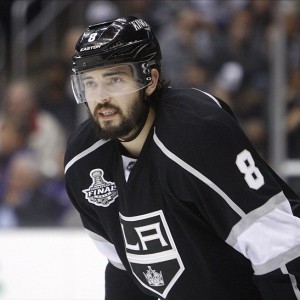 On hand for the awards show was Kopitar's teammate Doughty to accept his award as he won the Norris Trophy as the league's best defenseman for the first time in his career. In 82 games this season, Doughty scored 14 goals and 51 points. This was Doughty's third time being nominated for the Norris trophy.
Doughty was nominated alongside San Jose Sharks defenseman Brent Burns and Ottawa Senators defenseman Erik Karlsson.
Kopitar is signed with the Kings through the 2023-24 season and Doughty has three seasons left on his current contract. Free agency is set to begin July 1, but free agents are able to start talking to teams on June 25.