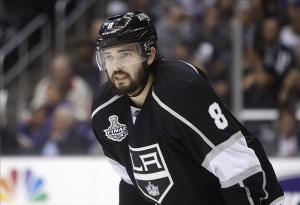 The Los Angeles Kings suffered a little bit of 'cup hangover' during the first few weeks of the season, but they have won six of their last seven games and have been looking like one of the teams to beat in the Western conference. The defending 2012 Stanley Cup champions started the season 3-5-2 and while their offense stumbled; the defense and goaltending was culpable for a disappointing 37 goals in 10 games. Since then, despite injuries, the blue line has been stepping up for the Kings and head coach Darryl Sutter despite three major injuries to the defense.
The injury troubles started early on the blue line for the defending champions with veteran shutdown blue liner Willie Mitchell undergoing knee surgery during the lockout and starting the shortened 2013 NHL season on injured reserve. 35-year old Mitchell played crucial minutes in the teams Stanley Cup run averaging 25:19 minutes of ice time per game. Beyond his impact in terms of numbers; Mitchell was a huge leadership presence for the Kings during that long playoff run.
It got worse almost immediately. LA lost another physical veteran blue liner in Matt Greene for the season after he suffered a back injury in the team's 5-2 opening night hammering at the hands of the Chicago Blackhawks. While Greene generally averaged third pair minutes, his significance shouldn't be under-estimated. The 29-year old was a vital member of the penalty kill averaging the second highest number of minutes per game short-handed (second to Mitchell) on last season's roster.
The trio of major injuries was completed when Alec Martinez had to be placed on injured reserve on Wednesday 13th February. Martinez hasn't come off IR yet and his injury has only been described as 'upper body'. Somehow Sutter has constructed a solid defensive corps despite those big injuries. That success can be attributed to useful NHL experienced depth and one nice move from GM Dean Lombardi.
During the past seven games they have conceded just 10 goals, including three in the one loss against NHL leading Chicago. They have conceded more than one goal in a game on just one other occasion during that seven-game stretch.
Drew Doughty is starting to produce again after yet another consecutive slow start. He has four points and a +3 plus/minus over the past five games. 34-year old veteran Rob Scuderi has taken on huge amounts of ice time since the injuries, especially on the penalty kill where he averages 4:34 minutes of short-handed ice time per game.
Slava Voynov has arguably outplayed Doughty offensively from the blue-line. The 23-year old showed flashes of his potential scoring 20 points in 54 games last year, and he benefited from the experience of 20 playoff games last year as well. He has three goals and nine points in 17 games so far this season and he has happily taken on a big role with the injuries hitting.
24-year old Jake Muzzin has been a valuable piece of the line-up after being picked up as an unsigned free agent two summers ago. He played 11 games last season without showing too much, but has shown that he can play solid defense and add a little offensive punch as well during his current 14-game stretch. Sutter has shown more and more trust in Muzzin over the past few games and has paired him alongside Doughty.
The bottom pair currently features trade acquisition Keaton Ellerby and long-time depth player Davis Drewiske. 28-year old Drewiske played 106 games across four seasons scoring 18 points and generally providing solid minutes. Drewiske has threatened to break into the top six on a few occasions in the past, but has been ousted by an upcoming young blue liner every season. Drewiske is now rewarding LA by being an important part of this defensive group in the wake of these injuries.
Ellerby briefly saw bigger minutes for the Kings before dropping down to the third pair. Generally, the 24-year old has maintained his level of play from his spell with the Florida Panthers. He has been fairly solid, but not spectacular and this is still a player that the NHL is still waiting to live up to his 10th overall pick status from the 2007 NHL entry draft.
Despite dealing with more injuries, the Kings enter the month of March on a better roll than in their cup winning season and that's in large part to the depth that Sutter and Lombardi have been able to conjure up on defense.