When the Devils announced they had fired Peter DeBoer and replaced him with a strange coaching triangle of Adam Oates, Scott Stevens and Lou Lamoriello himself, back behind the bench for the third time, many people wondered if this was a good idea. Some suggested that Lamoriello was out of touch and that it was a terrible decision.  My thoughts were that if Lamoriello thinks it's a good idea, it probably is a good idea. So I thought I'd write up this little profile of his career to show why I think so highly of him and because I think his story is one of the more unique and interesting in the NHL.  Note that this information has been cobbled together with what I know already and assisted by Wikipedia and other sources which I'll credit throughout.
1987-Present
In the eighties, Lamoriello was not well known. The Devils were one of the NHL's least well-regarded franchises.  My dad says they were a joke at the time and everything I can find about them and their reputation back then certainly confirms the perception. They were originally the Colorado Rockies, which if I am not wrong, were known as one of the most unprofessionally run franchises in NHL history.
Because of some shady dealing with then current NHL owners and GMs whom he had thought had taken advantage of him and his team, former Devils owner John McMullen decided to take a novel approach to hiring his new president: he wanted a guy who had nothing to do with the NHL. (Chere, Rich, 2012).
This brought Hockey East president Lou Lamoriello to his attention, and Lamoriello, who's sole hockey experience was at the college level, and who was also a former math teacher, was hired. McMullen named Lamoriello the President of the Devils in April of 1987 and to the surprise of just about everyone, since he'd never coached, managed or played in the National Hockey League, Lamoriello named himself the general manager before the season started the next year.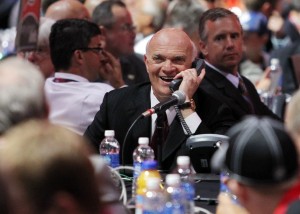 Let's take a second to just acknowledge how awesome it is to get a plum job that no one else would consider you for, and then to use that job to name yourself to an even better job, one which no one else in hockey ever would have given him. I personally consider this the best story in NHL history. Just the fact that he would name himself GM against what I imagine was a 100% consensus that it was a bad idea makes me happy every time I think of it.
Not only did he do that, but he parlayed what could be considered by some to be an extremely egocentric move into three Stanley Cup Wins (1995,2000,2003), two additional appearance in the Final (2001 2012), a World Cup Gold (USA GM, 1996) as well as being the GM of the USA team in the 1998 Nagano Olympics.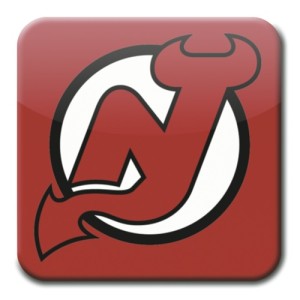 For his troubles, Lou Lamoriello has gotten himself elected to the Hockey Hall of Fame, been the author of the 'dead puck era,' used his powers to end one lockout and then by circumventing the cap to sign Kovalchuck (a move long rumoured to have been forced on him by ownership) he may have caused another. It was also widely acknowledged that the Devils – through the 90's and 00's had the best run franchise in the league and Brian Burke once called it the "model NHL franchise."
Furthermore, he has named himself the head coach on three separate occasions: 2005-6, 2006-7 and again last week. Which, I know some people don't like, but I love it. I  just appreciate the pure gusto and guile of the guy to do whatever he wants, when he feels like.
The bottom line about Lamoriello is that he is interesting and unafraid to do things that go against the grain of popular perception – and he has been consistently excellent at everything he does. Perhaps the Devils aren't the powerhouse  they once were, but for as much criticism as this recent development has received, I for one would never bet against Lamoriello, as nearly everything he's ever done has turned out to be a good move.
Hell, Adam Larsson will probably end up being a Hall of Famer!!!
Thanks for reading.