The NHL waiver wire can be both a constructive and degrading beast, allowing teams to drastically improve their roster by claiming a player, or severely hurt teams who choose to run the risk of losing a player by putting him on waivers.
Such was the case for the Edmonton Oilers on Monday, who made a great choice in claiming forward Matt Fraser off waivers from the Boston Bruins. Since the Oilers sit in last place in the league, they were automatically awarded their claim on Fraser as of all potential teams who make a claim on a player, the club with the poorest record is awarded the waived player.
Who is Matt Fraser?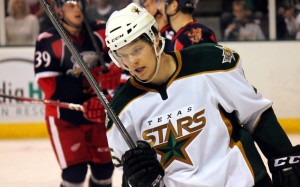 In Matt Fraser, the Oilers a young forward with considerable upside. Checking in a 6 foot 2, 204 pounds, Fraser, 24, has great size and is a threat offensively. Although Fraser has struggled to implement his goal scoring abilities at the NHL level thus far, he has proven his abilities at multiple levels in his career.
In the final two seasons of his junior hockey career with the Kootenay Ice of the Western Hockey League, Fraser posted campaigns of 32 and 36 goals. In 2011-12, his first American Hockey League season with the Texas Stars, Matt potted an impressive 37 goals, as well as another 33 in his next season.Traded from Dallas to Boston in the Tyler Seguin trade, Fraser scored 20 goals in 44 games with the Providence Bruins of the AHL before being recalled by Boston. However, Fraser has struggled at the NHL level, having scored a mere five goals with the Bruins in 38 games, with a total of six across his 51 game career.
A Win for the Oilers
This is a great claim by the Oilers, who add a young forward with not only size, but the potential to become a reliable NHL goal scorer. The only knock on Fraser is his skating ability, as scouts have commented that he lacks adequate acceleration and NHL speed. Despite this, Fraser is well known for his devastatingly quick release and resulting surprisingly hard shot. Further, Fraser can play a physical game and isn't afraid to stick up for teammates, even if it means dropping the gloves.
All things considered, Fraser figures to be a third or fourth line winger, increasing the Oilers scoring depth. With his size, it wouldn't be a stretch to see Fraser garner some second or even first line minutes with the struggling Oilers, as Fraser could be a short term solution to replace the injured Benoit Pouliot.
Steve Pinizzotto was subsequently placed on waivers by the Oilers in order to make room on the roster for Fraser. Pinizzotto had recorded two goals and two assists with the Oilers this season in a fourth line role, and will report to the Oklahoma City Barons barring a claim is made.
Brett Slawson is a four-year veteran of The Hockey Writers who covers the Toronto Maple Leafs, NHL prospects, and the OHL's Mississauga Steelheads.
Contact Brett on Twitter @brettslawson92, or by email at brett_slawson@hotmail.com.