The Boston Bruins made a roster move after an ugly loss at the hands of the Columbus Blue Jackets, but it was not an addition. Matt Fraser was placed on waivers Sunday, and was claimed today by who, but the Edmonton Oilers.
Oilers claim forward Matt Fraser off waivers from the Boston Bruins; Place Steve Pinizzotto on Waivers – from Oilers PR

— Ryan Rishaug (@TSNRyanRishaug) December 29, 2014
The 24-year-old winger came to Boston in the Tyler Seguin deal, and at the time, looked like a promising prospect. Albeit on the older side, Fraser had the chance of becoming a decent goal scorer in Boston. In 181 career games in the AHL, Fraser lit the lamp 90 times. That's pretty darn prolific if you ask me. While I didn't expect him to come up to Boston and score at that rate, it wouldn't have shocked me if he was able to score 20. Reilly Smith, another Seguin chip, surprised everyone last season when he scored 20, but he had some help from Patrice Bergeron.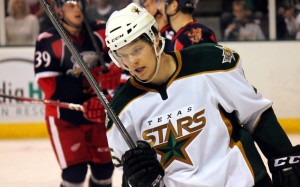 Fraser has had quite a few line-mates, most recently Gregory Campbell and Daniel Paille. He also saw extended time on Carl Soderberg's line, which obviously gave him a better chance at scoring a few goals. But, that was all he managed to get, a few goals.
In 24 games, Fraser scored three goals and added zero assists, making him a disappointment and apparently, dispensable. It was clear that he had a good shot, but he was only able to get it off 29 times, just over once a game. In the AHL, he shot at about 16%, which is pretty good, but not absurd. Not surprisingly, that number went down in the NHL, but was only at 10.3% this season. Fraser was supposed to be a sniper. Taking the shot should have been the number one priority in his mind. If he had twice as many shots and mustered six goals, that actually wouldn't be too bad for the Bruins. Only five Bruins have seven goals or more. In Fraser's last game as a Bruins, he was a minus two with no shots in only 5:34 of ice time. Every other Bruin played more than ten minutes. Clearly, Coach Julien had had enough of Fraser.
The Bruins may have hit rock bottom. Tonight, with the Red Wings in town, neither Patrice Bergeron nor Milan Lucic will play. Bergeron left Saturday's game as a precaution according to Julien, while Lucic's benching is more of a mystery.
There have been several other names to hit the waiver wire along with Fraser, including Magnus Paajarvi and dare I say it, Dany Heatley. Paajarvi is just 23 and was drafted 10th overall in 2009 by the Oilers. With a 6-foot-3 frame, there's a chance the Bruins may prefer his heavy game on the third or fourth line over Fraser or some of the other young players. 
Unless Peter Chiarelli waived Matt Fraser to make room to claim somebody else on waivers (Paajarvi, for instance), I really dont get it

— Joe Haggerty (@HackswithHaggs) December 29, 2014
On a positive note, David Pastrnak had a tremendous game against Denmark in the World Junior Championships. Pastrnak ended the game in overtime with a breakaway goal and finished with a goal, two assists, and five shots on net. His strong play in the tournament may result in a promotion back up to the struggling Bruins when he returns. 
Has contributed to isportsweb, the Yawkey Way Report, and Fansided's Chowder and Champions. Host of the weekly radio show Top Shelf Sports on Bryant University's WJMF radio.