The Boston Bruins are in a bit of a lull and many fans are losing their patience. However, the World Junior Championship has just begun and if you are a Bruins fans, Mass native, or American, you need to catch the action over the next two weeks. Bruins first round pick David Pastrnak will be staring for the Czech Republic, while college rivals and future top 5 picks Jack Eichel and Noah Hanifin headline team USA.
Pastrnak Primed for Breakout
We caught a quick glimpse of Pastrnak over a five game stretch in late November and early December with the Bruins, and while he didn't stack up points, he was very impressive. Almost instantly, he was promoted to the top line with Patrice Bergeron and Brad Marchand, showing off his raw offensive ability and athleticism. Coach Claude Julien has been experimenting with some other young forwards such as Seth Griffith, Matt Fraser, and Craig Cunningham, but Pastrnak's potential clearly appeared to be well above the rest.
Corey Pronman of ESPN believes that Pastrnak has become one of the top prospects in his draft class and hopefully for the Bruins, they got a clear steal in the draft for the first time in a while. Pastrnak has continued his strong play in Providence, continuing to score at an elite pace with 10-17-27 in 23 games. If the Bruins don't make a trade for a top right winger soon, a solid showing at the WJHC could force the Bruins to give him another shot in the NHL.
BC and BU Unite for USA
Jack Eichel and Noah Hanifin are a part of college hockey's biggest rivalry. Eichel a Terrier, Hanifin an Eagle. However, they will both be a part of Team USA for the next ten days to help bring the title back to America. Not only are the two starring for Massachusetts' two biggest hockey schools, they are both Mass natives. Eichel hails from North Chelmsford, while Hanifin is from Norwood.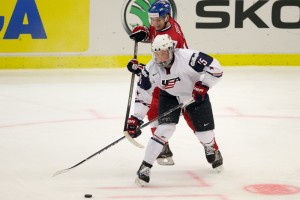 This is not Eichel's first stab at the WJHC. Last year, he was a part of the 5th place USA squad and was able to put five points in five games at age 17. This year, the spotlight will be on him and Canadian forward Connor McDavid, the projected top two picks in next year's draft. Eichel will wear the "C" on his sweater this tournament and needs to play up to his potential if he wants any chance at being the number one pick in the draft.
Hanifin, a defenseman, may fall right behind Eichel in the draft next year at number three. The 6-foot-3 17-year-old is an impressive skater and should be able to excel on the larger, international sized rink. Last year, Hanifin produced eight points in eight games as a part of the under-18 national team and he hopes to translate those numbers to the under-20 squad this year.
Three other Boston College Eagles will join Hanifin on Team USA. Forward Alex Tuch (property of the Minnesota Wild), defenseman Ian McCoshen (property of the Florida Panthers), and goaltender Thatcher Demko (property of the Vancouver Canucks).
There is plenty to watch for during this World Junior tournament, especially if you're from New England. There is a lot at stake for these youngsters, especially for those who have not been drafted. The Bruins will be back on the ice tomorrow, but be sure to catch all of the WJHC action you can. Keep track of who is playing when here.
Has contributed to isportsweb, the Yawkey Way Report, and Fansided's Chowder and Champions. Host of the weekly radio show Top Shelf Sports on Bryant University's WJMF radio.