We are halfway through the hockey season and it's time to take a quick look at some of the Flyers draft picks coming up through the pipeline.
AHL
Nick Cousins
Cousins is tied for 2nd on the Lehigh Valley Phantoms in points with 16. If you had to describe him in two words it would be "talented pest". His quick strides allow him to beat defenders and his resiliency in every zone makes him a dangerous player. For a 3rd round selection by the Flyers it has taken Nick some time to translate his offensive pace from Major Junior to the AHL, but he's finally found his role on the team.
Taylor Leier
Coming out of the Portland Winterhawks, Taylor Leier racked up 178 points in 198 games in his WHL career. He was never the biggest player, but he stood his ground as one of the most offensively gifted and creative wingers. Leier has shown those skills early on in the AHL season. With eight goals and seven assists already this season, Leier has been a consistent offensive threat with LV. The Flyers have a formidable scoring winger on the farm in case they need to call one up this season.
Shayne Gostisbehere
Ghost was looking every bit as good as Flyers fans expected him to be. With the Flyers' poor play on defense to start the year, Gostisbehere was called up for two games before being sent back down. He wasn't overly impressive in his NHL stint and likely had some jitters, but there were glimpses of what is to come for the future. After posting five assists in as many games in the AHL, Gostisbehere caught the injury bug with a torn ACL. He's making steady progress and seems to be on track to rejoin the team in the next few months.
Robert Hagg
A steady two-way defenseman, Hagg has transitioned his game to the North American style almost seamlessly. He's a composed player with the puck and is utilized in every scenario for the Phantoms. His hockey smarts has led him to score 13 points in the first half of the season. Hagg was loaned to Team Sweden to take part in the World Junior Championships. It will be interesting to see how much he can dominate given his experience on the smaller ice surface.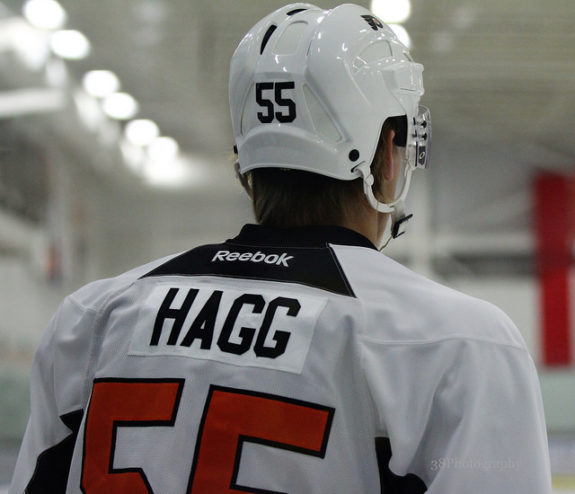 Jesper Pettersson
Pettersson was an unknown coming into the 2014 NHL Draft, but the Flyers took a gamble with him in the 7th round. I was impressed with him during rookie and development camp, but it's been a struggle this season for Pettersson – especially as of late. Terry Murray isn't seeing the consistent play he did from Jesper in the beginning of the season leading to his decision to make the young Swede a healthy scratch the past few games. Pettersson has always played with a chip on his shoulder. He still needs a few years of conditioning, but is very coachable.
Anthony Stolarz
The mammoth 6'6" goalie from Jackson, NJ has put up impressive numbers between the pipes. In 12 games this season Stolarz 2.29 goals-against-average and a .933 save percentage. Goalies take the longest to develop, but the numbers are promising for a kid who is just starting his professional career. For his size, Stolarz is quite mobile and takes up a lot of space in net. He reads the play well and cuts down the angles accordingly. He also has a 5-time DEL champion to learn from in Rob Zepp.
QMJHL
Samuel Morin
One-on-one Samuel Morin is a menacing hulk that lays all 225 lbs. into his opponents. He wins board battles and creates space in front of the net for his goaltender. Morin took a puck to the face early in the season while playing for the Rimouski Oceanic of the QMJHL and missed considerable time. But he returned notching six points in seven games before being selected to Team Canada for the World Junior Championships. He's on pace to score more points this season than last, but he's not suited to be an offensive defenseman. His effortless skating and long reach will make him a great shutdown defender in the NHL.
Nicolas Aube-Kubel
The Flyers' most recent 2nd round pick, Aube-Kubel has shown tremendous play on both sides of the puck. Known for his blistering speed, Aube-Kubel is a dangerous set-up center with silky smooth hands. This season he has learned to play a more defensive-minded game, which will help make him a better all-around player when he reaches the NHL. Right now, he's scoring at a point-per-game pace as the Val d'Or Foreurs are trying to repeat as QMJHL champions two years in a row.
WHL
Travis Sanheim
While many questioned the pick at the time, Travis Sanheim is showing why the Flyers weren't wrong in selecting him 17th overall last year. Sanheim is tied for 3rd on the Calgary Hitmen with 31 points and is the leading scoring among defensemen. Having watched almost all of his games this season, Sanheim is comfortable with the puck on his blade and likes to lead the rush up ice. He quarterbacks the powerplay and his vision translates to opportunities. Sanheim gets back into the play with a few strides and swallows up passing lanes.
Radel Fazleev
The chances a late round selection makes it to the NHL is very slim. The chances the Philadelphia Flyers would draft a Russian is even more unheard of. Radel Fazleev currently has 29 points in 33 games and is a +11. His compete level is through the roof and be battles hard for every puck. Not only does he have the finesse you see with many Russian players, but he is also willing to lay his body on the line to block a shot or make a play. It's not set in stone that Fazleev will be a great NHL player, however his play is encouraging.
Tyrell Goulbourne
A lot was made of Tyrell Goulbourne being selected as a 3rd round pick in 2012, but this season he's strayed away from overly physical and started to focus on the offensive aspects that can make him a valuable player for the Flyers in the years to come. With 14 goals and nine assists, Goulbourne is on pace for anywhere between 50-60 points this season. He is speedy with a deceptively quick wrist shot and is difficult to knock off the puck.
NCAA
Mark Friedman
A product of the USHL, Mark Friedman was selected by the Flyers in the 3rd round 86th overall. As a freshman for the Bowling Green, he has posted up 5 points in 16 games this season. During development camp I wrote this about Friedman:
"Mark Friedman showed great offensive instincts this morning. Is quick on the puck and can move it out of the zone quickly. Watching the Flyers camps for as long as I can remember, it's refreshing to see so many puck-movers on the backend."
He's still raw and needs to develop further in the NCAA, but as a freshman it's nice to see him putting up points on the backend.
Reece Willcox
A steady blueliner who doesn't take many risks, I got to see Willcox play against Penn State at Madison Square Garden. A smart defenseman with a slim build, Willcox moves well laterally and lets the play come to him instead of forcing it. His speed could use some work, but he's an effective pokechecker and allows his goalie to see the puck at all times. He's a defenseman that doesn't get talked about much, but deserves some recognition.
Sweden
Oskar Lindblom
Lindblom was a player who was ranked high at the beginning of last season, but saw his draft stock drop as the season progressed. Luckily, the Flyers were able to scoop him up in the 5th round. He's a 'meat and potatoes' type of player who will get to the dirty areas and work his tail off to get the puck. This season with Brynas of the SHL he has four goals and five assists in 17 games. The numbers are overly impressive, but for an 18-year old playing against grown men the numbers are a good sign.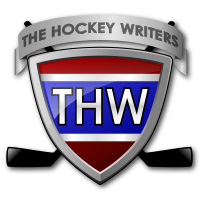 The archives of THW contain over 40,000 posts on all things hockey. We aim to share with you some of the gems we've published over the years.