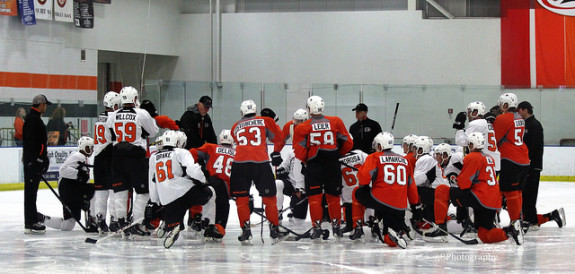 Today was business as usual for the prospects of the Orange and Black at development camp. Forwards hit the ice bright and early, while defensemen did their workouts a little later. Tomorrow the young guns will be heading down to the beach to the annual Trial on the Isle before resuming their final day of practice on Tuesday. A few prospects that I didn't write about much really stood out today. Others picked up right where they left off.
Forwards:
Brandon Alderson finally showed glimpses of talent today. He found his skating legs and was really showing his turning and speed today. His shot is still as lethal, but it was a pleasant surprise after watching him be a bit shaky the past few days. Was using his body well during a drill where coaches were pressuring forwards along the boards.
Aube-Kubel showed his speed and skating earlier in the week. Today he showed his slick stickwork especially in the corners and in close around the net. He's extremely comfortable with the puck on his stick and can be a flashy player. One of the more fun players to watch at camp, Aube-Kubel might have a similar trajectory that Anthony Mantha did this past year. With Mantha likely moving to the NHL/AHL, Aube-Kubel will be getting first line minutes and will probably score a great deal more than he did this season.
It was more of the same from Scott Laughton. Showed the most promise of any of the prospects (forwards or defensemen). He stands out against his competition in every facet of the game and was excellent in board play drills. What impressed me most was his shot. He wired a few today with what seemed like little to no effort. The main issue with Laughton this season will be if it's wise to play him bottom-six minutes in the NHL as a checking line forward or allow him to be a 1st line center with the Phantoms as a point producer. I don't think either option is wrong. I believe the Flyers are grooming him to be their 3rd line center for the future, but if Lecavalier isn't moved, there's not much space for him in the lineup.
Radel Fazleev had another strong day at camp. For a Russian forward, he showed how well he can play against physical pressure. While most Russians shy away, Fazleev welcomed it and showed and eagerness to learn the proper way to battle along the boards, an aspect of his game he will need to work on in the WHL.
My hope for Petr Straka working his way into the lineup is beginning to dwindle fast. He mentioned last year at camp that he would focus more on his skating and strength and neither seem to be evident in his play during simple drills. He got knocked off the puck a few times and didn't look all that sturdy on his skates. For him to get any consideration to make it into the NHL this season he certainly has to come into camp on his "A game" and retain that level of competition.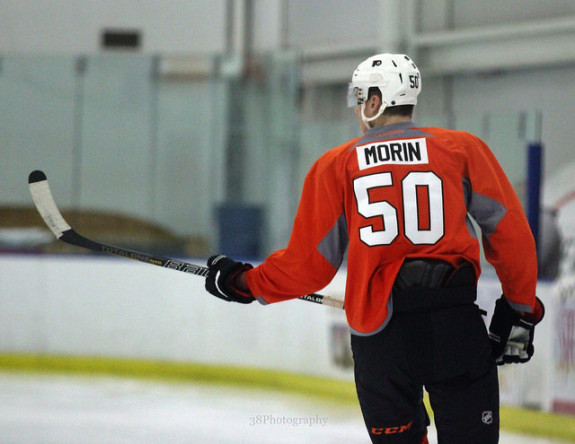 Defensemen
Mark Alt is one of the defenseman being talked about among fans as a favorite to get some time on the blueline this year with the Flyers. Over the first three days, Alt looked average. I wasn't sure what all the hype and hope was about, but today was a different day. Alt showed a great transition game this morning with sturdy skating and a bullet of a shot.
I watched today's defense practices with David Strehle of TheFourthPeriod.com. We were laughing at how much Jesper Pettersson skates in the mold of Kimmo Timonen. Both are short defenders with abrupt strides and a crisp turning radius. For a small defender you need to have the puck-moving ability, upper body strength, and a great shot. Pettersson has all three.
I came away with an appreciation for Terrance Amorosa. His skating today was elegant and carefree. He didn't lose any momentum on his turns and was fluid in his lateral movement. Coaches worked on shooting from the point and Amorosa had one of the better shots during the drills. Took me by surprise actually to see his powerful wristshot and even stronger slapshot.
Mark Friedman showed great offensive instincts this morning. Is quick on the puck and can move it out of the zone quickly. Watching the Flyers camps for as long as I can remember, it's refreshing to see so many puck-movers on the backend. Friedman will be attending Bowling Green in the fall, but he's already showing promise offensively and in his shooting.
The two players that were none too flattering were David Drake and Nick Luukko. Both were late round picks (7th and 6th rounders, respectively), but you'd hope they'd show a glimmer of hope in at least one aspect of their game. Amorosa, Pettersson, and Willcox were late round picks as well, but have shown something of substance. Drake is still young and will be attending UConn in the fall, so I can give him a pass for the time being for not having experience against much better competition. Luukko, on the other hand, has three seasons of NCAA hockey at Vermont under his belt and looks mediocre on a good day.
Some people have been praising Reece Willcox lately, but I really haven't seen what all the hubbub is about. Is he consistent? Yes. But he still needs grooming. I know his game is based more around his hockey smarts, physicality, and cutting down angles, but his skating needs work. Just wasn't all that smooth today.