While the youngsters are chipping away towards making a name for themselves in development camp, the Flyers' arid offseason continues with little developments. Other teams throughout the Metropolitan Division, however, have been more active. But does free agent aggressiveness necessarily give a team a leg up on the ice? Here is Part I of a look at the seven other teams in the division, and how the Flyers stack up against them.
First up, the defending Metropolitan Division Champion Pittsburgh Penguins.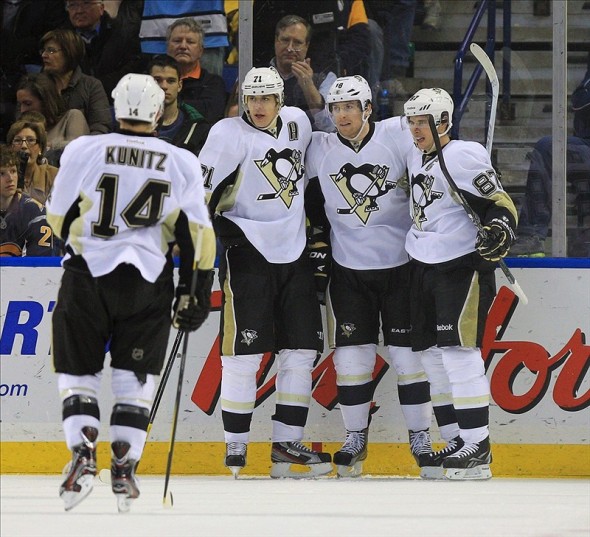 2013-14 Season Series
Despite a superlative 51-24-7 mark for the 2013-14 season, the Pens were only one of three teams in the Metropolitan that the Flyers carried a winning record against. And while the Sidney Crosby era in Pittsburgh hasn't been kind to Philadelphia overall, the tables have certainly been turned in recent years.
Last season, the Flyers were dominant against their cross-state rivals, winning four of five meetings. Convoluting enough, Philly not only won their last four straight match-ups, they continued to enjoy playing at CONSOL Energy Center, winning in all three contests there.
"I know the boys in this dressing room love playing against them," said Flyers goalie, Steve Mason, after sweeping a home-and-home against the Pens in March. "Whether we're in their head or not, we don't really care.
"We get paid to play against them. It's a fun game to be part of. We're just happy about [getting] four points."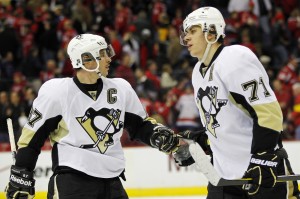 Whether the Flyers were, in fact, in Pittsburgh's heads or not, certain factors resulted in Philly's dominance over a team that is considered head and shoulders above the Flyers. The Pens either rested certain key components of their roster later in the season against the Flyers, or missed action due to injury.
Pascal Dupuis, James Neal, Chris Kunitz, Kris Letang, and Paul Martin all played only two of the five games. Those five players combined for eight points against the Flyers, despite combining for 186 points for the entire season. Furthermore, Paul Martin was one of 10 Penguins who played in at least two games in the season series and failed to record a point.
But that's not to say the Flyers beat up on a defenseless, banged up Pittsburgh team entirely. Olli Maatta was one of four to play in all five games, only to come away with a goose egg in the scoring department. He and Brandon Sutter, Tanner Glass, and Deryk Engelland were all held scoreless, while combining for a minus-13 plus/minus rating.
On the flip side, only Braydon Coburn, Adam Hall, Michael Raffl, Zac Rinaldo, and Erik Gustafsson were the only Flyers to play in at least three games in the season series without recording a point. Much of Philly's success against their bitter rivals, again, are due in large part to their success playing in CONSOL Energy Center.
"The Flyers improved their regular-season record to 9-1-1 at the CONSOL Energy Center since it opened in 2010-11 – and 11-2-1 including the playoffs." — philly.com
When the two teams meet again next season, the Penguins will have a moderately new look.
Who's Out?
After blowing a 3-1 series lead against the New York Rangers in the Eastern Conference semi-final, Pittsburgh's latest early departure from the playoffs triggered a chain of action that demonstrated the organization's non-acceptance of the team's playoff performances over the last five years.
Fired were GM Ray Shero, along with head coach Dan Bylsma. The two were replaced by former Hartford/Carolina GM Jim Rutherford, and former WHL head coach Mike Johnston.
"What ownership wants here is a complete change in direction," said new GM Jim Rutherford last month. "We met with Dan this morning. The timing for him is good because there's coaching vacancies. It's not going to be long until he coaches again in the league."
With Shero fired before Bylsma, that change in direction also included Bylsma, who succumbed to five disappointing playing exits after winning the Stanley Cup in 2009.
"Ultimately, Bylsma had to go, because the entire thrust of these changes were diminishing returns in the postseason. Bylsma was 27-27 in the playoffs since winning the Stanley Cup way back in 2009. His teams were 1-6 in elimination games on home ice. The Penguins constantly fell to lower seeded teams." — Greg Wyshynski, Puck Daddy
Bylsma was 43. Johnston, Desjardins are 57. Doug MacLean was older than that. Rutherford either wanted more experience … or father figure.

— Greg Wyshynski (@wyshynski) June 25, 2014
Bylsma firing right after Rutherford hiring. Can't help but think Rutherford was brought in mafia-style as "the cleaner."

— Matt Larkin (@THNMattLarkin) June 6, 2014
After Bylsma's goodbye, Rutherford wasn't finished subtracting from last season's roster. The former Stanley Cup winning GM allowed both, Matt Niskanen and Brooks Orpik to walk via free agency, while trading away the polarizing James Neal.
While Niskanen and Orpik teamed up together in Washington for the price of an oil company, Rutherford chose to retain only half of last season's trade deadline acquisitions in Marcel Goc. The other half, Lee Stempniak, remains available on the free agent market. Goc stands to be the only unrestricted free agent to be retained.
Who's In?
Unlike the Flyers' mundane start to the free agency period, the Pens were quick to the punch. After losing two key components to their already thin blue line, Rutherford cannon balled the pool by nabbing former Sabres defenseman, Christian Ehrhoff. At 32, Ehrhoff has plenty of productive hockey left in his 6-2, 196-pound frame.
"The Penguins have been looking for some help on D for the past few years and do they ever get it with Ehrhoff, especially at a very friendly price. And for Ehrhoff the fit must have been simply ideal as well because he could have undoubtedly received much more than that if he went elsewhere, he was one of the hottest commodities as soon as he became available.

"Ehrhoff comes in to help fill the hole that will be left with Matt Niskanen going to free agency, particularly on the power play. This is just a phenomenal deal for the Penguins and gives Ehrhoff the flexibility down the line." — Brian Stubits, CBS Sports
Ehrhoff's one-year, $4 million deal is not only team-friendly, it's a steal for a defenseman that made his team better when he was on the ice. Ehrhoff's +4.8% Corsi REL playing for the league's worst team proves just that.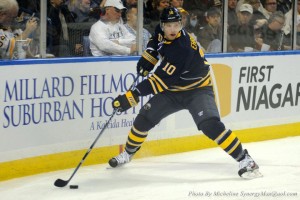 Rutherford's other free agent signings include, Steve Downie, Blake Comeau, Taylor Chorney, and Thomas Greiss.
Downie, now a two-time former Flyer, was influenced to sign with Philly's bitter rival after the Pens named Rick Tocchet as an assistant coach before the free agent frenzy. While Downie gives the Pens an edge they've lacked, Rutherford and Tocchet are certain he won't be a problem for the team.
"We know about his history," said Rutherford. "When you have someone like Rick that knows him so well, who has worked with him, you're comfortable with bringing him in."
Downie's bouncer-like mentality has to be refreshing to the front office's ears, even if they haven't said so. That's because Rutherford's first major transaction occurred at this year's NHL Entry Draft. It was there that the Pens traded forward James Neal to the Nashville Predators for Patric Hornqvist and Nick Spaling.
"In this deal, we got to drop our cap a little bit with Hornqvist," Rutherford said. "We like Hornqvist as an all-around player. Hornqvist plays at the net, goes to the net, works the corners. We like his all-around play."
Based on Neal's career statistics against Hornqvist's, it may appear that the Preds came away as the victors. But Hornqvist is now projected to play alongside Evgeni Malkin, which will more than likely boost his scoring numbers. Let's not forget, the 27-year-old Swede is coming off of a career year, in which he notched 53 points.
How The Flyers Stack Up Against The Pens
While the offseason is far from over, Pittsburgh has unquestionably made the necessary moves to better their team. And while the Flyers currently stand idle because of salary cap issues, the matchup between the two teams heading into next season may have changed.
If it has, though, it'll have to be proven. With Sean Couturier serving as Pittsburgh's kryptonite, Marc-Andre Fleury has struggled immensely against the orange and black of late. Despite his 3-2-1 record against the Flyers over the span of the last two seasons, Fleury can thank Claude Giroux and Jakub Voracek for his team's struggles. Throughout the last two seasons, Giroux tallied 13 points, while Voracek added 11 points.
"Claude Giroux and Jakub Voracek have been the team's best forwards over the past few weeks and always seem to bring their "A" game when opposing the Pens. Prior to being held scoreless in the Flyers' 2-1 win over Pittsburgh on Nov. 13, Giroux had eight goals and 12 assists during a 10-game point streak vs. the Penguins — including playoffs.

"As for Voracek, the 24-year-old forward has collected eight goals and eight assists in 17 career games against Pittsburgh." — CSN Philly
Other factors will most definitely determine how the season series between the two turn out. Pens captain, Sidney Crosby, will be coming off of wrist surgery, while the Flyers will head into the new season with familiarity in Craig Berube's "defense first" mentality.
Rutherford and the Pens, however, have done what they can to close the recent gap against the Flyers. And with Downie in the rival's uniform, the rivalry is sure to be just as, if not more, physical than it's been in year's past.
One major question will burn until the rivals meet: can R.J. Umberger's hometown of Pittsburgh hate him in place of former Flyer, Scott Hartnell?
Other Metropolitan Rivals
Metropolitan Rivals: Part II (New York Rangers)
Metropolitan Rivals: Part III (Columbus Blue Jackets)
Metropolitan Rivals: Part IV (Washington Capitals)
Metropolitan Rivals: Part V (New Jersey Devils)
Metropolitan Rivals: Part VI (Carolina Hurricanes)
Andy is a contributor for The Hockey Writers, covering the Philadelphia Flyers. He holds a Bachelor's Degree in Communications from Walsh University. He enjoys spending time with his family, golfing, and reading. He is married with a daughter. You can follow Andy on Twitter @ADudones.