Despite falling to the New York Rangers in Game 7 of last season's quarter-final, the Flyers were able to win at Madison Square Garden for the first time since 2011. Is this a sign that the Flyers are ready to pass the Rangers? Or have the offseason tweaks that Rangers GM Glen Sather made to his team enough to endow another woeful season series for the Flyers?
Part II of a seven-part series that examines how the Flyers stand up against the rest of the Metropolitan Division explores Philadelphia's Broadway rival, the New York Rangers.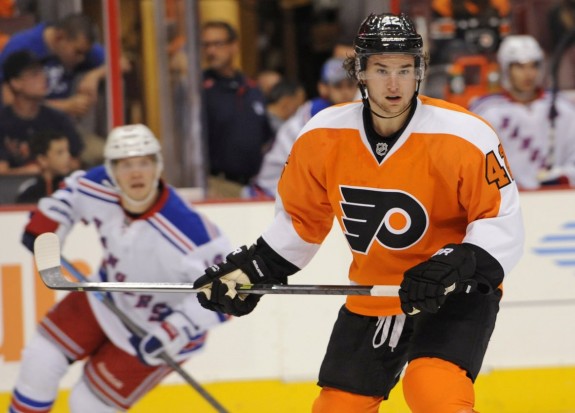 2013-14 Season Series: A Stepping Stone?
In the 2013-14 regular season series, it's safe to say that the home team in each respective game enjoyed hometown cooking. The Flyers split the series, going 2-2-0, against their old time rival from the Empire State.
But what resulted in a .500 batting average against the Rangers felt like a futile outcome. That's because the Rangers not only held the Flyers winless at MSG for the season, they stretched their win streak at home against the Flyers to eight games, dating back to 2011.
"To make things worse, many of the games haven't been close. The Flyers have been outscored 28-8 during their seven-game losing streak at the World's Most Famous Arena and only one of those games was decided by less than two goals." — CSN Philly
That was written just prior to the Rangers downing the Flyers by a score of 3-1 on March 26th. And although the Flyers were able to lose with more dignity than usual, the loss extended their drought at MSG to eight games. But why were the Rangers so tough to beat on the road?
In winning 8 straight over #Flyers at MSG, #Rangers have outscored them, 31-9. Ouch!

— Sam Carchidi (@BroadStBull) April 16, 2014
Whether it's by chance, or the lower quality of ice surface, no excuse in the book defends the Rangers' defensive dexterity that Alain Vigneault's team forced on Philly. After all, one of Philadelphia's leading scorers in the season series was Mark Streit. That's right, a defenseman.
Both Streit and Matt Read registered three points apiece, while the Flyers' top scorers were held to less. Claude Giroux, Wayne Simmonds, and Vincent Lecavalier were held to two points each, while Jakub Voracek, Brayden Schenn, and Scott Hartnell separately only mustered up a single point.
Credit Henrik Lundqvist, who stopped 94 shots out of the 100 pucks thrown his way, along with the prosperous defensive play out of Ryan McDonagh, Marc Staal, and Dan Girardi. Just how good have they been against the Flyers in the regular season? Consider these numbers:
"During their home winning streak against the Philadelphia, the Rangers have outscored the Flyers 31-9. New York has allowed two goals or fewer in each of the last eight home games and 14 of 17 overall versus the Flyers. Lundqvist is 8-0 with a 1.13 GAA, a .960 save percentage and two shutouts in his past eight home meetings with Philadelphia." — CBS New York
When the playoffs rolled around, the Flyers were given their bonus chances to crack their new curse. After failing to jump out to a series lead, losing Game 1, Craig Berube's squad overcame a two-goal deficit to steal Game 2, ending their forgettable string of losses at MSG.
"We're down 2-0 and it's easy to throw in the towel there and I guess think you're down and out," said defenseman, Luke Schenn. "But he [Ray Emery] did a great job of battling all night. The amount of penalties we took, he was huge for us. He made some big saves. Some odd-man rushes he was there to bail us out."
The good news was that the Flyers finally lifted the proverbial monkey off their shoulders. The bad news was that it would stand to be their lone win at the Garden as the Rangers would go on to take Games 5 and 7 on their home ice.
The question heading into next season now begs: is Philly's lone win at MSG enough to reverse their future fortunes in New York?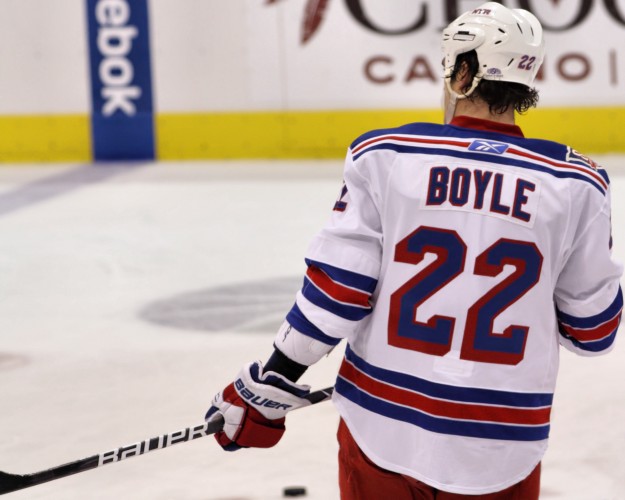 Who's Out?
While it's debatable as to whether the Rangers are now a better team now versus when they were ousted by the Los Angeles Kings in the Stanley Cup Final, their losses were heavy nonetheless.
At the arrival of October, New York will be without Anton Stralman, Benoit Pouliot, Brian Boyle, Derek Dorsett, and Brad Richards. And although Richards was tossed to the free agent market with a compliance buyout, the Rangers did little to replace he and Boyle's production and leadership.
"Unfortunately, (GM) Glen Sather didn't have the money to throw at a top free agent center such as Paul Stastny (four years, $28 million, Colorado Avalanche), and the rest of the pool either has been underwhelming (Mike Ribeiro after his Coyotes buyout) or overpriced (Mikhail Grabovski on four years, $20 million to the Islanders).

"So instead, the Rangers seemingly are planning to fill their need internally, which means they would be counting heavily on lefthanded rookie Swede Oscar Lindberg, 22, to take the next step." — Pat Leonard, New York Daily News
In four regular season games against the Flyers, only Chris Kreider recorded more points than Richards' three. Not only was Richards a 51 point scorer last season for the Rangers, he was a big part of New York's elimination of the Flyers. In seven games against Philadelphia, Richards scored two goals, while adding four assists. Richards was especially effective in Game One's 4-1 win with a goal and two assists.
https://twitter.com/MattNYR12/status/486281340451819520
The loss of Pouliot could benefit the Flyers as equally. Pouliot not only scored New York's game-winning goal in the decisive Game 7 against Philly, his two goals and two assists aided the Rangers in dumping the Flyers. But even though the 27-year-old's absence is an advantage for the Flyers, watching him leave was the practical decision for Sather and the Rangers.
"Not much to say here, really. Pouliot was a very, very important part to the Rangers "third line," which happened to be their most consistent offensive force last year. No one is questioning that. What I am questioning is why Edmonton would give a guy who had a breakout season of 36 points a five-year deal worth $20-million. There is not even an alternate universe where that contract would have been acceptable to match for the Rangers. Sather had no choice here, and in the end he was never even going to come close." — Joe Fortunato, Blueshirt Banter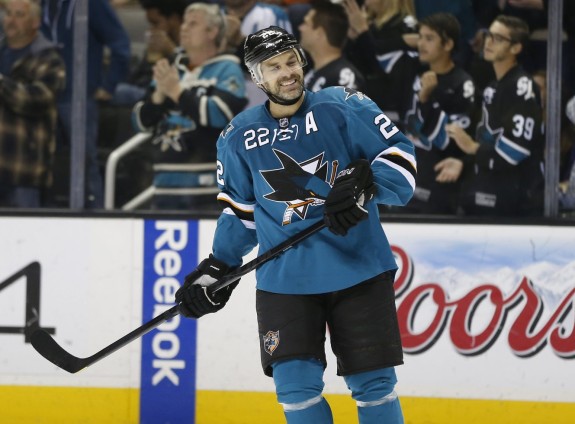 Who's In?
Despite losing Boyle, Stralman, and Richards, the damage could've been worse. In lieu of giving Stralman the $22.5 million deal he fetched from Tampa Bay, Sather inked veteran defenseman Dan Boyle to a two-year, $9 million deal. And although Boyle is over a decade older than the 27-year-old Stralman, the former San Jose assistant captain brings an offensive presence to compliment New York's blue line.
"I'm not looking to — how can I say this? — I'm not looking to go out (at the end of my career) as a guy in and out, playing a few minutes," said Boyle. "I'm not going to go out like that. I'm going in to make a difference. I want the puck. I want to make plays. Helping younger guys goes with the territory, and I'd be happy to help. But I want to win hockey games and the ultimate goal is to win the Cup."
With the players lost, including Richards' compliance buyout, the other silver lining is found in Sather's ability to free up cap space. After re-signing Dominic Moore to a modest two-year, $3 million contract, Sather also landed offensive depth in the name of Tanner Glass.
Two for the Rangers: Dominic Moore back on a two-year deal. Ex-Pen Tanner Glass coming for three years, $4.35 million.

— Andrew Gross (@AGrossNewsday) July 1, 2014
"Moore, 33, will earn $3 million over two years ($1.5 million cap hit) while Glass, 30, will get $4.35 million over three years ($1.45 million cap hit).

"While adding Glass, the Rangers also lost depth forward Benoit Pouliot, who signed a five-year deal today in Edmonton. That said, general manger Glen Sather expects youngster J.T. Miller to be with the big club full-time in 2014-15." — Jason Brough, Pro Hockey Talk
The added cap space, which stands at a touch above $14 million should also assist the Rangers in their efforts to re-sign restricted free agents Derick Brassard, Chris Kreider, and Mats Zuccarello. With the allotted money left as of now, however, it seems unlikely that under $15 million will be enough to retain all of them.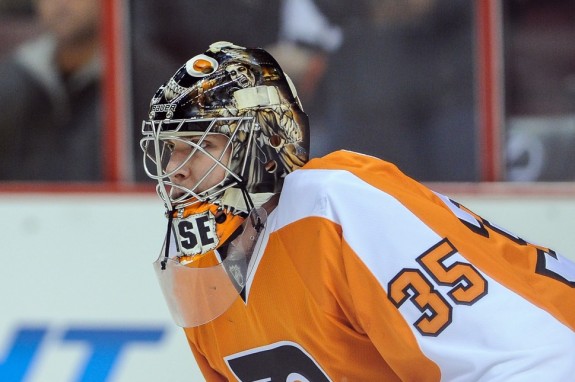 Can The Flyers Pass The Rangers Next Season?
Although the Rangers have attempted to plug the holes of those lost, will the new additions fit into Alain Vigneault's scheme? Dan Boyle will certainly give the Rangers a boost on the power play, but can he give the Big Apple the physical game and shot-blocking that Stralman left with?
"Ultimately the question will be whether Dan Boyle's defense at even strength combined with the power play will be greater than Stralman's even-strength work, and Richards' production on the man advantage. Based on his recent numbers and the fact that players at his age often rarely if ever improve, the Boyle for Stralman swap is a gamble at best. Also factor in that there is a decent chance Boyle will not play all 82 games this season because of various nagging injuries, rookies Connor Allen and perhaps Dylan McIlrath could see spot duty." — Rick Carpiniello, The Journal News
Factoring in the loss of Brian Boyle, the Rangers stand to struggle in the faceoff department, especially when up against Flyers' specialists like, Claude Giroux or Sean Couturier.
In terms of youth, both teams will more than likely be relying on their own. The Rangers will need J.T. Miller to be NHL ready, while Jason Akeson got a head start, scoring two goals and an assist in seven playoff games last season.
"Hopefully, I can make an impact on these guys and stick around next year," said Akeson back in April. "That's my plan going into next year and this summer, just working hard and making sure I'm in the best shape of my life."
With Dorsett and Stralman gone, and Dan Carcillo's return unlikely, the Rangers have appeared to have lost an edge in regard to attitude. This is an aspect that New York capitalized on against the Flyers, agitating the Broad Street Bullies into taking bad penalties.
With Berube's emphasis on discipline, in addition to Hextall's vision for speed, it's not without the realm of possibility that the Flyers recapture their winning ways against the Rangers. Even with the limited moves made by the Flyers to date.
Other Metropolitan Rivals
Metropolitan Rivals: Part I (Pittsburgh Penguins)
Metropolitan Rivals: Part III (Columbus Blue Jackets)
Metropolitan Rivals: Part IV (Washington Capitals)
Metropolitan Rivals: Part V (New Jersey Devils)
Metropolitan Rivals: Part VI (Carolina Hurricanes)
Andy is a contributor for The Hockey Writers, covering the Philadelphia Flyers. He holds a Bachelor's Degree in Communications from Walsh University. He enjoys spending time with his family, golfing, and reading. He is married with a daughter. You can follow Andy on Twitter @ADudones.