Despite Carolina's run-of-the-mill 36-35-11 record last season, the Hurricanes exhibited ownership over the Flyers by going 4-0-0 against their new divisional adversary. The Canes' success against Philadelphia, however, didn't correlate with their overall regular season results, missing the playoffs for the fifth straight season. With a new voice behind the bench now, can the Canes storm the Flyers once more next season?
Part VI of a seven-part series assesses the matchup between the Flyers and their Metropolitan Division challenger, the Carolina Hurricanes.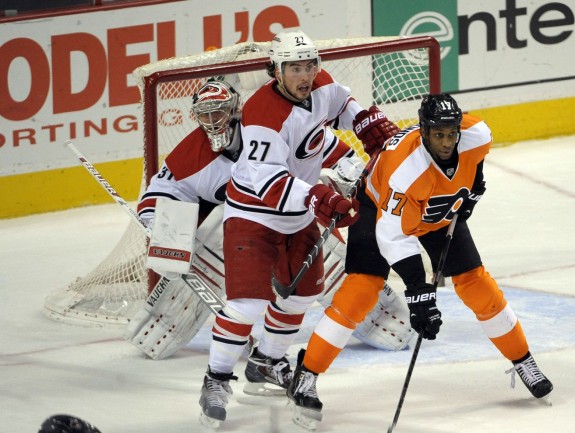 A Winless 2013-14 Season Series
Philadelphia's two points earned in last year's season series against Carolina was quite the conundrum. Sure, Philly's first defeat was one of seven games dropped out of their first eight games – their worst start in franchise history. But losses in November and January are more difficult to explain. Carolina's 6-5 shootout win on Apr. 13th, on the other hand, was merely a formality.
Carolina's season finale win over the Flyers gave the Canes their first season series sweep over the Flyers in team history. And although every team attempts to win every game, the Flyers were merely looking to escape the conclusion of the regular season with their health intact, as they prepared for the post-season.
With both Steve Mason and Steve Downie injured, the Flyers inserted Jason Akeson into the lineup for the first time all season. To boot, rookie goaltender Cal Heeter made his NHL debut that day. While Akeson played well enough to earn a playoff roster spot, Heeter was less than spectacular, surrendering five goals on 38 shots.
Khudobin stops Couturier and the #Canes win the season finale and complete the season sweep of the #Flyers!

— Hurricanes PR (@CanesPR) April 13, 2014
The central theme throughout the entire season series, though, were the Flyers consistently falling behind. And although they were able to rally on multiple occasions, the holes they dug themselves led to their own demise.
"We can't shoot ourselves in the foots like this; we need to have better starts," said Flyers captain Claude Giroux after Jan. 22nd's 3-2 loss to the Canes at home. "We can't do comebacks every game. I think there was no energy all game. We need to play with confidence, believe in ourselves and make plays that are there."
The Hurricanes were five of seven Metropolitan Division teams to outscore the Flyers, scoring 13 goals to Philadelphia's nine. Carolina also outshot the Flyers by a 142-115 margin. But the Flyers cashed in on three power plays on 10 chances, and killed off 13 of 14 penalties committed.
Jiri Tlusty led both teams with five points, while Eric Staal, Jeff Skinner, and Manny Malhotra all scored two goals each. And what seemed like a break falling the Flyers way, Cam Ward's injury issues allowed Anton Khudobin to shine, taking three of Carolina's four wins against the Flyers.
While Claude Giroux led the Flyer scoring with five points, only two members in orange and black netted more than a single goal – Wayne Simmonds and Scott Hartnell. With Hartnell in Columbus now, Philadelphia will need more contributions from members of the 20 Goal Club next season against the Canes. Jakub Voracek, Brayden Schenn, and Vincent Lecavalier were all held without a goal, while Schenn and Lecavalier were held completely scoreless.
Who's In?
Hartnell's exit from Philadelphia isn't the only difference for the two teams heading into next season's series. With former GM Jim Rutherford now in the same role in Pittsburgh, new GM Ron Francis was quick to address Carolina's longest post-season draught since moving from Hartford. Francis started by firing head coach Kirk Muller, who held the position for just under three seasons.
"Since being hired on Nov. 28, 2011, Muller went 80-80-27 behind the bench in Carolina, failing to lead the Hurricanes to the playoffs." — Jason Brough, Pro Hockey Talk
Bill Peters, Muller's replacement, will now take his first career NHL head coaching gig. After spending three seasons as an assistant to Mike Babcock in Detroit, Peters becomes now the fourth coach in franchise history.
"Before joining the Red Wings, Peters was the head coach for the Rockford Icehogs in the AHL where he helped with the developemtn of the eventual Stanley Cup-winning Blackhawks. Prior to that Peters was the coach of the Spokane Chiefs in the WHL where he won the Memorial Cup.

"In Carolina he's getting a team that has some top-line talent but has struggled in the past couple of years to put it all together, especially on defense. There certainly is potential to get the ship turned around in Carolina in a hurry." — Brian Stubits, CBS Sports
In an effort to improve their blue line, Tim Gleason was signed to a one-year, $1.2 million deal. Gleason, who was dealt last season to Toronto, now joins the player he was dealt for, John-Michael Liles.
"I'm obviously excited to get back," said Gleason. "I know the area and the organization and this will be a clean slate for myself.
"I know some people probably will look at me and say I'm over the hill or almost there, but I'm just 31. I want to prove to everybody that I can still do it and do it for a long time. I know I've got it in me."
Francis noted that Gleason had offers from other teams that were likely higher than #Canes number. Gleason wanted to return.

— Michael Smith (@MSmithCanes) July 3, 2014
Gleason's age, though, isn't the only concern in bringing back the former assistant captain. Gleason appeared in only 56 games last year due to a concussion, and a back injury. But at $1.2 million, the risk is well worth taking. Especially since he no longer carries the $4 million cap hit Carolina traded away last season.
On the offensive side of the ice, Francis added 6-2, 207-pound center Brad Malone. At 25, Malone has yet to play a full NHL season. But at $1.3 million, the former Av brings a physical style to Raleigh that was especially lacking since trading Tuomo Ruutu last season.
"He's a big guy who skates well and is physical. He got some games up top in Colorado, and he's a guy that's up-and-coming, getting that chance to prove himself," said Francis. "He should be good for us. He'll be able to kill penalties and change the look of our fourth line to get more size and physicality."
The acquisition of Malone is a good to decent move. With Eric and Jordan Staal, Alexander Semin, and Jeff Skinner, the Canes have the pieces to score, even if the team finished 22nd in the league in scoring with 2.5 goals per game. But can the Canes improve on an abysmal special teams effort that left them 28th in the league on the power play?
"We didn't think it was necessary to kind of blow everything up," added Francis. "We still think we have a lot of good pieces. I know people are going to shake their heads a little bit when you say that… When you don't make the playoffs everybody wants to see change."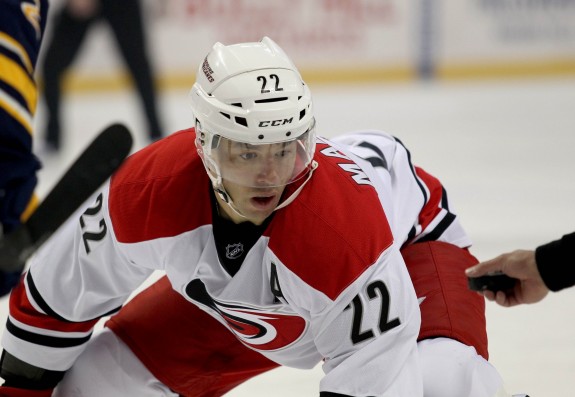 Who's Out?
Although Francis has sustained the overall makeup of the team, the losses of Manny Malhotra and Justin Peters will certainly be felt. With Malhotra now in Montreal, Carolina's overall faceoff percentage stands to take a hit. Malhotra won 59.4 percent of his 963 faceoffs taken last season, which strongly contributed to Carolina's fourth-ranked team faceoff ranking of 52.6 percent.
"There are so many important parts of the game that go hidden sometimes, like faceoffs. It's valuable that he's able to be so successful at it," said former coach Kirk Muller. "It's all about possession and starting a shift off with the puck. The more times you win faceoffs, that's one more time that you start your shift with the puck.
"It's especially important in your zone," Muller continued. "[Winning the faceoff] saves you from spending [more] time in your zone trying to get pucks out and playing defensive zone coverage. If you win the draw, you can get it out and get playing down in the other end."
While Malhotra hasn't hit the 30-point mark since the 2010-11 season with Vancouver, his two goals against the Flyers last season were part of seven recorded on the entire season. Malhotra's departure from Carolina gives Philadelphia an instant edge.
Losing Justin Peters, on the other hand, is a calculated risk. And while Peters defeated the Flyers in only one appearance against the orange and black, Ron Francis is banking on Cam Ward to return to his elite status.
"The Carolina Hurricanes may have been trying to find a way to move Cam Ward, but their plan for next season has him involved.

"Ward has battled injuries and has a juicy contract that pays him $6.3 million against the salary cap over the next three seasons, but according to Chip Alexander of the News & Observer, he'll be splitting the net with Anton Khudobin." — Joe Yerdon, Pro Hockey Talk
With Ward appearing in only 30 games last season, the Canes have a quality option in Khudobin. But with Khudobin's 19-14-1 mark last season, which included a shutout and a .926 save percentage, retaining Peters in lieu of Ward would have freed up significant cap space.
Just in case the tandem of Ward and Khudobin struggle, or sustains injury, Francis does have Drew MacIntyre to go to. But is MacIntyre's success with the Toronto Marlies last season enough to justify letting Peters sign with Washington for a humble $1.9 million? Should the Canes struggle to score next season, their goaltending will be asked to steal more games. And if Ward struggles again to stay healthy, Peters' absence could prove to be costly.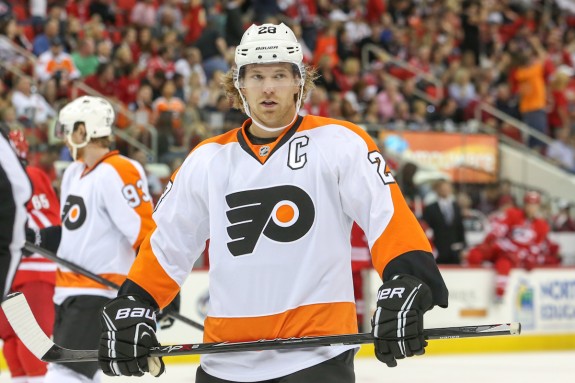 Who Survives The Flyers – Canes Storm?
Even with limited moves made by Flyers GM Ron Hextall, the upcoming season series against the Hurricanes instantly favors Philadelphia. Jason Akeson, who added an assist in his only game against the Canes last season, is projected to be a full-time part of the Flyers' offensive unit with the subtraction of Steve Downie and Tye McGinn.
The loss of Malhotra also gives the Flyers a slight edge in the faceoff circle. But the Flyers will be without a faceoff specialist of their own, as Adam Hall remains unsigned and available in free agency.
"Come next season, the Flyers might drop below the 50 percent mark again, given the likely departure of unsigned unrestricted free agent Adam Hall. Further development of Sean Couturier and Baryden Schenn as faceoff men would be beneficial, even if it is not critical to team success." — Bill Meltzer, Hockey Buzz
Another factor yet to be determined is Elias Lindholm's development. The 19-year-old center is similar to Philadelphia's own, Sean Couturier, in age breaking into the league, and in defensive capabilities. In 58 games last season, the fifth overall selection in the 2013 NHL Entry Draft scored nine goals, while adding 12 assists.
"I think it's also important that Lindholm puts on more weight and strength this offseason. Most young players do that anyways, but it would also prepare the Sweden native for the wear and tear of being a center in the NHL.

"With the roster how it is right now, I would want to see Lindholm on the wing with Jordan Staal. I think that would create a two-way line very capable of scoring, while playing some of the best defense in the league." — Wes Hermmann, Cardiac Cane
#Canes five-game divisional opponents in 14-15: Rangers (2 home, 3 road) and Flyers (3 home, 2 road)

— Michael Smith (@MSmithCanes) June 22, 2014
The Canes should improve on their on their 83 point performance from last season. But they're young enough to take a step back before their next larger step forward. And if the injury bug hits like it has in the past, they're likely to miss out on the post-season for a sixth straight year.
Either way it goes, the Flyers going winless against the Canes next season is unforeseeable. And with the lack of cap space to make the necessary upgrades to contend for a Cup, the upcoming season series against Carolina are games the Flyers should and must win.
Other Metropolitan Rivals
Metropolitan Rivals: Part I (Pittsburgh Penguins)
Metropolitan Rivals: Part II (New York Rangers)
Metropolitan Rivals: Part III (Columbus Blue Jackets)
Metropolitan Rivals: Part IV (Washington Capitals)
Metropolitan Rivals: Part V (New Jersey Devils)
Andy is a contributor for The Hockey Writers, covering the Philadelphia Flyers. He holds a Bachelor's Degree in Communications from Walsh University. He enjoys spending time with his family, golfing, and reading. He is married with a daughter. You can follow Andy on Twitter @ADudones.