Although Philadelphia's all-time history against the Columbus Blue Jackets favors the Flyers, the recent meetings have been anything but favorable for the Orange and Black. Not only do the Flyers carry a three-game losing streak into the upcoming season, they'll enter Nationwide Arena on December 10th with a four-game losing streak in that very building. Will the Blue Jacket blues continue for Philly? Or will Craig Berube's club finally solve the Columbus puzzle?
Part III of a seven-part series measures the Flyers with their newer Metropolitan Division rivals, the Columbus Blue Jackets.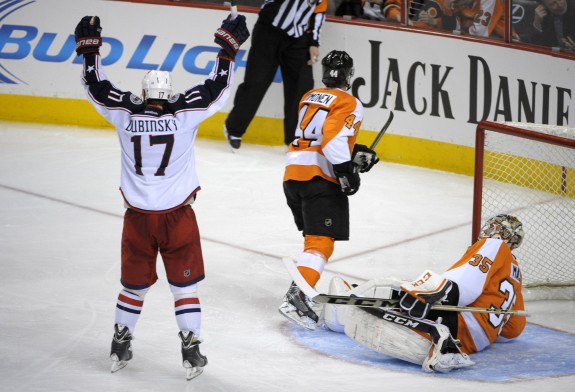 A Forgetable 2013-14 Season Series
After an unimaginable comeback victory in last season's first meeting, the Flyers appeared to have gained the leverage needed to breeze past their new divisional foe. Philly scored five third period goals to erase a three-goal third period deficit, leaving the Jackets shellshocked.
But Philadelphia's euphoria was short-lived, dropping the next three contents by two or more goals. With the Flyer's 5-4 triumph included, the Jackets went on to outscore the Flyers by a margin of 17-10. Columbus ended the series against Philly by scoring five or more goals twice, while adding salt in the wound with a 2-0 shutout on April 3rd, courtesy of our old pal, Sergei Bobrovsky.
"Bobrovsky was once viewed as the Flyers' goalie of the future, but after a terrific rookie season, he got into coach Peter Laviolette's doghouse when he struggled in the playoffs. That caused the Great Ilya Bryzgalov Experiment and Bobrovsky eventually was traded to Columbus." — Sam Carchidi, philly.com
In two starts against his former team, Bobrovsky flashed his Vezina-winning skills, going 2-0-0 with a sturdy .969 save percentage. The Jackets' top netminder contributed to his former team's string of over 136 minutes with a 37-save shutout in what would add up to 63 saves and a 1.00 goals against average.
"We know it means a lot for him to be back here in Philly," said teammate Brandon Dubinsky. "When you get traded from a team, it always feels good to go into the building and beat them. He was huge. He gave us an opportunity when we weren't at our best in the first."
The Flyers, who have found the answer to their own historic goalie woes in Steve Mason, were selective with the former Columbus goalie. Backup Ray Emery got the nod in both games in Columbus, while Mason rested from a previous bulk of work.
Mason back in Columbus just like he left, on the bench.#CBJ#Flyers

— John Kemp (@johntkemp) December 22, 2013
Call it the luck of the draw, or a severe miscalculation. Whatever it was, the Jackets beat Emery early and often. The veteran backup surrendered 10 goals on 67 shots, leaving Emery with a dreadful .851 save percentage against their rivals from Ohio.
Despite Emery's lack of success against the Jackets, the 31-year-old understudy was hardly the scapegoat for Philly's inept harvest versus Columbus. Jackets head coach Todd Richards developed a blueprint for consistently pressuring the Flyers; a scheme that others in the league would eventually pick up on. By April's 2-0 shutout, Columbus' heavy pressure on Philly defensemen left many feeling as if they were watching a re-run of previous losses to the Jackets.
"The CBJ forecheck was phenomenal. This is why Flyers fans clamor for a more mobile, puck moving defensemen, because the Columbus forwards pressured our defensemen into turnovers on almost every shift. Our defensemen could not execute a breakout while being attacked by the Columbus forecheck." — David Quackenbos, Broad Street Buzz
Somehow, in some way, the Flyers still managed to barely keep ahead of the Jackets in the standings. But given Columbus' recent dominance over the Flyers, can Philadelphia maintain their divisional upper hand over a Blue Jackets team that fell only one point short of tying Philly's 94 point mark?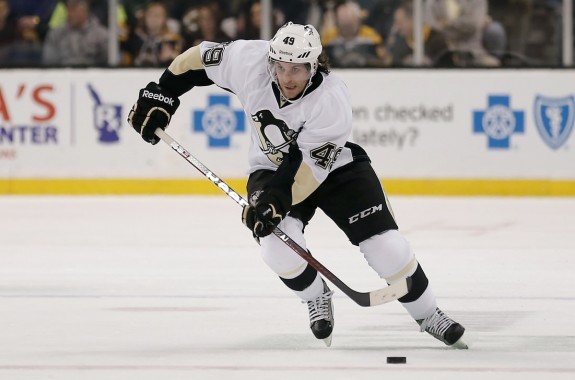 Who's In?
As if these two teams needed anything else to fuel this budding rivalry, Jackets GM Jarmo Kekalainen landed former long-time Flyer, Scott Hartnell, in a trade that sent forward R.J. Umberger to Philadelphia in return. If many are considering the Los Angeles Kings as the "Flyers West," Hartnell's addition certainly gives the Jackets their share of former Flyers.
"I don't think it will take me long to get used to Blue Jacket colors," said Hartnell after being dealt.
https://twitter.com/rangersbro/status/481407972091105280
The acquisition of Hartnell signified the apex of Columbus' offseason, which has been nearly as inactive as Philadelphia's. But with star forward Ryan Johansen holding out for better terms, Kekalainen has stayed busy. The second year GM locked up alternate captain Brandon Dubinsky to a six-year, $35.1 million deal, while grabbing Brian Gibbons for offensive depth.
At 26, Gibbons' one-year, $750,000 contract is cap-friendly, as if Columbus needed the space. With over $14.6 million of cap space available, only four other teams in the league have more space to burn. That fact alone is amazing, especially with five contracts that carry a yearly $4.5 million cap hit or more.
But with Johansen yet to be signed, along with a new contract for Bobrovsky in the near future, that space will likely shrink considerably. And if Gibbons can further develop in a full NHL season, he'll presumably be considered a steal.
"I guess we'll soon find out just how committed Columbus is to building a contending team with the amount of money it is going to have to spend this summer. The long-term, big-money deal to Dubinsky is a pretty good indication that the Blue Jackets are prepared to inch much closer to the salary cap going forward." — Chris Peters, CBS Sports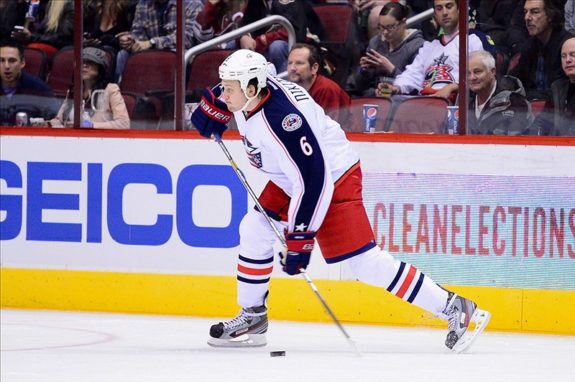 Who's Out?
With the arrival of Hartnell comes the departure of Umberger, who totaled 250 points in six seasons with the Jackets. And even though the organization and Umberger parted ways amicably, the 32-year-old forward is more versatile than Columbus' new power forward.
"R.J. is a versatile guy who can play all positions," said Berube shortly after the trade. "He's a good penalty killer who skates well. He's a veteran who has been around a long time and knows how to play the game properly. He'll be used in a lot of different areas. I think, with our team, it is nice to have a real versatile guy like him."
The Jackets won't mourn Umberger's absence, especially if Hartnell can duplicate his 52 point season from a year ago or surpass it. But much like Umberger in Columbus, Hartnell's style of play no longer fits with the new direction that GM Ron Hextall, and Berube himself, are moving the team in.
"Despite his enforcer role during his playing days, Berube is highly structured as a coach with strong emphasis placed on players' conditioning and discipline both of the penalty and puck-management varieties. Hartnell, who is quite laid back off the ice and sometimes runs more on emotion than structure on the ice, did not always seem to be fully on board although he always said the right things publicly." — Bill Meltzer, Hockey Buzz
When the Flyers see the Jackets next season, Columbus will also be without defenseman Nikita Nikitin, who notched 15 points in 66 games last season. Nikitin was dealt to the Edmonton Oilers for a fifth-round draft pick. Since signing a two-year, $9 million contract with the Oilers, the Jackets look better off.
https://twitter.com/SportsnetSpec/status/484007306846146560
With James Wisniewski, Fedor Tyutin, and Jack Johnson in place, Nikitin's vacancy was filled when Kekalainen re-upped both David Savard, and Dalton Prout to respective two-year deals. The Jackets will also expect Ryan Murray, 20, to avoid a sophomore slump after posting 21 points in 66 games of his rookie campaign.
Another face the Flyers won't see with Columbus is left winger Blake Comeau. The 28-year-old signed a one-year deal with Pittsburgh, virtually making the signings of Gibbons and Comeau (respectively) a trade. But the loss of Comeau has some believing that added pressure will now be on both Gibbons, and Hartnell, to replace Comeau's physicality.
"They mentioned to me they wanted guys to be able to skate and play up tempo with an edge," said Comeau. "I think that is exactly what my game is, so I'm looking forward going to a team that knows what I bring to the table so I can play the way I think I need to play. They know what kind of player I was and they liked what they saw."
Comeau's edginess will be missed, yes. But let's not fool ourselves. The Blue Jackets have plenty of grit with Natahan Horton, Brandon Dubinsky, Nick Foligno, and now Hartnell. If anything, they've improved in that department should Hartnell stay healthy.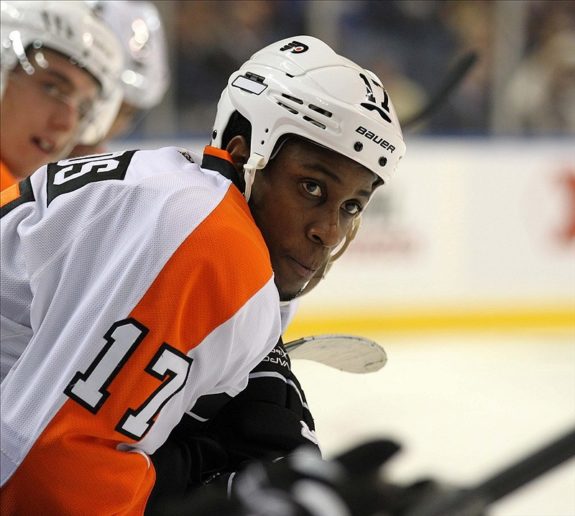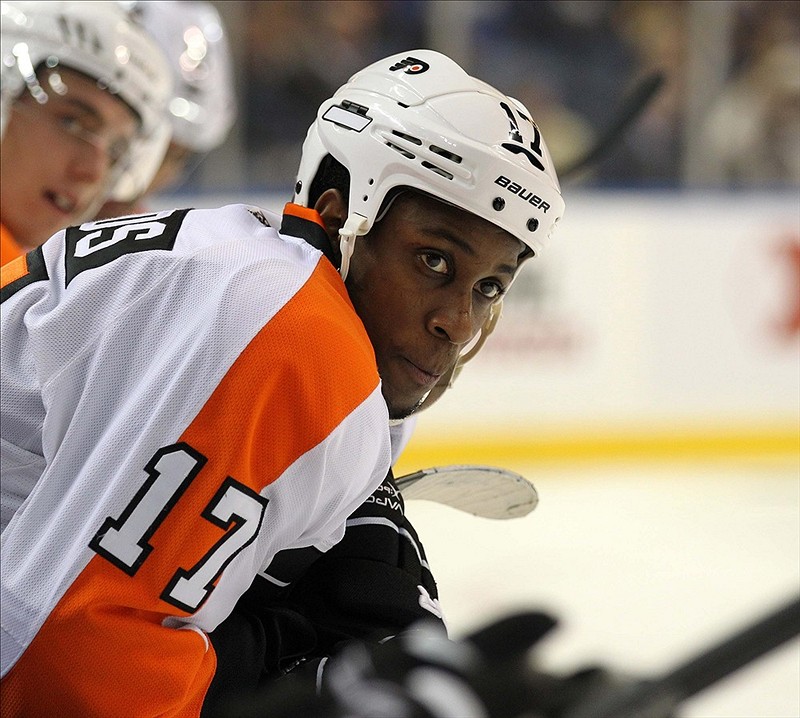 Will The Blue Jacket Blues Continue For The Flyers?
It's arguable that the Flyers and Blue Jackets are identical teams. Both have young goalies with great potential. Both have scoring ability, averaging just under three goals per game last season. And with their recent trade, both are very familiar with each other.
"Columbus will likely never be to the Flyers what the Penguins, the Rangers, or even the Capitals are; there is no way to duplicate that history. But all of the pieces are in place – geography, former players on both sides, gritty team – to make for an interesting possibility. The Flyers have played other division opponents like Carolina or even the Islanders without much fanfare." — Frank Seravalli, philly.com
Rival building aside, the matchup has overwhelmingly favored the Blue Jackets of late. Because of their salary cap restrictions, the Flyers have done little to improve on their blue line, and still lack the puck possession-type defenseman that would indeed combat Columbus' heavy forecheck. The addition of Umberger will improve the Flyers' back checking, but Hartnell's presence in Union Blue will merely solidify Columbus' press.
"The Flyers with Kimmo Timonen on the ice at 5v5: 964 minutes, plus-177 shot attempts.

"The Flyers without Kimmo Timonen on the ice at 5v5: 2799 minutes, minus-181 shot attempts.

"The Flyers should thank their lucky stars that Kimmo Timonen has decided to come back for one more season." — Dimitri Filipovic, The Sporting News
The problem for the Flyers moving forward is that Timonen was essentially a non-factor in the season series last year. In four games, Timonen was held scoreless, while showing a minus-one rating on an average time on ice of 19:50.
With a healthy Nathan Horton, Columbus stands to increase their advantage over the Flyers. Horton found the back of the net in only one game against Philly. It's hard to argue he won't add to his effort with more chances.
This is not a death sentence for the Flyers in regard to their upcoming meetings with the Jackets, however. Claude Giroux led both teams with five points (2 goals, 3 assists), while he, Jakub Voracek, and Mark Streit all finished with a positive plus-minus.
The Flyers should also be a more disciplined bunch come the next go round. And with Wayne Simmonds and Vinny Lecavalier on the power play, the Flyers could build on their sensational special teams that they left on the doorstep of the quarter-final in April.
The forecast against the Blue Jackets doesn't look promising. But then again, weathermen are allowed to be wrong.
Other Metropolitan Rivals
Metropolitan Rivals: Part I (Pittsburgh Penguins)
Metropolitan Rivals: Part II (New York Rangers)
Metropolitan Rivals: Part IV (Washington Capitals)
Metropolitan Rivals: Part V (New Jersey Devils)
Metropolitan Rivals: Part VI (Carolina Hurricanes)
Andy is a contributor for The Hockey Writers, covering the Philadelphia Flyers. He holds a Bachelor's Degree in Communications from Walsh University. He enjoys spending time with his family, golfing, and reading. He is married with a daughter. You can follow Andy on Twitter @ADudones.