Mike Richards and Jeff Carter are once again Stanley Cup Champions. That's now two in the last four years for those who haven't been keeping count. And now that Justin Williams is your Conn Smythe Trophy winner, everyone seems to have fallen in love with the title, "Flyers West." By the way, that's Williams' third Cup. But the negativity surrounding this irrelevant trivia question isn't an indictment on the Flyers, which is why the Kings should not, in fact, be nicknamed "Flyers West."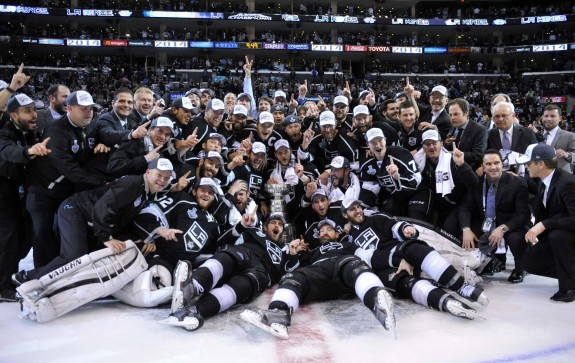 Flyers East vs. "Flyers West"
In Philadelphia, Mike Richards and Jeff Carter were the primary core of the team. They respectively held the position of captain and assistant captain as they led the Flyers to the Stanley Cup Final in 2010. Despite the sporadic criticism, that's naturally par for the course when playing in Philly, Richards and Carter were fan favorites. They were leaned on. They were the "go-to" guys so to speak.
But a lot has changed in such a brief period of time. Not only were Richards and Carter dealt, but Simon Gagne was traded to Tampa Bay, before eventually joining the pair of former Flyers for 45 games. Gagne would eventually return to Philadelphia, only to finish the 2012-13 season.
And Justin Williams? Well, let's just say his Conn Smythe performance in this post-season has been used to remind everyone that he once played for the Flyers. Mind you, that was a decade ago now.
"We were in here actually looking at the roster this morning and not even three years – two and a half years – I think four guys," recalled Richards earlier in the season. "Ray was gone and he came back, so five guys who were on that team. It's quite the turnover for a team that's two and a half years out."
Richards is correct. In an attempt to stay young and competitive, the Flyers' roster has represented a revolving door. That fact in itself validates how preposterous this "Flyers West" notion is. Gone are James van Riemsdyk, Matt Carle, Dan Carcillo, Blair Betts, Darroll Powe, Ville Leino, and Michael Leighton. And that's just from 2010.
So why weren't the Blackhawks called "Flyers West" when former Flyers, Patrick Sharp, Dan Carcillo, and Ray Emery abetted Chicago to their second Stanley Cup in four years? The answer is obviously within the role each player had on the team. And although Jeff Carter has blossomed into the player the Flyers always believed he was, especially after signing him to an 11-year extension in 2010, Mike Richards wasn't asked to be the player and/or person he was in Philadelphia.
"Time heals all," added Richards.
While the two have effectively allowed bygones to be bygones, Flyers fans, and especially those throughout the media still can't do the same. Whether it's trolling the patient, yet irritated fan base, or simply pointing out the obvious fact that Richards and Carter were once an intricate piece to the Flyers' core, the central theme is capitulated in the term, "Flyers West."
Here you go Philly pic.twitter.com/J86esq24MR

— Greg Wyshynski (@wyshynski) June 14, 2014
To be fair to Greg Wyshynski, who tweeted that photo out after the Kings win, he is an outstanding writer who successfully intertwines comedic value and relevant information. In fact, he did the same to Marian Gaborik's former teams in the same manner.
That's one thing, though. It's another to enact a dog chasing its tail with a made up moniker of "Flyers West," which embarrassingly enough, was provoked by some of Philadelphia's own. After Flyers fans failed to witness their team win hockey's ultimate prize for the 39th straight year, they were subjected to tweets like these throughout the duration of Los Angeles' Cup run:
And now boos greet Flyers West. Of course.

— Sam Carchidi (@BroadStBull) June 12, 2014
So which ex-Flyer scores the GWG?

— Sam Carchidi (@BroadStBull) June 5, 2014
Flyers West going to Finals. Again.

— Sam Carchidi (@BroadStBull) June 2, 2014
While our old pals now playing in Los Angeles have won the Stanley Cup on multiple occasions now, that doesn't imply that the Flyers have turned into an organization that's fallen flat on their face. Since missing the playoffs in a lockout-shortened season, the team has bounced back from a bevy of other obstacles this past season to qualify for the playoffs once again. And while they certainly have some pieces yet to be put in place, they're a lot closer to competing with the likes of the Kings and Blackhawks than most people think.
"The Flyers believe they're close – very close – to being among the NHL's most elite teams, despite their rocky start to 2013-14 and their first-round playoff exit.

"'Not very far," Claude Giroux said. 'It's a lot of good teams in the league. Obviously, on paper, we're a good team. We've just got to go out there and play the game the right way.'" — Sarah Baicker, CSN Philly
With a new GM in Ron Hextall, who served as Dean Lombardi's assistant in Los Angeles, it may only be a matter of time before the tables are turned. Either way, nobody's calling the Flyers "Kings East," despite owning Wayne Simmonds and Brayden Schenn. These folks certainly aren't calling them the "Old Blue Jackets," since Jakub Voracek, Steve Mason, and Sean Couturier all have come to the Flyers as a result of deals with Columbus.
Maybe they would, however, if the Blue Jackets were winning Stanley Cups with their current goalie, ex-Flyer Sergei Bobrovski. Nevertheless, it only solidifies the notion that such a label is done in a provoking manner.
Where's The Chatter Elsewhere?
So why is it "Flyers West?" Certainly, the Kings have acquired other talent from other teams throughout their building process. Most importantly, why can't the Kings just be the Kings?
Three of arguably their very best players are homegrown in Anze Kopitar, Jonathan Quick, and captain Dustin Brown. Even their younger organic pieces have played an irreplaceable role throughout their run this year. Slava Voynov, Tyler Toffoli, Tanner Pearson, and Jake Muzzin all individually came up immensely in clutch situations, especially during their grueling 26-game playoff schedule.
Yes, Jeff Carter's name was included, as well as it should be. But what about Mike Richards'? It appears that lost in the mockery of this "Flyers West" charade, is the fact that Richards has been relegated to the fourth line. Sound familiar to a certain other downtrodden Flyers center (Vinny Lecavalier)? And much similar to Lecavalier, Richards has been rumored to be on his way out; only with Richards, it's via a compliance buyout.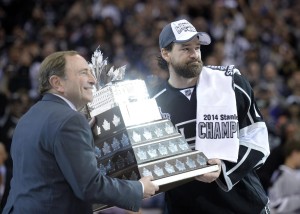 That's right. The 12-year, $69 million contract that Richards is currently now in the seventh year of, suddenly isn't as easy to live with now. If Lombardi does, in fact, utilize one of his compliance buyouts on Richards, will that make his next landing spot the new "Flyers West," should it be in the Western Conference? Or will the Kings retain the naming rights, should they re-sign Justin Williams, a former Carolina Hurricane as well?
If informal titles are formally handed out arbitrarily, why no mention of the Edmonton Oilers? Both Jarret Stoll, and former King Dustin Penner, hoisted the Cup for L.A., despite both being key players for the Oilers in the earlier 2000's.
Oh, but they weren't what Richards and Carter were for Philly in Edmonton? Fine. Then if we're being fair, take Drew Doughty and Jonathan Quick out of the equation, since the Flyers lost Chris Pronger to a freak accident, and never had that franchise goalie in the past. But there's no interest in fairness or perspective. It's all about playing a hindsight card that doesn't necessarily earn a checkmate.
There's no doubt that Mike Richards and Jeff Carter have written successful proceeding chapters in their career storybooks. But they aren't Flyers anymore. And given the alternative, I'll take that over watching a bitter rival like the New York Rangers celebrate a Stanley Cup championship any day.
Andy is a contributor for The Hockey Writers, covering the Philadelphia Flyers. He holds a Bachelor's Degree in Communications from Walsh University. He enjoys spending time with his family, golfing, and reading. He is married with a daughter. You can follow Andy on Twitter @ADudones.