Coach Craig Berube talked about the talent level of the Flyers prospects at development camp saying, "I think there is a lot of good, young skill that we're going to have in our system, which is very important. We all know the game is about skill and speed and we have nice prospects."
The final day of camp is upon us. Different players will be going their separate ways. Some will be back in training camp in September, others will be enjoying the rest of the summer, and a handful will be training to get back into shape for the upcoming season. I should've prefaced every article by saying there aren't concise or specific projections I can make of these players solely on one development camp. But watching these players over the past week conduct drills has allowed me to glean some information about what attributes stand out in a player and which aspects of their games need to be worked on. Each prospect will take a different path in their development this season. On this last day, even more things stood out – good and bad.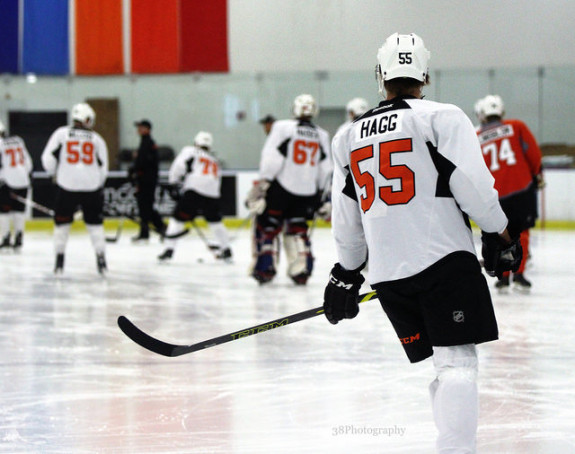 Forwards, defensemen, and goalies all came out for two sessions today. The morning session started at 9am and stressed one-on-one's and two-on-one's with a mix of boardplay and puck battles. The afternoon session started at 4:30 where prospects were split up into four teams taking turns facing each other in half ice scrimmages.
Many were hoping to see the potential from Travis Sanheim in some of the exercises in camp. The first day he looked great, but as a whole, he looked very average for a 1st round pick. I couldn't really pick any one thing that stood out in his game. His shot from the point wasn't very fast. His skating was sub-par and even blew a few tires today. His breakout passes were relatively strong, but he's still a work in progress. I certainly don't expect him to shine brightly like an Aaron Ekblad-type defensemen, so I'm not worried about it in the least. However, he was even worse during the scrimmages. Took too much time holding the puck and lost it a few times.
Reese Willcox has been getting the short end of the stick in my evaluations, but really did shine today. I've noticed how intelligent he is away from the puck and the way he clogs up passing lanes. He's a big-bodied defensemen that doesn't skate well, but makes up for it with his smarts. Had to go one-on-one with Laughton and stood him up. On the 2-on-1 drills, Willcox and Jesper Pettersson performed well. Both were physical and read the plays well in shutting down the scoring opportunities.
Still haven't seen much defensively from Aube-Kubel, but the 2nd rounder once again showed his gamebreaking speed and fancy stickhandling. He turned Sanheim inside out on the one-on-one drill. He also held his own in the corners and dirty areas of the ice. Still could use to gain some pounds, but his offensive skill is tantalizing.
"Today was the first day we got to do one-on-one's and I wanted to show what I could do." That was a quote from Sam Morin after the morning session. Good lord is he a menacing defensemen. Morin showed just how nasty he could be today. He was using all his weight checking players against the boards and battling in front of the net. He took down Sanheim and Fazleev on two separate occasions. Both looked like they were shaken up. We certainly know his defensive game is there, but his offensive abilities are a work in progress.
Oskar Lindblom's camp has been very productive. He's been able to show just how essential he can be as a two-way forward. Strong puck pursuit, relentless on the forecheck, pokechecking, and being positionally sound are all skills that will take Lindblom to the next level. He was one of the better players during the scrimmage and scored a beautiful shootout goal.
If there is a sleeper name to keep an eye on it's Terrance Amorosa. I reported earlier that Amorosa will attend Providence in the fall. Apparently there has been a change of plans as he will be headed to Clarkson University. I don't want to hype him up too much, but he was easily one of the most poised defensemen with the puck on his stick. He had such precision and awareness of the play going on. It was surgical and tactical and was a joy to watch. In a few years, assuming he develops as well as he did over the course of last season, many fans might wonder how the Flyers were able to grab him in the 5th round.
I'm gung-ho on Jesper Pettersson. Do I think he'll be a top pairing defenseman? No way. But the little fireplug shows such determination, grittiness, and balls for such a short player that it's hard not to like him. He's a more defensive-minded positional player that isn't afraid to throw his body around, although I wouldn't underestimate his offensive prowess. He moves the puck well, has a great transition game, and works tirelessly in puck battles.
Mark Friedman also had an impactful camp for a rookie. He'll never have the NHL height, but he's been proactive on the attack. His turning and vision around the ice has stood out. Friedman showed incredible patience on the backend and always seemed to be one of the quickest to a loose puck. He was routinely knocked off the puck, which only means he needs to get stronger – a few years with Bowling Green in the NCAA should definitely help.
If you're expecting Shayne Gostisbehere to be in the NHL sometime this year I'd look for defensive help elsewhere. Unless management is strictly looking for an offensive defenseman, Gostisbehere isn't defensively responsible enough or physically mature to make the impact the Flyers want from him. He has been arguably the best skater on the ice this entire camp, but he consistently getting beat in puck battles because he didn't have the physical weight or toughness to knock the players off the puck. The NCAA and NHL/AHL are two very different games. Against stronger opponents Gostisbehere may find himself easy prey to get hit, but a full year in the AHL will help his defensive game and allow him to build up some muscle. It will make a world of difference.
Radel Fazleev has shown some flashes of brilliance that make him a worthwhile prospect to have in the system. He is also on the scrawny, but has excellent puck possession and hockey sense. Fazleev holds the puck just long enough to wait out opponents into committing to a play and find the open gap to slip a pass to a teammate. He also doesn't have that prima donna attitude that you might find with other high profiled Russians. Having healed from a wrist injury, it will be nice to see what Fazleev can do with a healthy season under his belt next year with the Calgary Hitmen.
I've profiled Laughton and Hagg at length in my writeups. I'll just go as far as to say the two have the best chance at cracking the lineup out of camp from this prospect group. Both showed how comfortable they were in skating, maturity, leadership, and overall play. Hagg could use a bit more AHL conditioning than Laughton before getting a call up, but I doubt he needs that much.