Being in a Canadian market, there is no lack of coverage surrounding the Winnipeg Jets. This is a city and province that cares deeply and passionately about its team and the sport itself. In Winnipeg, the Jets make front page news year-round, even during the offseason. Trade rumours, speculation on line combinations, prospect profiles, there is no shortage of information emanating out of the Manitoba capital. Here's a look at some of the blogs and Twitter accounts that hockey fans should give a closer look.
Arctic Ice Hockey
Sometimes irreverent, mostly entertaining and informative, Arctic Ice Hockey is part of the SB Nation blogosphere. Advanced stats guru Garret Hohl has made quite a name for himself on the site, making appearances on TSN 1290, the radio voice of the Jets. His numerical breakdown of the Jets is always informative and is a must-read for anyone interested in Corsi and Fenwick.
Other writers such as Ryan Blight, Timothy Bonnar, T.J. Maughan and Jacob Stoller give further insight on the Jets from a fans perspective. What I like about Arctic Ice is that they're not afraid to criticize moves made by Jets management, something that is lacking from the mainstream media in Winnipeg. I don't agree with everything they say, but they always give me something to think about. And that's what makes them a good read.
Scheifele is 53% Corsi with Kane, and 45.5% without.

— Garret Hohl (@garrethohl) July 15, 2014
Wait… So Stamkos is favoriting Tweets about going to play for the #Leafs? #Lol So how does this work, is he #scum or just #dumb? — Arctic Ice Hockey (@arcticicehockey) July 14, 2014
Winnipeg Hockey Talk
Another terrific blog that is worth reading about the Jets. Winnipeg Hockey Talk is run by Mitch Kasprick, who also runs the Arizona Hockey Talk blog covering the Arizona Coyotes, or the old Winnipeg Jets if you prefer. Sometimes irascible, but always informative, Mitch gives an interesting viewpoint on the Jets, even if he spends the winters in the desert. The list of writers isn't bad either. Former Winnipeg Sun columnist Patti Dawn Swanson gives her take on the Jets with humour and a healthy dose of biting commentary. Former Jets and St. Louis Blues defenceman Scott Campbell also provides unique insight on the Jets, as he did play in the show, unlike the majority of hockey fans. This site is definitely worth a look.
I know watching other teams sign some of the "big name " FA"s is frustrating but we're we ever really in the mix for them? … probably not — Mitch Kasprick (@WpgJetshocktalk) July 1, 2014
hey twitter hockey fans …. why is Michael Del Zotto still on the UFA board? are his contract demands unreasonable? is he over-rated?

— Winnipeg Hockey Talk (@WpgHockTalk) July 13, 2014
Pat Williams
The Jets correspondent at NHL.com, Pat Williams is an encyclopedia of hockey knowledge. If you want AHL trivia? Pat's your man. You need some KHL numbers? Pat can give them. Need information on a Jets prospect? Pat's probably seen him play. A fountain of information for all hockey leagues, Pat gives out some smart, yet tough hockey talk surrounding the Jets. He can be critical, but he's always fair and stands by his opinions. He has covered the AHL, ECHL and OHL before arriving in Winnipeg. A worthy follower on Twitter.
KHL training camps are underway. The hockey world never stops. — PATRICK WILLIAMS (@pwilliamsNHL) July 14, 2014
If Kane scores and the Jets win this season, everyone is happy, and all of this stuff falls by the wayside.That's almost always how it goes. — PATRICK WILLIAMS (@pwilliamsNHL) July 11, 201
Winnipeg Free Press
The largest daily newspaper in Winnipeg, the Free Press reaches a fair amount of the population in Manitoba. With that in mind, the Free Press is very influential in bringing up certain topics of conversation surrounding the Jets. Case in point, the Evander Kane trade rumours that won't go away. The Free Press is led by columnist Gary Lawless, who also co-host the afternoon drive show on TSN 1290, as well as making guest appearances on The Reporters on TSN at the national level. Ed Tait is the best writer for the Free Press, and his coverage of the Jets is excellent. Tim Campbell has been covering hockey in Winnipeg for many years, from the Jets version 1.0, to the Manitoba Moose, to the current NHL version. One writer who has a bright future ahead of her is Melissa Martin, who brings a humorous, refreshing approach to the sometimes ultra-serious mainstream media.
Chevy was asked if #nhljets winger Evander Kane demanded a trade. Called question "unfair." read @FPTimCampbell account on Freep site #bn — gary lawless (@garylawless) June 26, 2014
Full house here at #NHLJets D camp cheers at Nik Ehlers deke and goal. Jack Glover also has a goal #bn

— Ed Tait (@WFPEdTait) July 11, 2014
Alright hockey Twitter who else is ready to freak out over some teenagers — Melissa Martin (@DoubleEmMartin) June 27, 2014
Winnipeg Sun
The Sun is another daily newspaper that fills its pages with Jets coverage. The Sun also reaches a wide audience in Manitoba, meaning it can add leverage to what the message is supposed to be.
Ken Wiebe (no relation to me) is one of the featured writers the Sun employs to cover the Jets. Paul Friesen is the main columnist at the Sun. Kirk Penton is a solid, underrated writer on the Jets beat.
My fave Cheveldayoff comment on Kane: "What I took from his comments was that he's excited about being healthy and training…" #NHLJets

— Paul Friesen (@friesensunmedia) July 11, 2014
#NHLJets GM Kevin Cheveldayoff seemed to sympathize w/Evander Kane during scrum, expects Kane at "peak of his performance" for Jets T-camp — Ken Wiebe (@WiebeSunSports) July 11, 2014
Winnipeg Jets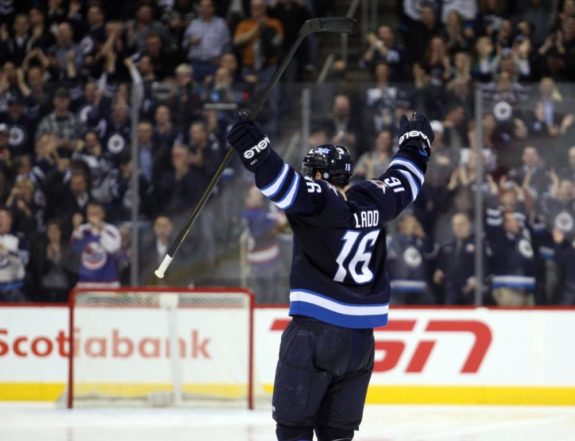 The official site of the Jets brings the latest news, injury reports and all other happenings surrounding the Winnipeg Jets. With exclusive videos, pictures and statistics, the Jets website delivers all you need to know about the team. Roster and schedule information can be found on the site as well.
#NHLJets have agreed to terms with forward Mathieu Perreault on a 3-year contract with an AAV of $ 3 million.

— Winnipeg Jets (@NHLJets) July 1, 2014
St. John's IceCaps
The AHL affiliate of the Jets, the IceCaps are the ideal choice to follow the Jets prospects. The IceCaps reached the Calder Cup Finals last season, giving the loyal fan base in Newfoundland plenty of excitement.
The Hockey Writers
Of course, the Hockey Writers will provide coverage of the Winnipeg Jets throughout the 2014-15 season and beyond. You can always check here for Jets news, opinions and historical features involving the Winnipeg Jets.
This list is not complete. If any of the readers would like to add a site, or mention something that was missed here, please do so.