While everyone is focused on the signings of Mike Brown and John Scott, the San Jose Sharks have bigger problems on defense. If you include Mirco Mueller, the Sharks have a total of seven defensemen on their roster midway through the month of July. Out of these seven defensemen Marc-Edouard Vlasic is perhaps the only player without a question mark over his head entering the 2015 season. This may be the last chance for some AHL players to make it into the NHL while players from last season have to fill gaps left by Brad Stuart and Dan Boyle.

Familiar Place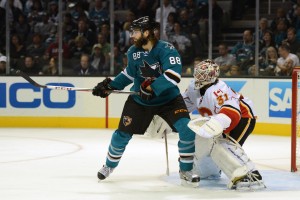 Doug Wilson stated that Brent Burns will be moved back to defense but he has not played the position since the beginning of the 2013 season. Burns played one full season at defense in San Jose before moving to forward midway through the lockout shortened season. Because of this Burns has to re-learn the position and re-train his body over the summer. He also has to learn the new defensive system under Larry Robinson who joined the organization the same year that Burns was moved to forward. On top of all that he may be relied on to become the Sharks number one offensive defensemen. No pressure.
Not a Kid Anymore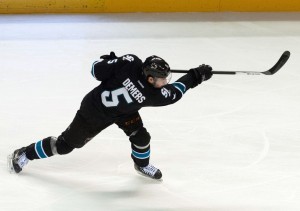 This is only the beginning of the Sharks questions at defense. Justin Braun, Jason Demers and Matt Irwin all have shown plenty of promise the past few seasons but they have also shown plenty of flaws. Braun has been the most consistent of the three, but he often makes small mistakes such as errant passes in the defensive zone that lead to scoring chances. Demers has the ability to make things happen offensively but he lacks the strong defensive awareness that Braun provides. Also, he makes even more mistakes such as unnecessary pinches in the offensive zone and undisciplined penalties. Irwin had a terrific debut season in 2013 but was a mess the following year. When he was in the lineup he often found himself puck watching and out of position instead of sticking with his man. If the Sharks are going to have any success next season these three young defensemen need to step up.
Scott Hannan was given another one-year contract by San Jose and should prove to be useful as a third pairing defensemen again. He played well during shorthanded situations and rarely made mistakes that led to scoring opportunities. The younger players can learn from Hannan's responsible play style but don't count on much else. Playing him over 18 minutes per game runs the risk of opening up space for the opposition as he is clearly the slowest skater and now oldest skater on the back-end.
Last Chance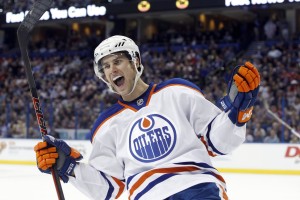 At the moment those are the San Jose Sharks top six defensemen but it looks like the prospect pool will be given a chance. For some of these players it may be their final chance with the Sharks and possibly the entire NHL. Taylor Doherty, Matt Tennyson and Taylor Fedun are all players who have toiled in the AHL for some time now. Another long time Worcester Shark, Nick Petrecki, was not offered a contract this summer. Nick Petreki spent five seasons playing in the AHL after being drafted in 2007, the same year as Logan Couture. Taylor Doherty has already spent four seasons playing in the AHL after being drafted in 2009. Matt Tennyson has played three seasons in the AHL, while Taylor Fedun has played two. In total, these four players have only played nine games in the NHL, and only eight if you exclude Petrecki.
With Mirco Mueller on the rise and the hype surround Julius Bergman, time is running out on these three players. Nick Petrecki is only 25 years old and did not receive a new contract from the Sharks. To put this into perspective Justin Braun and Marc-Edouard Vlasic are 27 while Matt Irwin and Jason Demers are 26. Taylor Fedun is 26, Matt Tennyson is 24 and Taylor Doherty is 23. It appears that the San Jose Sharks are ready to move on from their older prospects very soon. There is no room for middle ground, the Sharks defense is either going to rise to the challenge next season or fall under the pressure.