In the weeks since Doug Wilson used the magic "R" word – rebuild – the Sharks have been remarkably inactive. A lot of this has to do with nearly every aging core piece having a no-trade clause to their credit, but you can hardly blame the fan base for feeling underwhelmed at this point.
Instead of addressing the soon to be massive dive in secondary scoring, the Sharks opted to go after size, toughness and other not-so-important hockey skills in free agency. It started when Doug Wilson opted to re-sign possession anchor and 7-minute a night face-puncher Mike Brown to not one, but two-years at a cap-hit of $1.2 million. Not a single typo to speak of; Brown really got that deal.
Then the absolute coup de grace came with the addition of noted sasquatch and obscenely bad hockey player, John Scott, on a one-year deal worth $700,000. Apparently all the Sharks needed to get that final and fourth victory over the L.A. Kings was an extra face puncher.
Interspersed in these mind numbing decisions was the trade of Brad Stuart to the Colorado Avalanche – an absolute coup – and the re-signing of Alex Stalock to a two-year $3.2 million contract. It has also been reported that the Sharks have re-signed Scott Hannan, for reasons that escape me, to a one-year deal.
Wilson Missed the Memo
The Sharks lost to Los Angeles for a number of reasons. Chief among them is the fact that the Kings iced a power-house of a roster, bound for their second Stanley Cup in three years; nobody pushed them closer to the brink than the San Jose Sharks. Beyond that though, the Sharks didn't score enough, received bad goaltending and were hit hard by bad luck in the form of an injury to Marc-Edouard Vlasic.
Hard to overcome any one of those when playing the Kings, but when dealing with all three it's almost the perfect storm.
What the Sharks didn't need were additional face-punchers. This series wasn't lost because the Sharks weren't fighting enough; but because they weren't scoring enough. If only Doug Wilson were privy to this information… or Todd McLellan, for that matter.
And looking back on that series, it's easy to see where the seeds of this offseason were sown. Now, McLellan is as good a coach as the Sharks have ever had in their history. Relatively speaking, he's one of the more progressive minds in the league and that shows in his deployments and offensive strategies.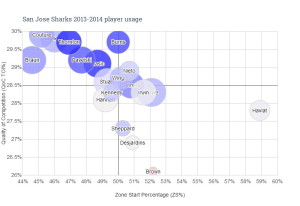 Like any coach, though, McLellan is prone to make decisions based on a style of hockey that died nearly 20-years ago. When the Sharks failed to accumulate enough secondary scoring to put that final nail in the Kings coffin, did McLellan react appropriately in the rosters he iced? No. Rather than playing oft-injured and disappointing forward Martin Havlat, McLellan turned to Mike Brown and his toughness. What did Brown's toughness do for the Sharks? Well, while Brown was on the ice the Sharks controlled less than 40% of all shot-attempts at evens.
The stupidity didn't end there. While Brad Stuart's corpse and Scott Hannan were playing regular minutes, Matt Irwin was forced to watch from the pressbox; until Vlasic's injury forced him into service, of course.
The Fix
The offseason is far from over yet and the Sharks still have a wealth of cap space at their disposal. They don't necessarily have to spend to the ceiling, but some depth moves would certainly be encouraging. There are still young, productive players to be found at the bottom of the bargain bin of NHL's free agency and I can't see why the Sharks would pass on some of them
Peter Mueller is apparently healthy and ready to play again, so why not? The team has one natural right winger and Mueller can easily fill a top-six role if healthy. Maybe send him a one-year prove it deal. Andrei Loktionov wasn't qualified by the Carolina Hurricanes and that makes him available for any team to sign. Loktionov has top-six upside, but at the very least can fill a productive role in the bottom-six. Again, why not?
That blueline sure could use some help, too. Maybe a puck-moving, reliable defenceman like Raphael Diaz is worth looking into. Another puck-moving defenceman that the Sharks could look at it Michael Del Zotto. Del Zotto will most likely never become that top-four defenceman that can anchor a team's power play, but that doesn't mean that in the right situation Del Zotto can't succeed.
No amount of sandpaper was going to give the Sharks that one last victory against the Kings. A little secondary scoring? That might have done the trick.